The Future LED Light In Automotive Industry
When Nick Holonyak Jr. first introduced the LED in 1962, he probably has never imagined that LED light will get so popular in 50 years later.
One of the most popular places where LED lights have brightly "shine" is in the Automotive Industry Field. Even though it is not available for every car yet, growingly, more and more cars are rolling out of from the factory plants with LED bulbs and LED lights.
Here are the beauties of the car LED lights. 1) The LED bulbs are very easy to spot because of its faster reaction time to light up than conventional filament bulbs; 2) the LED light is much brighter than stock tail lights bulb so makes driving safer; 3) Due to nature of the LED is relatively small, so LED tail lights can be easily shaped to make the car look prettier with a trendy new look.
Beside all mentioned above, another common place you might find car LED lights is the aftermarket field. LED lights are getting more and more popular with those who like to customize their cars with these super bright and easy to install LED bulbs and LED lighting.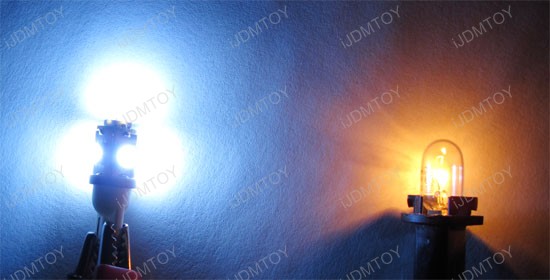 (Aftermarket LED bulb vs. stock filament bulb)
The common aftermarket LED parts on the market are LED strip lights, LED corner lights, LED replacement bulbs and the newly LED daytime running lights.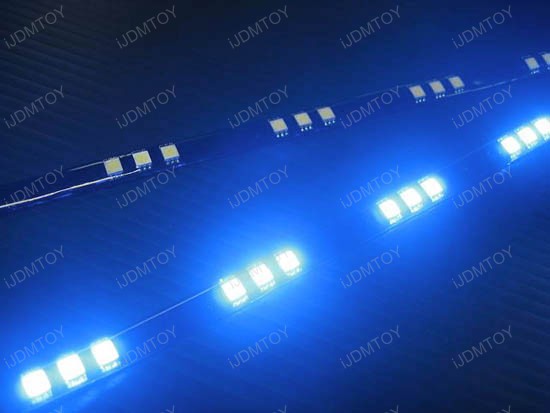 Also, Interior LED lights are also being adapted for cars to set a nice mood and for accent purpose. You're starting to see more places offer them in a wide selection of forms, whether just LED interior accent lighting or complete LED underbody light kits that go under the cars. A lot of aftermarket companies like www.iJDMTOY.com (the Car LED Bulbs and Lighting Expert) have taken action of the increasing demand for the automotive LED lights and are actively bring more and more new LED light technology as quickly as they can.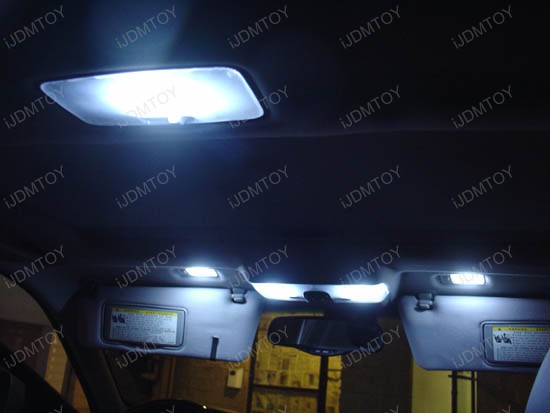 LED Light Bulbs are the wave of the future.