Take a good look at the first picture of this car and ask yourself: is this an E-class Benz with turned on DRL or a 2006 Infiniti G35 with L Shaped Running Lights? That's right? What we've got here is a great looking mod which makes this G35 coupe really classy. As you see, this kind of LED Daytime Running Lights can be easily mounted for any cars, SUVs or trucks in between the bumper grill, just like the OEM Mercedes-Benz E Class LED Daytime Running Lights. It's good to know that each LED Daytime Running Light Lamp comes with wiring and screws for easy installation.
Some people might say: why would I need lights during daytime? Well, you cannot convince us that this is a luxury unnecessary product, as even during the day, drivers may find areas that lack lighting such as shaded areas. And if you take a look at the statistics how many accidents occur due to a lack of visibility, you'll believe that safety should be priority.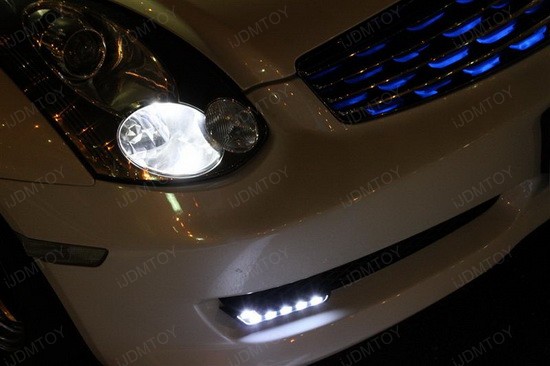 Don't be fooled by this Ultra-slim Design, as each LED Lamp contains 6 pieces super bright FLUX LED lights, which provide excellent illumination. If you need some working Daytime Running Lights, that actually serve their purpose, consider our product as a good investment. Don't forget this is a LED technology, which consumes less power than stock Daytime Running Lights, as they're going to be turned on all day.
This G35 coupe got a nice little touch up in appearance with just a pair of L Shaped DRL. These LED lights just fit in perfectly and are a nice and inexpensive improvement for all drivers. If you are looking for safety and appearance, then you should really have these Daytime Running Lights in mind. You just cannot get wrong with purchasing this product and if you are not sure whether you should order these, take a look at this 2006 Infiniti G35 with L Shaped DRL switched on and think again.
Brought to you by iJDMTOY.com, the expert for your Car LED Lights. Follow us on Facebook for exclusive promo codes.