Audi A5 with Pink Led interior lights isn't something you'll see everyday. And if you want to make some real impression, you'll be definitely noticed with these Purple LED lights. We suppose the owner of this Audi was bored with the stock yellowish interior lighting and decided to change the dome lights to Pink LED lights. For which we understand, presuming the fact that LED is the new leading technology is automotive lighting. Now it is time for a change.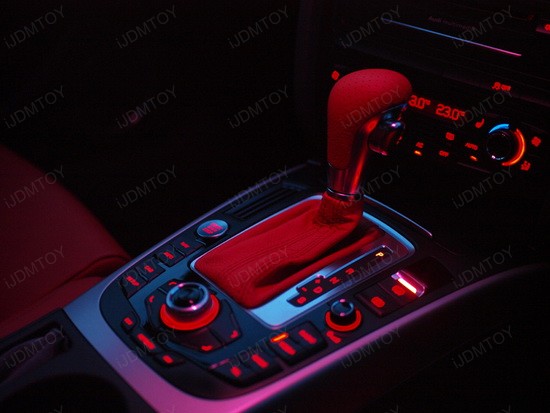 If pink is not you color, then don't worry, as we bet you know some ladies that will go crazy about the idea of purple lighted interior. And don't go with the dome lights only, be creative! These 12-SMD Pinkish Purple 1210 type LED light panels are perfect for car interior lights such as map lights, dome lights and door courtesy lights, as the owner of this Audi A5 replaced the original ones.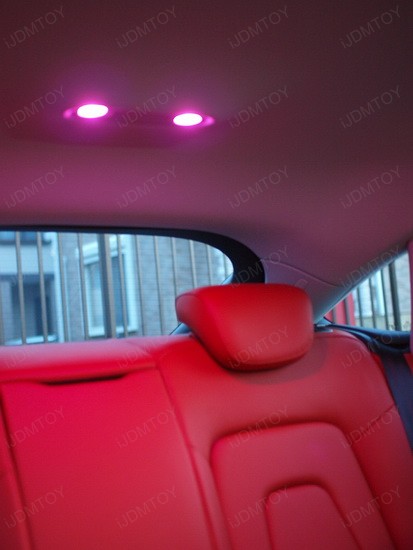 You don't have to bother with some complicated installation, as the package includes a pair of T10, and 2 pieces adjustable universal fit festoon adapters, which will fit to any wedge and festoon housings, but for more information you'd better check out our website. What about those people who doesn't own A5? Today is your lucky day if you drive Audi A4, Audi Q5 or Audi A7 and want to make some change that will make your ride stand out, because these Purple LED lights will fit like a glove.
Take a good look at those red leather seats. They seem so comfy, so smooth, but this is because of the LED dome lights, which makes them look new and clean. Did you see the warm pink light over the gear knob? Even the dashboard looks so warm and welcoming! The whole car whispers get in, you'll be like in heaven? Audi A5 with Pink LED light inside? This sounds like heaven.
Brought to you by iJDMTOY.com, the expert for your Car LED Lights. Follow us on Facebook for exclusive promo codes.