Did you remember the last time when you saw a Mercedes Benz S550 in the mirrors while driving thorough the highway? Actually, you might recall this memory back and ask yourself: "Whoa, great car! Was that Mercedes S550 with Daytime Running Lights switched on?" We bet you will never ask this question again if it was equipped with one of our products – LED Daytime Running Lights Kit with Advanced Automatic DRL On/Off Switch.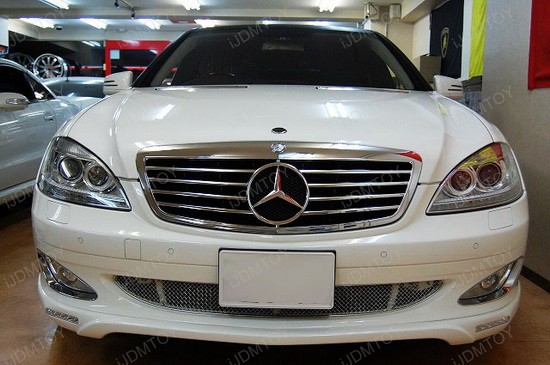 When this car came to our garage we thought "Our LED DRL kit will look just awesome on this sedan". And we did it – we gave this Mercedes W221 S Class brand new shining lights. Don't mention the owner of the ride was very pleased with the final look of the Mercedes. And indeed, if you want to be noticed from very far distance, purchase and install this kit. As we like to say "The safer, the better". Treat your "Sonderklasse" just like it deserves, give this luxury flagship sedan a very special look with our LED Daytime Running Lights kit.
You'll have no difficulties installing this product, as it comes with an automatic DRL On/Off Switch for easy installation, which makes the kit truly plug and play with no modification needed. Even a kid could wire up the lights – simply connect this advanced automatic on/off switch directly to battery's positive and negative and that's it. Please note that these lights are compliant with existing DRL regulations and add a stylish look of high performance to any vehicle.
This 5-LED High Power LED Daytime Running Lights (DRL) increase vehicle's visibility for safer driving and besides the safety improvement, this High Power LED Daytime Running Light Kit is commonly adopted by recent European vehicles such as Mercedes S550 and it will give your ride an awesome Euro Look.
Brought to you by iJDMTOY.com, the expert for your Car LED. Follow us on Facebook for exclusive promo codes.