If you take a good look at this 2009 Ford Escape, you may notice something different, something like a hybrid – American vehicle with European look; and you won't be wrong, because this American SUV has a pair of LED Strip Lights just like that hot Audi R8!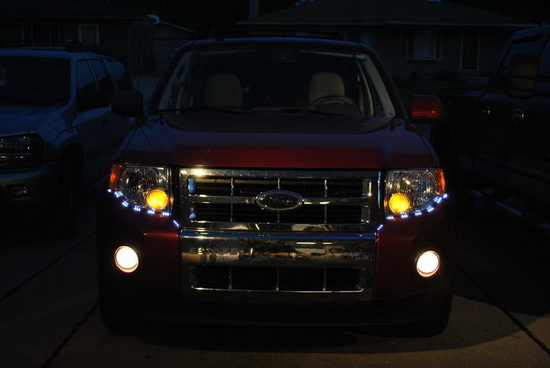 These super bright LED strip lights are commonly used around the headlight lamps to emphasize their shape. They could be installed on different places, too – around the fog light lamps or under the bumper, it's up to you. Please note the strips are bendable and each one is 12 inches long with 15 LED bulbs on a strip. This will definitely give your ride a new, sleek, Euro look as the newer Audi A5 LED headlights, or Mercedes E Class LED fog lights.
In case you are worried about installing these LED headlight strips, you should know that this quality product is installed in no time and could be put on any car, SUV, truck, etc. All you have to do is to peel the self-adhesive 3M tape on the back and attach on any smooth surface, then tap the wires to any 12V power source – either parking lights or fog lights, but have in mind the positive and negative wires. And that's all – you can freely enjoy the shining LED strip lights in Xenon White color.
You may think our product could be a great add-on to any vehicle, and you are right! Treat your ride with a newer, luxurious look without the luxurious price! Our customers rate this product 5 stars, and have gotten lots of compliments after purchasing and installing these fantastic LED Strip Lights! Give any car a nice Audi A5 or R8 look, just like that tweaked American 2009 Ford Escape SUV.
Brought to you by iJDMTOY.com, the expert for your Car LED. Follow us on Facebook for exclusive promo codes.