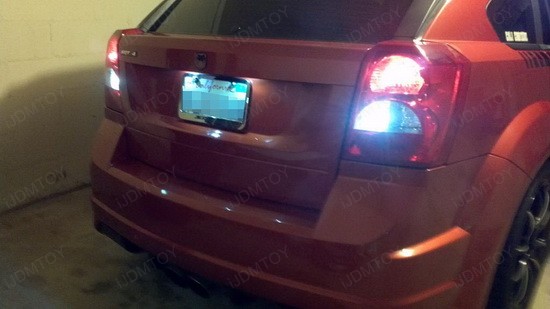 This enthusiast-oriented custom 2008 Dodge Caliber SRT4 is fully LED equipped and includes LED license plate lights, LED backup lights and LED interior lights. As you can see from the pictures, the Xenon White color shines brightly and gives the vehicle a nice luxury touch. Those who favor styling with aggressive edges will enjoy its modern LED look. It seems the owner of that car really wanted to get rid of the stock yellowish halogen bulbs and decided to upgrade his ride with some quality stuff – products from iJDMTOY.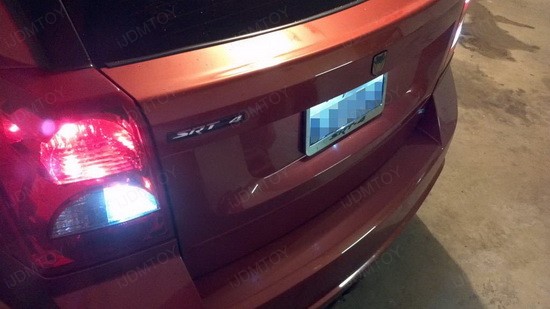 We'll start with the brightly lit Xenon White license plate lights of this Dodge Caliber. Just imagine how it will look when it cut off some other vehicle on the road. The brightness of these LED bulbs is emitted effortlessly because of the 360 degree design and makes this vehicle more stylish. This is a very fancy lighting product, which could be seen on some SEMA 2011 show cars.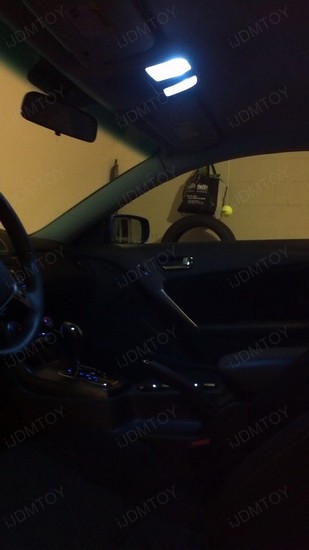 Let's continue with the LED backup lights – these bulbs look almost the same as any other LED bulbs at daytime, but wait for the night to come: this kind of high power LED bulbs is 3 times brighter than OEM halogen bulbs, so most of our customers absolutely love this. These bad boys tear up the darkness.
Finally, the LED interior lights – once installed, the brilliant super bright xenon white LED bulbs are no match to the old stock dull and yellowish bulbs. The difference is huge, so if you need an upgrade to your car interior lights such as map lights and dome lights, these bulbs are perfect. What's more, LED technology consumes less power, which means that if you forget to switch them off and they stay on all night long, there's a very big chance you can still start your car next morning.
If you want to give your car a fresh new look, stop by iJDMTOY and place your order on trendy LED lights just like that 2008 Dodge Caliber SRT-4 guy did. You just can't go wrong with any LED product, because their stuff is top quality. Your car deserves a small touch of luxury and with iJDMTOY you don't have to spend a fortune to get it.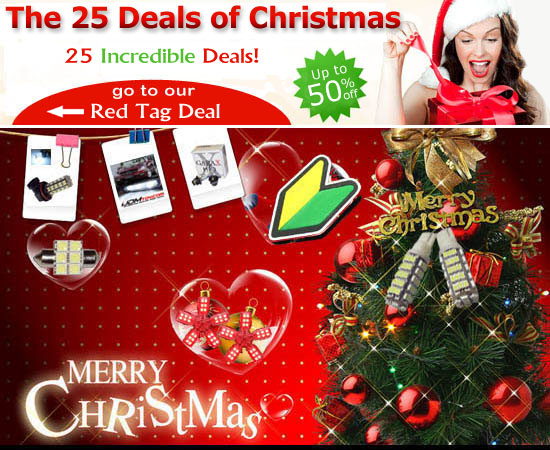 Brought to you by iJDMTOY.com, the expert for your Car LED. The 25 deals of Christmas is coming soon, follow us on Facebook for exclusive promo codes.