by iJDMTOY on Aug.27, 2012, under LED & HID News and Updates
The featured 2005 BMW M3 has a perfect blend of style and performance, but when LED Angel Eyes Rings from iJDMTOY were installed, this ride looks awesome. Since M is the most powerful letter in the world, this model deserves only top quality products and modifications. iJDMTOY knows it and offers the brand new xenon white 7000K LED Angel Eyes Kit not only for 2005 BMW M3, but for all the BMW E46 3 Series without factory equipped HID xenon headlights.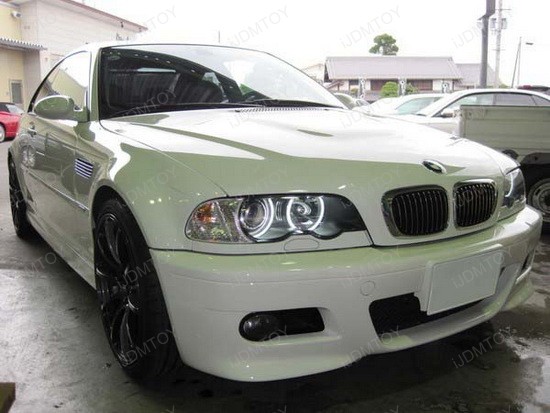 Take a look at the beautiful front end and imagine that you have put a HID conversion kit for your headlights. I guess your car won't look as sleek as other BMWs on the road if you stay with the stock yellowish Angel Eyes. What's more, your ride will look ugly comparing with other BMWs on the road, but with the LED Angel Eyes Rings for BMW E46 3 Series from iJDMTOY, the headlights look so much better. This 5 stars product will make your car stand out from the rest and you can see it on the pictures!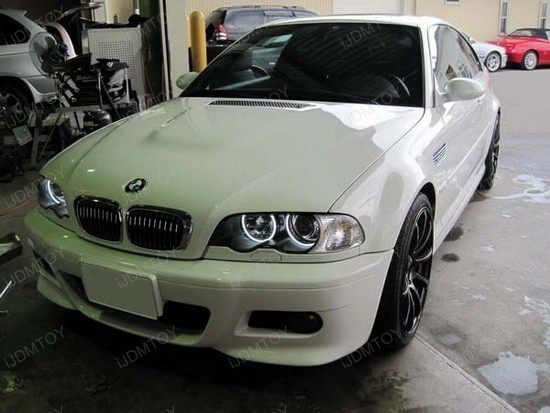 These BMW E46 Angel Eyes are 6 times brighter than conventional CCFL BMW Angel Eyes rings, with no blind point comparing with CCFL rings. The 7000K Xenon White color is a perfect match to HID kits installed on non-factory equipped HID xenon headlights and the plug and play system guarantees no modifications needed. Plus, you can do the "fade on" and "fade off" effect using remote or key, because all relays, brackets, double-sided tapes and harness are included.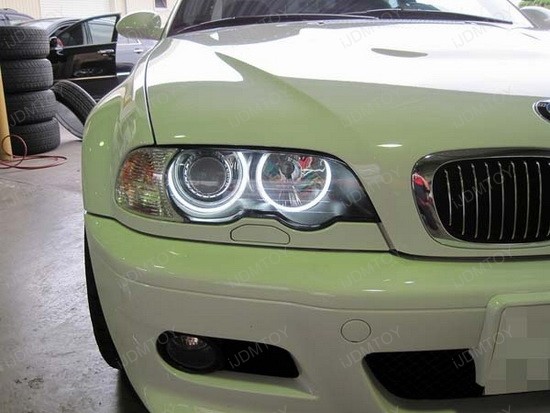 If you wonder how to install these pretty E46 Angel Eyes, then follow the steps, but if you think it'll be easier, check out the installation video on the iJDMTOY website. First open the hood and remove the corner lenses carefully. After that remove the weather stripping plastic above the headlight and the lower trim piece, then you are ready to remove the headlight lens and the bezel around it.
The next thing you should to is to take the clips from the kit and attach them to the back of one LED Angel Eyes Ring. Once you are ready with this part, feed wires through headlight assembly holes and out the rubber grommet in back. After that you can use a screwdriver to gently open the clips and attach the ring to the headlight housing. Do the same process for the high beam light. Please note you have to leave sufficient clearance for projector movement!
Next up – wiring: Connect LED DriverPack wires to harness coming out of the headlight rubber grommet in back and tuck the DriverPacks away from heat and moisture. Then you are ready to reinstall the headlight bezel, lens, trim, weatherstripping and corner lenses. Look for a small side cubby hole to bolt the relay. Then find the rubber seal covering the positive (+) terminal and route passenger side wiring underneath. Bolt positive ring terminal from harness to the positive terminal of the battery and bolt negative ring terminal from harness to negative terminal of the battery. Put back the rubber seal in place and connect harness ends to LED DriverPack.
Next, route driver side harness inside trim cover behind the engine, then underneath seal to DME cover and finally to driver side LED DriverPack. Connect terminals and remove the DME box cover. Here you have to find the +12V accessory wire (red/white with yellow dots). Once you are ready with this, splice supplied wire tap to +12V wire. Plug spade connector from harness into wire tap and put back the DME box cover.
Remove grommet from passenger side firewall, pierce hole through grommet and thread remote wire. Here you have to punch hole in carpet, route the wire through hole and reinstall grommet. Get in the car and remove passenger footwell light. Carefully reach inside and locate remote wire that you routed earlier. This is where you have to use the supplied wire tap on red/green wire for the remote fade in/out feature. The last step is to reinstall footwell light and test the LED Angel Eyes Rings on your ride with the key remote.
This 2005 BMW M3 worth every penny and easily puts smiles on everyone's face with the installed E46 Angel Eyes. A truly fantastic car with Angel Eyes that look very similar to the new 2011 and up BMW's stock high power LED Angel Eyes rings. Turn your beloved BMW E46 3 Series into a head-turner with the featured product from a trustful seller.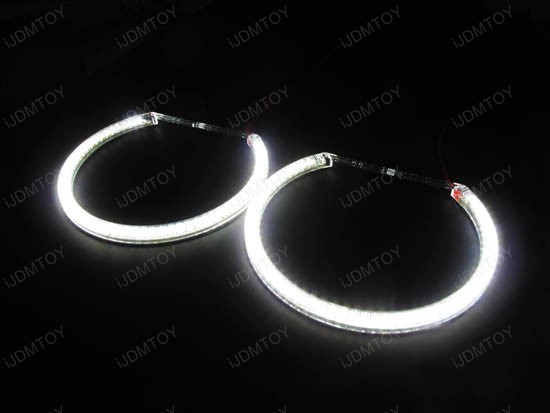 Brought to you by iJDMTOY.com, the expert for your Car LED. Follow us on Facebook for exclusive promo codes.
:Angel Eye Rings, bmw angel eye, bmw angel eyes, BMW Demon Eyes, BMW E46 Angel Eyes, BMW Halo Rings, bmw headlights, BMW LED Angel Eyes, BMW OEM high power Angel Eyes, E46 Angel Eyes, E46 LED Angel Eyes, LED Angel Eyes Rings, LED BMW Angel Eyes, LED bulbs, led lights, ring marker bulbs
Visit our friends!
A few highly recommended friends...
Archives
All entries, chronologically...