This 2011 Kia Optima features a much sleeker, sportier profile, backed up by the aftermarket LED Backup Lights from iJDMTOY. With a look like that, the Kia K5 doesn't have much of anything in common with the competent but unremarkable Optimas of the past.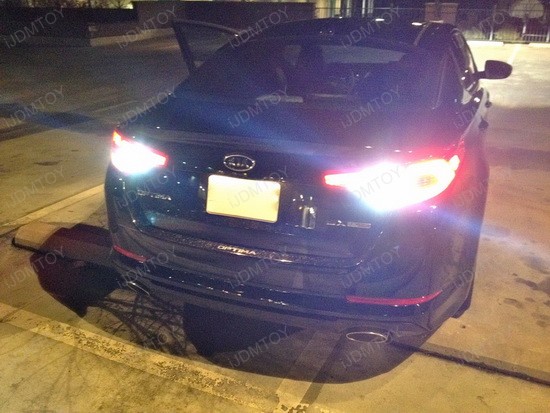 The new design is far more exciting – more aggressive, upright, focused, and clean, with just a bit of Euro influence. Even when you look at the 2011 Kia Optima from behind, the Super Bright LED Reverse lights underline the aggressive stance and its beautiful chrome tipped dual exhausts, that complete the flashy look.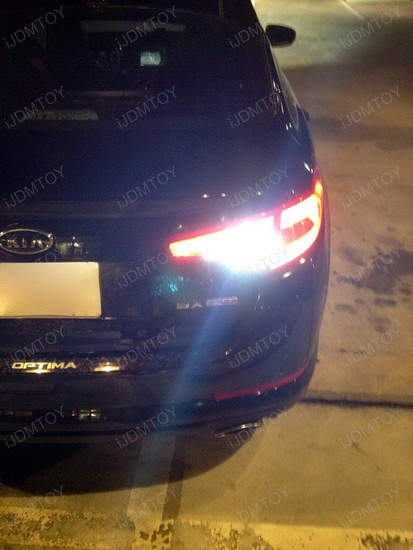 What stands behind these cool LED Backup Lights is a pair of Extreme Bright Xenon White High Power T15 LED Bulbs. Each bulb is equipped with x3 optical projector in front of the LED emitter to achieve the max lighting output, which results in stunning appearance and enhanced safety when backing up at night. Even if you have black-out tint for tail lights, you can still see the light very well projected on a wall about 100ft away.
Installation is as simple as putting the biscuit in the basket – just plug and play! Perfect fitment is guaranteed, but it's better to ask a friend to check whether these bad boys light up when you switch to reverse just before you put them back in place. In case they don't light up, flip it 180 degrees and try again – there shouldn't be any problem now and you are done with the task.
If you are looking for a way to show-off your ride, just like this 2011 Kia Optima owner, go with the featured LED Backup Lights. Take a good look at the new elegant image with its unique silhouette and sleek stance that is capable to evoke passion in any passerby.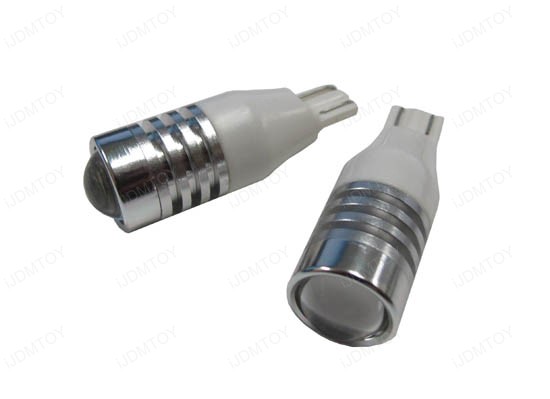 Brought to you by iJDMTOY.com, the expert for your Car LED. Follow us on Facebook for exclusive promo codes.