This 2013 Acura ILX introduces a more refined design language for the marque with H11 LED Fog Lights that are great addition to the scalloped headlights, equipped with 6000K D2S HID bulbs. Such small customization matches perfectly to the luxury headlights and if you take a good look at the pictures, you'll notice the CREE powered H11 LED bulbs emit almost the same output and look comparing with the 6000K D2S HID bulbs on the top.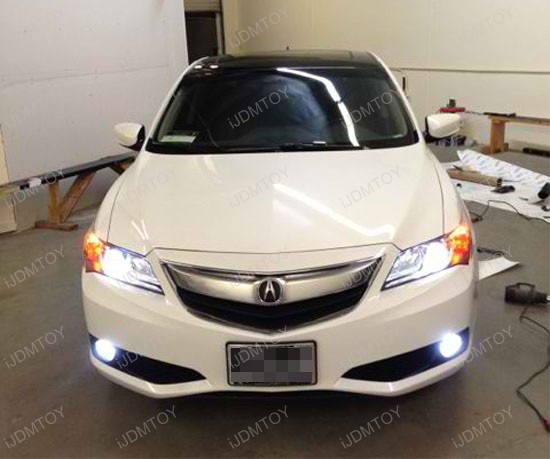 The featured H11 LED bulbs take an innovative approach to LED lighting by offering 5W High Power CREE Q5 LED plus 12 pieces SMD-5050 LEDs. Don't be fooled, these iJDMTOY bulbs are brighter than multi LED units sold on many other places – the revolutionary design includes magnified optical lens on the top for incredible output! Because of the lens, LED bulb diameter is 0.78", which is slightly bigger than stock bulb, so the housing opening should be measured before replacing the stock ones. However, these high quality LED bulbs are designed to mount in existing housings taking H11 or H9 type bulbs and shine in Xenon White 6000K color.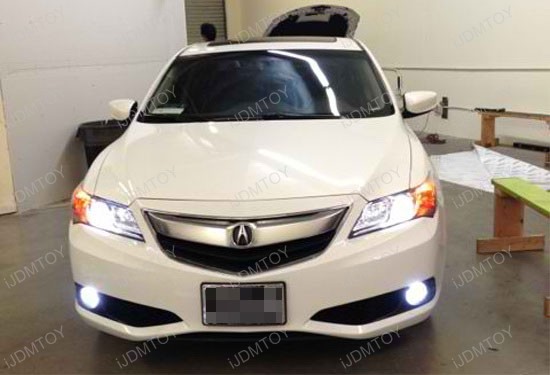 Such mod will cut your costs if you want HID matching fog lights or DRL without paying for HID kit. Installation is like taking candy from a baby and will take you just a few minutes. Simply find the original bulbs and replace them with these beautiful LED bulbs. For some European vehicles like Audi, BMW, Mercedes, etc. which have on board computers (OBC) you may need to use our Error Free Decoder Wiring Kit in order to avoid any error message popping up on your dashboard or bulb malfunction problems. Finally, step back and enjoy the whole new fresh look of your lovely car.
Today's 2013 Acura ILX seems to be treated with taste, care and love, which resulted in having these amazing H11 LED Fog Lights from iJDMTOY installed. It's good to know LED bulbs are longer-lasting and consume less power than conventional halogen units. After all, less consumed power means improvement in fuel economy, which is a key factor nowadays. And at last, but not the least, such powerful Fog Light LED bulbs increase your safety by making the car more visible from greater distance.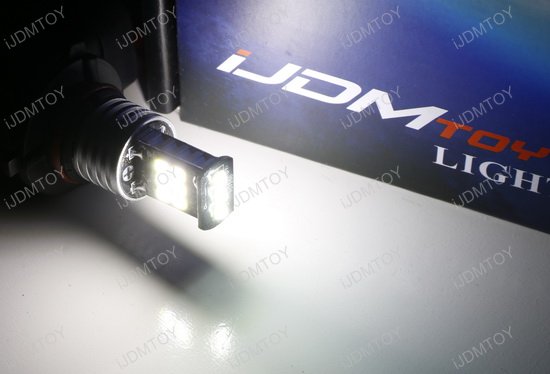 Brought to you by iJDMTOY.com, the expert for your Car LED. Follow us on Facebook for exclusive promo codes.