Kia Optima cuts a distinctively aggressive and appealing profile by itself, but today's Kia Optima DRL LED upgrade will make it look premium. Please note that this product will only fit the Kia Optima with factory equipped fog lamps and not the Hybrid. Anyway, if you want to enhance your K5's exterior appearance with these long lasting, super bright LED lights and want to be different, you have to get your hands on it and do it.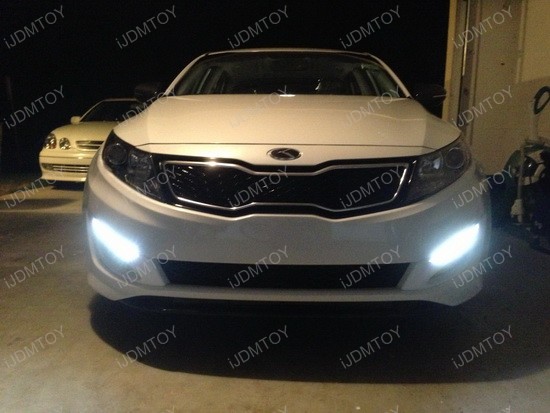 Installing the featured Kia K5 LED DRL will take some time and some skills are involved, too. Before going further you should know the plastic lamp bezels are unpainted, so you have the option to paint them in any color you want to match with your Kia Optima.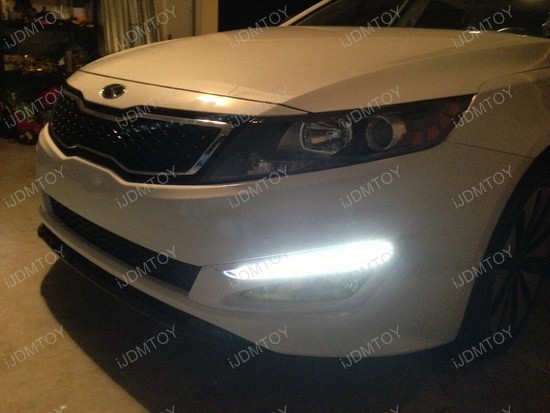 Now, let's get to the point – first you have to remove the front bumper by removing all the clips and screws from the top cowl portion of the vehicle, as there might be additional clips and screws underneath the bumper and the wheel well. Once you are ready with this task, on the back of the bumper you'll see the stock fog lamp bezel clips and screws. Remove it carefully and replace it with the new bezel.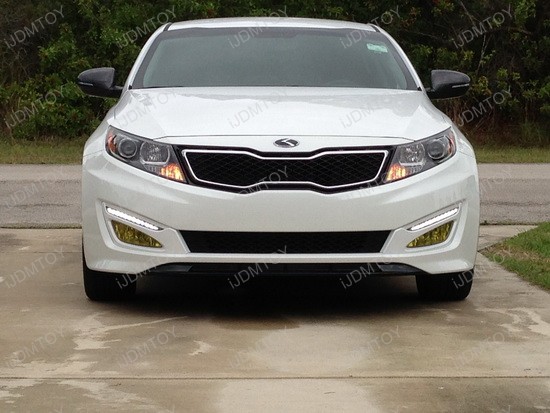 Then you have to cut out a portion of the bumper crash beam with an air saw or hacksaw, but cutting this portion will not compromise any driving safety, because the Korea models Kia K5 and the all new 2013 Optima SX (with stock LED DRL) both have the slightly shorter crash beam. However, please check the iJDMTOY website for video and more details on this part.
Once you are ready with the cutting, let's do the wiring. Locate the OE harness coming from the vehicle and connect it to the 5-pin connector from the DRL lamp. You will use the H11 connector from our lamp to connect to your stock fog lamp. There are two ways to wire the LED DRL to ACC – the first one is DRL always on, the second one is DRL off when fog lights are on and vice versa. For this part you should really see the iJDMTOY tutorial on the product website page. When you finish with this don't forget to check that everything is working fine before installing the bumper back in place.
This Kia OEM DRL LED kit offers an extraordinary luxurious eye catching appearance to the Kia Optima K5 during the day and definitely worth the money an effort you put in. If you go with the setup that ties into the fog lights, so they are off when fogs are on, you will add another dimension to the front end look with the Xenon White Kia Optima DRL from iJDMTOY.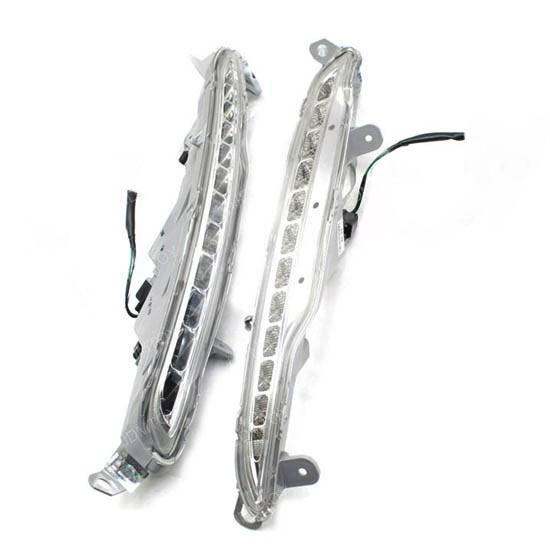 Brought to you by iJDMTOY.com, the expert for your Car LED. Follow us on Facebook for exclusive promo codes.