This set of Kia LED Daytime Running Lights gives your Kia a great genuine Kia K5 OEM style and really elevates the look. Not only can your Kia look like the K5 OEM version, but by doing so, your Optima already looks different and stands out from all of the other Optimas on the road nowadays. The painted OEM glossy black bezel helps your Optima look extremely sleek and quite the unique one on the road.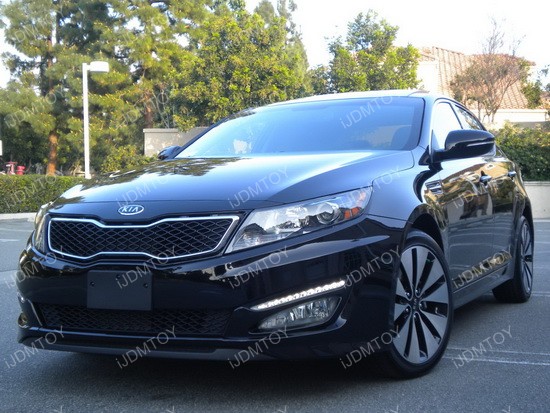 One of our customers installed these Kia LED DRL on his baby and the xenon white really brings out a great color contrast to his black car. The LED strip really does show off the car as it looks very elegant and classy without looking too overbearing at all. It's flashy enough, but not tacky, making these LED daytime running lights the perfect balance of showy, yet subtle. Our customer's Kia is just calmly parked in a residential parking lot and it's already getting quite a lot of attention. If this already catches so many people's eye, imagine what it will do on a busy intersection.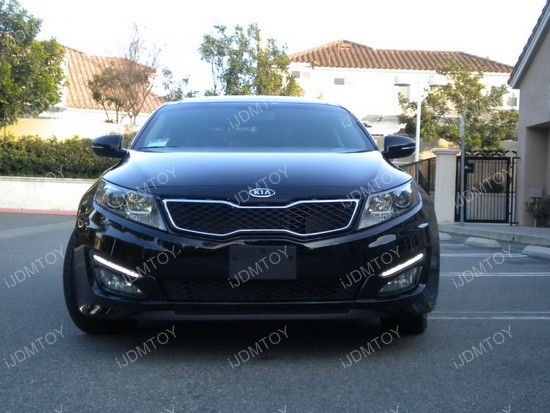 This product fits the 2011-2013 Kia Optima that has the factory fog lamps and will require cutting a portion of the bumper crash beam. Your hard work will definitely be rewarded though, because the results of the new high power LED daytime running lights looks just phenomenal and really upgrades your Kia Optima like no other.