These LED license plate lights are high power super bright 24-SMD LED lights that also have built in CAN-bus load resistors so that you won't have to deal with that pesky error message on the dashboard that plagues so many luxury European car owners. These LED license plate lamps are an OEM replacement that fits newer BMW models that have the factory 2-LED license plate lamps and even the older BMW models that only have the incandescent bulbs.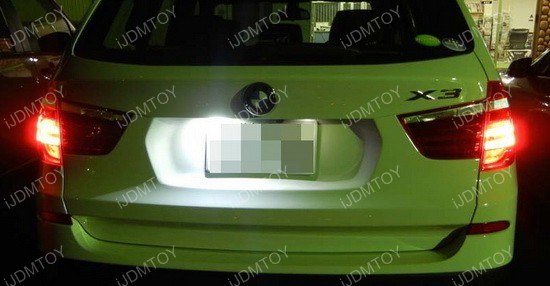 Our customer installed these OEM Replacement LED License Plate Lamps on a 2012 BMW F25 X3 and the results are so bright, it practically lights up as clear as day. You can see that even if the photo was taken at night, the LED lights are still so bright that it practically blinds the camera! If that's not the brightest license plate lamp ever, then I don't know what is. The brightness sure blows everything out of the water. This X3 is sure zipping through the night with the LED license plates behind it shining like some kind of high tech lighthouse.
These new OEM replacement LED license plate lights is not only brighter than the stock 2 LED-license plate light, but it's also more flashy and more unique looking. They are three times brighter than the stock lights, meaning that they're brighter and more beautiful during night driving, yet use less power and have a longer lifespan than the stock lights. If this seems too good to be true, it's not. It's about as real as it gets so it's a great idea to snag a set of these LED license plate lamps.