Do you have an American car and are super jealous of all the cool LED add-ons available for your Japanese or European counterparts? It seems like all the state of the art LED merchandise is tailor made for Japanese and Europeans, but those who own a newer Chevy Malibu are in luck today. This set of xenon white OEM Fit LED daytime running lights are a pair of pretty kick ass upgrades for your 2013-up, 8th gen, Chevy Malibu that's sure to make heads turn and necks break by replacing the stock fog lamp bezel and add an impressive LED DRL.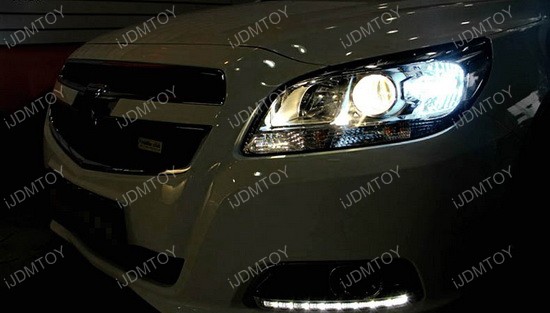 This white 2013 Chevy Malibu installed these exact fit LED DRL and this sure upgraded this American car into a whole different plane here. Not only is it super polished looking, it totally matches with the entire vehicle and sort of gives it a nice border that accents the front end in a posh sort of way. This Malibu practically screams makeover, but all that was really added was a pair of daytime running lights and it completely made the car look better than before. The sleek strip acts as a buffer into the ground and is surely a quick and easy way to take a Malibu and transform it into something that you rarely, if ever, see on the roads.
Each set of these OEM fitment LED DRL has 12 pieces of high powered LED lights in each lamp for some powerful light output. Although we recommend these LED daytime running lights be used with the Chevy Malibu that comes with factory equipped fog lamps, you can still install these on models that don't come with the factory equipped fog lamps by heading over to your local auto part store like AutoZone or Pep Boys for some grille mesh insert to cover up that fog lamp opening.