These high powered 6W BMW ring marker bulbs are practically honing beacons that direct all eyes to your halo rings. If you have the factory incandescent lights and don't want people eyeballing your dull yellow lights, these upgrades are sure to change your mind and attract everyone. They're made with high quality CREE LED lights so they are super bright, but not irritatingly blinding everyone around you. I'm sure we've all come across that one car that has lights that are obscenely bright that it makes you practically nauseous. Well, you most definitely don't have to worry about being that pest on the road. These LED ring marker bulbs are a gorgeous xenon white that's totally awe worthy.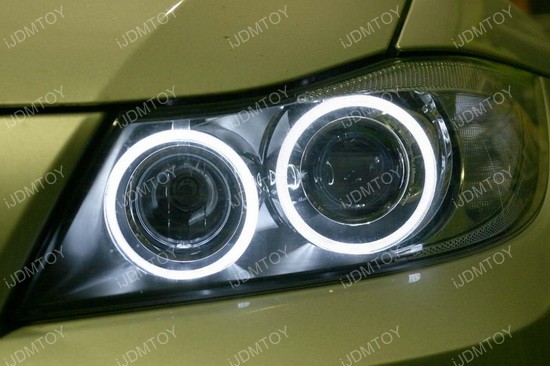 This 2008 BMW E90 328i has installed a set of these BMW Angel Eyes and they're so striking that it would totally capture the attention of everyone on the road! The xenon white halo rings are just such a uniform circle of perfection that you can't help but stop and stare and marvel at these halo rings. Plus, the contrast of the white on the gold BMW also draws out the light and surrounds the light in a clean fashion.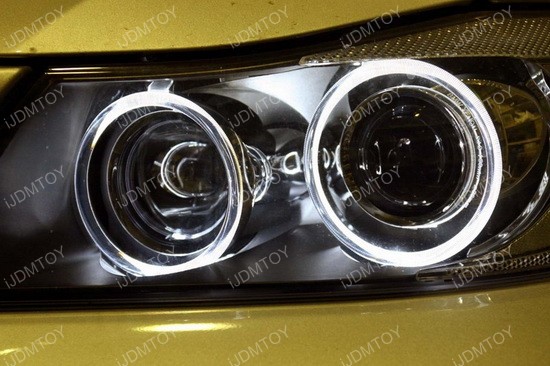 Please make sure that your BMW comes with BMW dynamic xenon adaptive xenon headlamps in order to use these BMW LED angel eyes. If they do, you are good to go. These LED ring marker bulbs have a built-in CAN-bus controller so you don't have to worry about any on-board computer error either. Enjoy your new angel eyes and your newfound popularity.