The BMW LED Interior Light package is everything you could ever want in terms of the lighting you could upgrade in the cabin of your prized Bimmer X5. The interior light package comes with map/dome lights, side door courtesy lights, foot area lights, and if you have a 2007-2013 BMW X5, it even comes with cargo area lights. This package covers most of the bulbs needed for the most common trims, but if you have a special trim, you may not need as many bulbs in the first place. Just pick your trim and the package will have the bulbs that correspond with the choice you picked.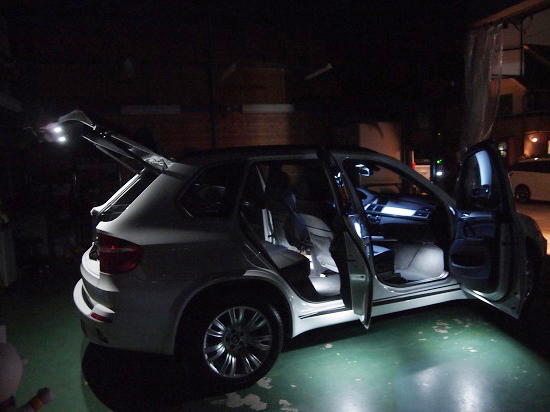 One of our customers installed this LED interior light kit on a 2012 BMW X5 and it does a fine job of lighting up the entire cabin in one fell swoop. Not only are the map/dome lights bathing the cabin in a warm, xenon white, the trunk lights also do a fantastic job of illuminating the back end of the vehicle. You can see just how bright these LED interior lights are because they even illuminate the exterior border of the vehicle! The brightness of the LED bulbs will definitely come in handy. Haven't you ever lost something small in your vehicle and couldn't find it because it was so dark inside? Maybe it was something as simple as a Tootsie Roll that it wasn't a big deal, but what if it was an important document or a business card? You don't want something like that to be trapped within the depths of your X5 that's for sure. It might as well be gone forever.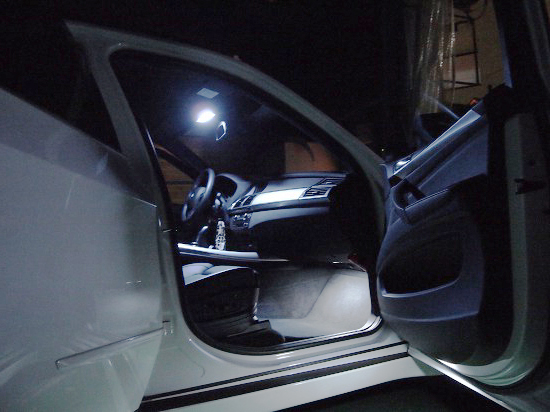 This LED interior package is guaranteed to make your X5 as posh as can be. It's practically a luxury nightclub on wheels. Imagine the plush leather seats, the cool LED interior, and the pumping stereo sound to take you and your passengers out through the night. You can't go wrong with this add-on, ever.