These CAN-bus Error Free T10 LED Bulbs for are great for locations like license plate lights, position lights, parking lights, or eyelid lights. The hardest decision you'll have is where to install these bulbs because it looks great either way. Maybe the best thing would be to buy a bunch of these LED bulbs are install them anywhere you possibly could. LED eyelid lights are a great add-on to make your car stand out for sure.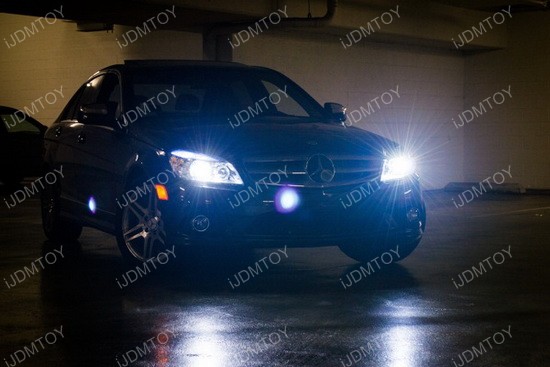 This 2010 Mercedes C300 installed these T10 LED bulbs as parking lights and look how bright the output is at night! People are definitely going to notice this car because of the gorgeous xenon white output and the crisp brightness of the LED bulbs. If you use these LED bulbs as LED eyebrow lights, this car will need two pairs, with two on each side. After all, you'd want your car to look the best it can be.
These LED bulbs are great on European cars like Audi, Mercedes, Volkswagen and is sure to elevate the luxurious qualities your car already has. These bulbs are newly redesigned and have 4-SMD, double from the previous 2-SMD. You know what that means, as it makes it have double the output of brightness.