When you see the distinct halo rings, what car manufacturer do you think of? Everyone knows and can recognize the distinctive BMW angel eyes, as they are known to be luxurious and high-class. BMW halo rings started out with the yellowish halogen bulbs, which at that time in the past was a pretty big deal. The incandescent bulbs evolved into LED halo rings, which is a crisp, clean white light.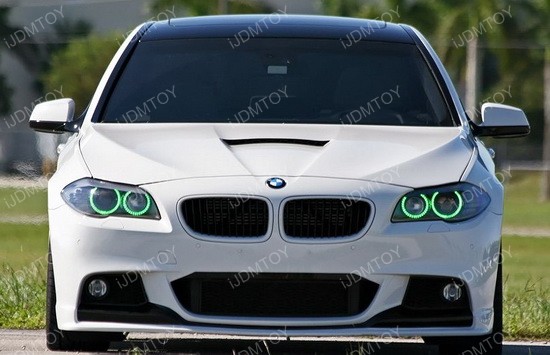 Nowadays, there are so many aftermarket options for angel eyes that it might all just seem like a flurry. Which aftermarket halo rings fit the model and year of your BMW? How do you connect the wires? There are ring marker bulbs and whole angel eye kits to choose from as well. On top of that, there are even RGB multi-colored halo rings now that come in a whole smorgasbord of colors. You can have LED angel eyes that are red, green, or blue that they can change colors almost as fast as people change their clothes. This BMW F10 535i has been outfitted with some RGB halo rings, making it extremely unique as well as eye-catching. You can see the red, green, and blue versions of the RGB LED halo rings on this BMW and each of these choices look extremely different from what you usually see on the streets. In this instance, the RGB halo rings look great with the lowered car and the aggressive front end and side skirts.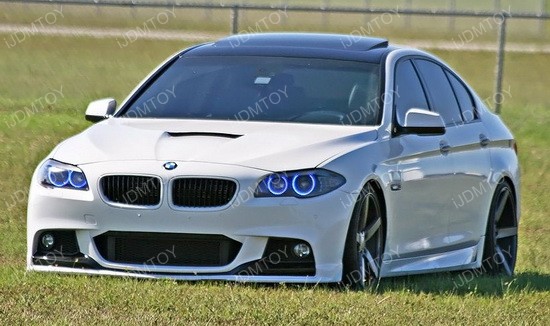 With all of these options of LED angel eyes, picking the one to install on your beloved BMW is all a matter of personal preference. RGB LED angel eyes are actually a great way to improve the existing look on your BMW. Whether you want some unique RGB angel eyes or just a set of ring marker bulbs, you can't go wrong with paying attention to your BMW's lighting accessory.