The Hella Style LED daytime running lights are a great accent to add onto your vehicle. The best part about having LEDayFlex DRL is that they are universal fit so you don't have to worry about fitment issues. The individual LED bulbs make it extremely easy for you to install these daytime running lights however you like. Unlike other set LED daytime running light designs, the LEDayFlex DRL is all about you and your creation.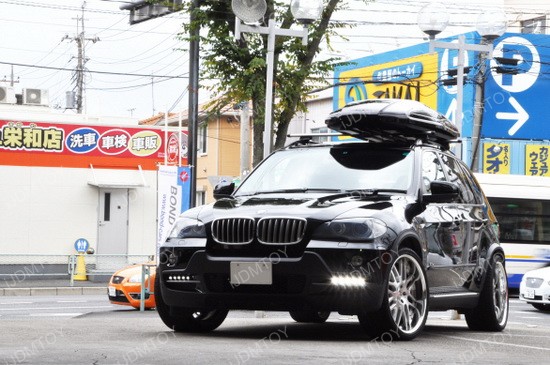 One of our customers all of the on the other side of the pond from Japan bought a set of these LEDayFlex DRL for his 2009 BMW X5 and kindly sent us the photos of the result. You can arrange each LED bulb in the set into whatever design you want and our customer decided that the best look for his BMW X5 was a simple horizontal line. This makes for a simple and classy look on the BMW's front bumper for sure.
All you need to do is drill the holes on your lower bumper grill trim very carefully to install the LEDayFlex daytime running lights. After that, you'll be on your way to be pretty impressive in absolutely no time since not everyone has aftermarket LED daytime running lights in the first place.