If you've got a truck the size of Texas, then you would for sure love some new aftermarket lighting add-ons that would do that monster justice. These LED daytime running lights are specifically tailored for the 2010-2014 Ford F150 Raptor to get rid of the bumper openings located at the sides of the F150. Get rid of the gaping holes at the side of your truck and fill it up with LED lamps that fit snug, as if the truck rolled off the assembly line like that. These LED daytime running lamps light up without too much of an offensive glow, rather you get a clean strip of pure white light that will make people on the street and cars across from you take a second peek.



When the LED lamp is off, the clear bezel sits inconspicuously, waiting to be called to action at a split second's notice. Coupled with the fact that any pickup truck sits higher than most other vehicles on the road, your LED daytime lamps is sure to be eye level with someone driving a low-riding Miata. They are bright, but aren't like those kind of LED lights that blind everyone else on the road.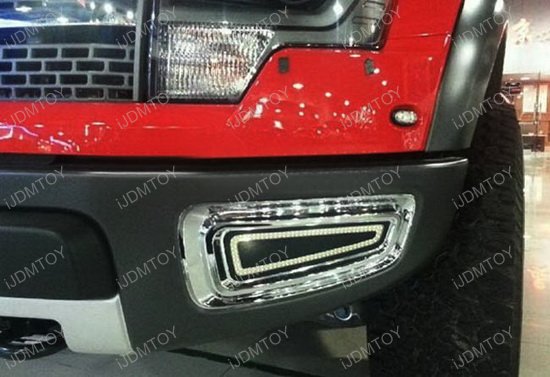 Give your F150 some xenon white eyes like the raptor it is. All you need to do is directly plug-and-play the wiring harness after you pop in the LED assembly. You can see that this add-on is a perfect integration for your truck and does everything in its power to elevate the look. This updated OEM style LED DRL is a look that you don't see every day, so the sooner you grab one of these and install it on your truck, the more time you will have before other people start putting on this look. This set of LED daytime running lights only fit on a Ford F150 Raptor, so if you don't have a Raptor, better trade in your normal F150!