This year's CES is totally big on autonomous cars and all of the new technology that comes with it. It's amazing that people are not talking about "if" when it comes to self-driving cars, but asking questions like when it will be available to the average consumer. There are plenty of positives about driverless cars, but there are a ton of negative effects that will occur as well.
Autonomous cars will be able to brake in time to prevent an accident or move out of the way. The only collisions that occur will be caused by people who are still actively driving. Since people don't have to drive, they also have more time on their hands that they can spend with family together, or even eat breakfast for those who have a longer commute to work. They can catch up on news, text, and do things that would otherwise be against the law. The occupant's state is also something that benefits excessively from autonomous cars. People who are underage, overage, don't have a driver license, distracted, or intoxicated will be able to safely get to their destination. There are many accidents and deaths related to drunk driving that would be completely eliminated if those who are intoxicated don't drive.
However, on the other side of the spectrum, there will be a loss of jobs that are directly related to driving, such as taxis, buses, and ride-sharing services. These people who have been in the industry their entire lives will have their livelihood completely uprooted. The computer chip could be possibly hacked and the autonomous car could be laden with bombs as a terrorist attack as well. If the need arises that a driver has to manually take over the driving duties, there is the issue of lack of experience of someone who does not know how to drive or understand the rules of the road.
Even so, there are plenty of people who are looking forward to autonomous cars and the big name car manufacturers are perfecting the technology so that driverless cars will play a big part of the future. This is just like the 1970s where computers were beginning to take root and now they are a necessity in our daily lives.
Audi has been showcased this year with an A7 driving by itself from San Francisco all the way to Las Vegas!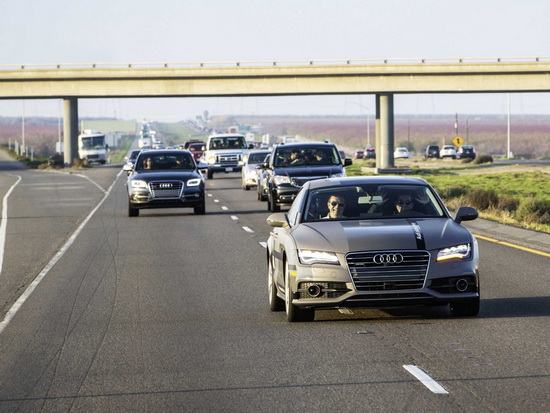 Look Ma, no hands!