The Toyota RAV4 is a super reliable car with plenty of legroom for everyone inside, but it's not generally known as a car that's popular to modify. Fortunately, this set of OEM fit LED daytime running lights fit the RAV4 to a tee, giving you one heck of a unique look, while still maintaining that OEM appearance. If your bumper matches the one from the listing, then you're in luck because your RAV4 will still have that SUV appearance, but have aftermarket upgrades that's fitting for your fastest sports car. The LED DRL is actually made from fiber optics that's similar to those found on high end luxury cars. It forms an even and uniform lighting output when you compare it with the conventional versions where you can see each individual LED emitter.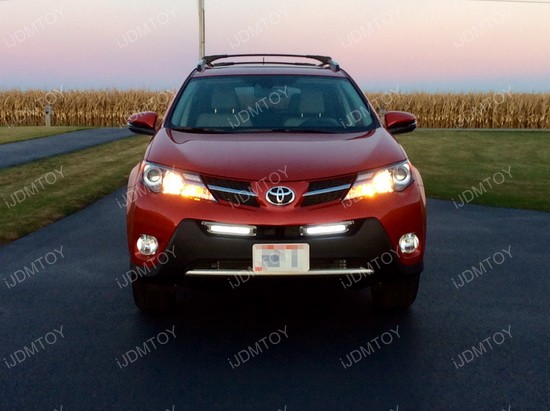 You can see on the 2013 RAV4 that the fiber optics LED tube lights give the car a very fluid look that it almost looks like the car rolled out of the factory looking like that. Everyone knows that when you buy a Toyota, you get a very reliable vehicle, but you can even add some more style and lighting upgrades as well.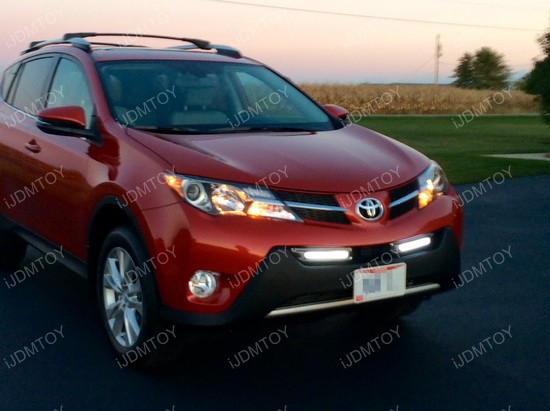 Just remove the center grill insert and mount the LED daytime running lamps against the grill insert. You'll soon realize that installation is actually not that complicated at all, giving you maximum amount of time to be able to go out and show off your new LED DRL set to everyone on the street. You mount it onto the car's lower bumper grill and you would be well on your way to driving the flashiest RAV4 on the block.