If you've got a monster of a Ford Escape, then make sure you let everyone know this with a kick-ass set of OEM fit LED daytime running lamps that make your car unique. At first glance, these LED daytime running lamps already look pretty fierce. Add that to a car known for its size and its brawn and you got a killer combination.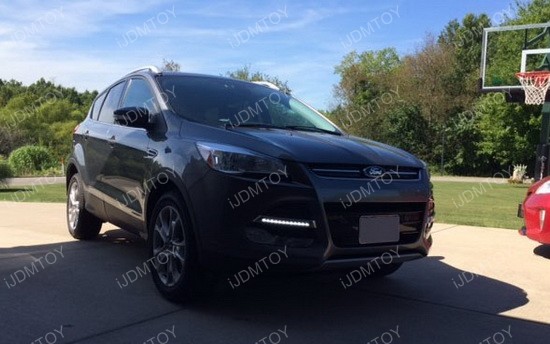 The Ford Escape is such a huge car that the possibilities for upgrades are endless. This 2013 Ford Escape has installed these LED daytime running lights and there's totally room for more. The LED DRL looks fantastic, but you can see that there are tons of other upgrades that would also be suitable. This car sits so high up that you'll for sure have tons of people sitting next to you at the intersection and at parking lots checking your huge ride out.
This kit comes with 12 pieces of LED lights in this daytime running light assembly to give you the maximum light output so that your lights will be what everyone is looking at (when it's safe of course). Any local body shop should be able to do a great job installing these OEM fit LED daytime running lights by detaching about 3/4 of the front fascia mounting hardware before installation and wiring. Not only will your Ford Escape look super unique, it will also have that OEM look as well meaning that it's the best of both worlds. You don't have to pay that humongous, expensive price tag for that OEM look, giving you the most bang for your buck.