If you think that the regular size universal fit LED daytime running lights are a little too big to suit your car, then you can try a set of miniature LED DRL lights. These LED daytime running lights are made to be a smaller size than most, coming in at 3.35" x 1.35" x 1.20". This smaller size makes it easier to mount on many locations, and is a great accent light for the vehicle. The size is actually very desirable among many people who have smaller sports cars, but even looks great on regular sized sedans as well.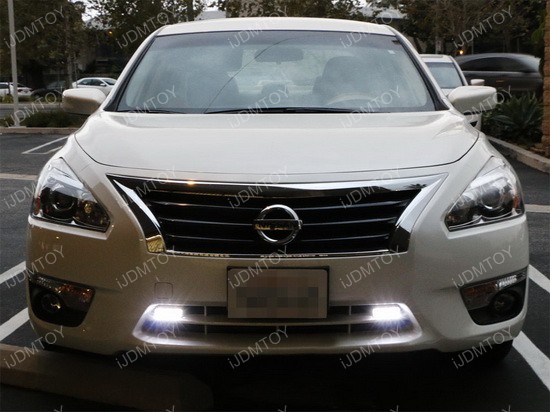 Check out these universal fit LED DRL lights in action on this new Nissan Altima. The LED lights are not overly conspicuous but still pack a punch making it the perfect add-on for the enthusiast who wants a bit of a unique look without going overboard. This LED assembly sits comfortably along the lower bumper of the Altima and really gives the popular sedan a bit of a JDM look. You don't have to excessively modify your car to get a more JDM look and this 2014 Altima demonstrates that a simple upgrade can make a world of difference to any car.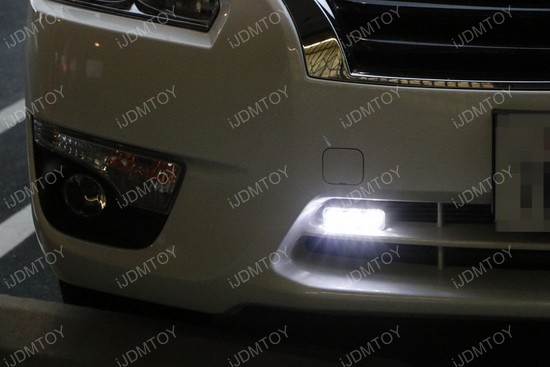 This mini 3-LED daytime running lights is easy to install on all kinds of vehicles and its small size gives you the opportunity to install it vertically or horizontally. You just need to mount these universal fit LED DRL lamps to the location you feel would look the best and wire up the assembly. Get ready to have plenty of people out there ask you where you bought your awesome LED lights.