by iJDMTOY on Feb.03, 2012, under Uncategorized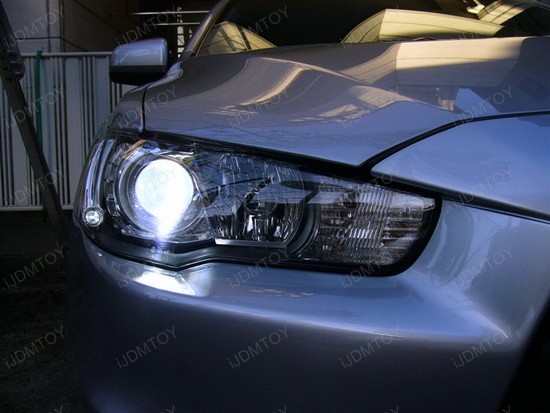 Check out this aggressive 2009 Mitsubishi Evo X posing like a model and looking pretty confident with these super cool D2S HID Bulbs. I would say that such combination is very exciting and will set on fire even the most indifferent person out there. The crystal-clear headlights of the WRC icon shining with pure ultra white light are nothing less than an eye catcher.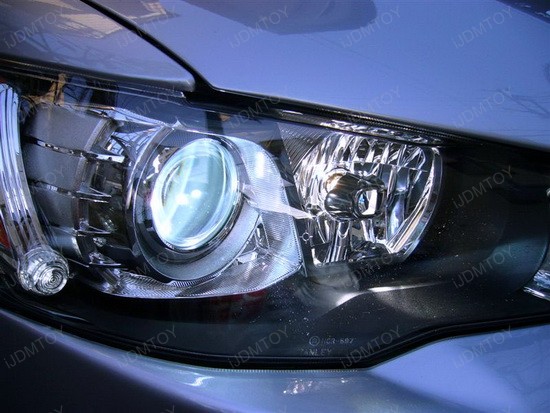 There is a very easy way to turn your car into aggressive-looking road beast and the magic words are D2S HID Bulbs. This badass upgrade will take you right to the next level and bring you more "Cheers" than you can imagine. The D2S Replacement Bulbs will directly replace the stock 4300K D2S or D2R HID light bulbs and you will enjoy better lighting output and a more aggressive look for your ride. Indeed, there is no modification needed, simply plug and play.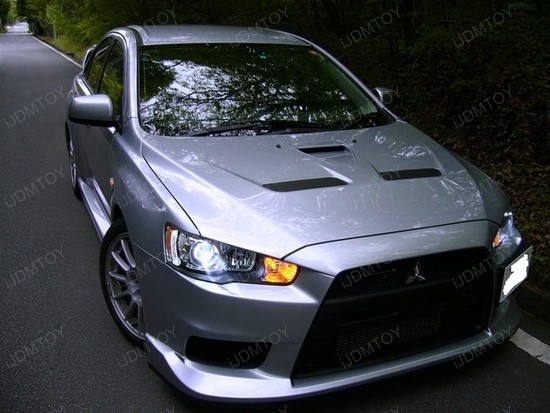 In case you need to be really unique, iJDMTOY offers these magnificent D2S HID Bulbs in 3000K (golden yellow), 6000K (ultra white), 8000K (brilliant blue), 10000K (deep blue), or 12000K (light purple). With such addon your car will stand out and you will enjoy driving it more than before. The color is beautiful at night time and will make any vehicle look more aggressive. In fact, most of our customers who ordered the D2S Replacement Bulbs come back for more, just because their friends want a pair of that great product. Some of them even take complete LED interior lights sets.
Installing the D2S HID Bulbs went better than expected and the 2009 Mitsubishi Evo X got a completely different appearance and as it turned out – it was for good. This is by far the best option if you want to get rid of the dull yellow look and transform your car into something sleek and classy. Treat your ride the way it deserves with quality products from iJDMTOY.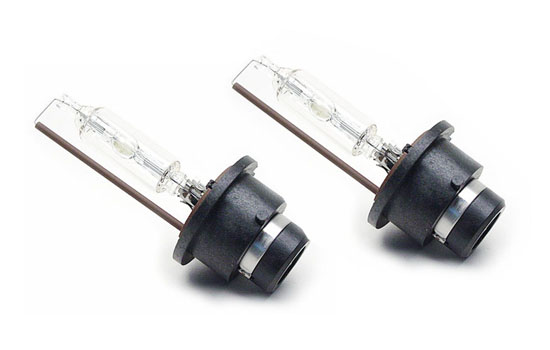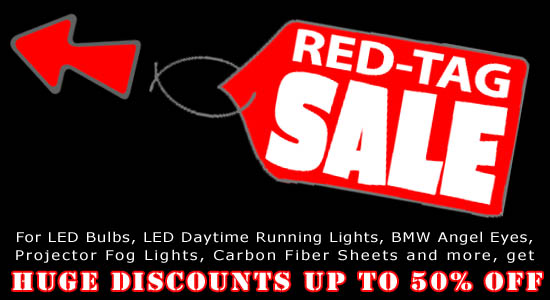 Red Tag Sale for New and existing iJDMTOY customers can save up to 50% OFF. Deal expires soon! Don't miss it!
Leave a Comment
:D2R HID Bulbs, D2R HID light bulbs, D2R Replacement Bulbs, D2S HID bulbs, D2S HID Light bulbs, D2S Replacement Bulbs, Evolution D2S HID Bulbs, Lancer D2R HID Bulbs, Mitsubishi D2S HID Bulbs, Mitsubishi Evo X HID bulbs
more...
by iJDMTOY on Nov.21, 2011, under LED & HID News and Updates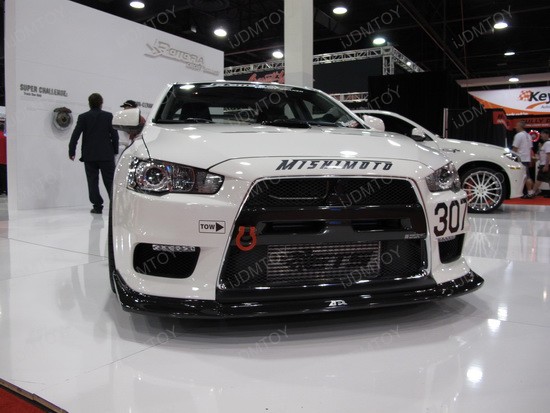 As promised, here comes the other car with LED Daytime Running Lights – the 2011 Mitsubishi Evo X, which was proudly featured at the Super Challenge Booth. I bet this Evo has enormous braking power, but let's take a closer look at the visual lightning accessories.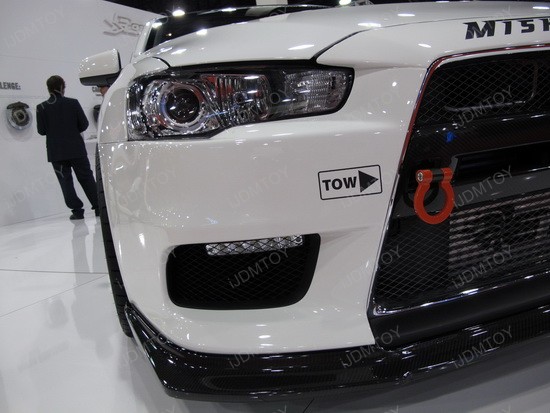 What I see right below the crystal clear HID headlights, is a nice pair of LED Daytime Running Lights. They are mounted behind the grille in the air flow openings of the bumper, which makes these LED DRL look very elegant and discrete at the same time. Actually, this is a pretty smart idea – at first people see the large black front grille, the ETS intercooler in the lower section, and then the stylish LED Daytime Running Lights on both sides. Oh, boy, this is what I call a masterpiece – everything is on the right place – this is a real proof the guys at Super Challenge obviously pay attention to each detail, not just the braking system.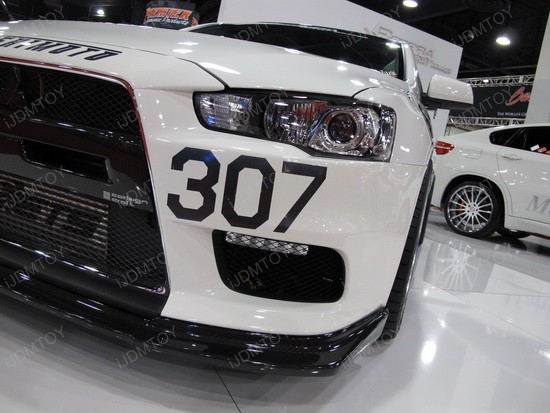 If you a car enthusiast, you will notice these lamps represent the famous and modern Mercedes-Benz Brabus Style DRL. However, if you really like the awesome look of the 5 LED Brabus Style DRL, you can always drop by the JDM Toy store and ask for a high quality LED DRL kit. Their product can be easily mounted for any cars, SUVs or trucks in between the bumper grill, or below bumper, and it comes with wiring harness for easy wiring.
As promised, this featured 2011 Mitsubishi Evo X was the last show car with LED Daytime Running Lights I will write about, but be ready for 3 more LED equipped vehicles from this year's SEMA Show.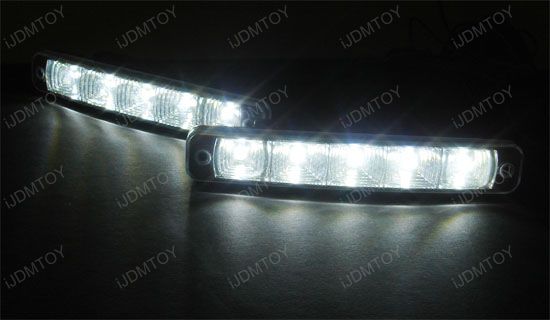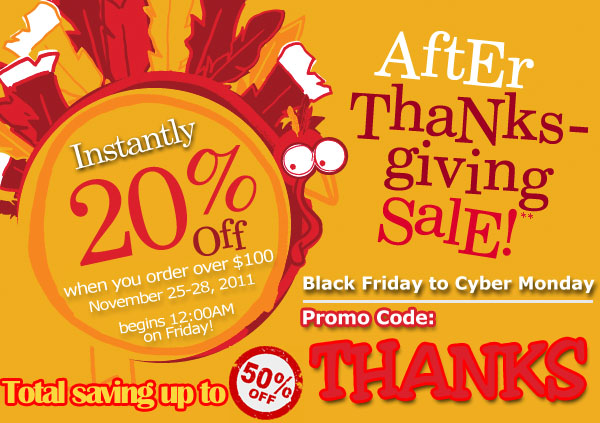 After Thanksgiving Sale – save 20% Off when you order over $100 from November 25-28, 2011 at iJDMTOY.com, the Car LED expert.
Leave a Comment
:2011 Mitsubishi Evo X, Autoshow, black friday, cyber monday, Las Vegas, LED Daytime Running Lights, LED DRL, Mercedes Brabus Style DRL, SEMA show, thanksgiving
more...
Visit our friends!
A few highly recommended friends...
Archives
All entries, chronologically...