Tag: 2057
by iJDMTOY on Jul.01, 2013, under LED & HID News and Updates
If you look at this 2010 Hyundai Genesis Coupe, you just can't miss the super bright 1156 LED bulbs installed for turn signal lights. The owner wanted a custom look with instantly responsive turn signal lights and he went with these amazing iJDMTOY 1156 LED bulbs.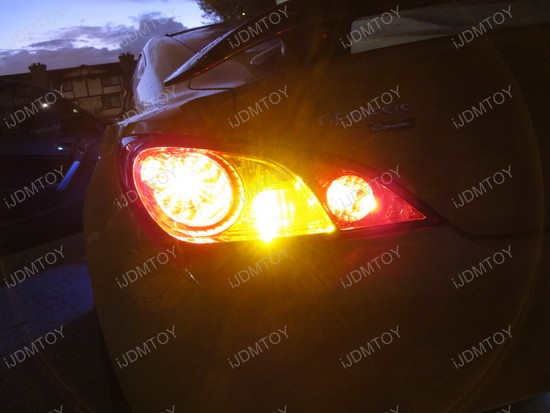 Thanks to 18 beautiful high quality 3-cell 5050 SMD chips per piece, providing 360 degrees illumination, the featured LED Turn Signal Bulbs are much brighter and colorful than the stock OEM dull yellowish tungsten lamps. What's more, you can get this quality long lasting bulb in Xenon White, Ultra Blue, Brilliant Red or Amber Yellow to match your taste and style. But have in mind when using these LED bulbs for turn signal lights, you might need to add a pair load resistors to prevent hyper flashing or malfunction problem.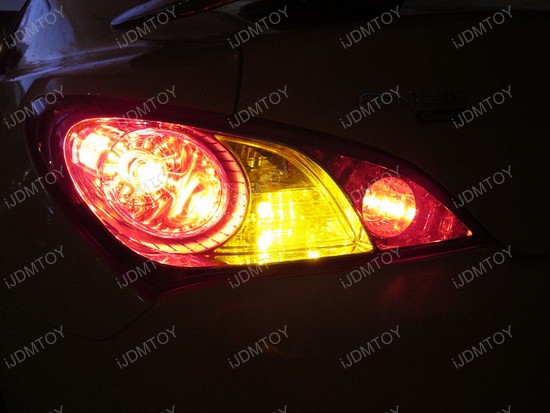 Stock bulbs tend to burn out occasionally over time and this happens when you need them most. We all have been in such situation when we switch our turn signal, but lights doesn't work and we confuse other people in what direction we are going. Save yourself the worries and replace your stock turn signal bulbs with more effective and low-energy consuming LED bulbs. Being plug and play, installation is really simple. Just plug out the old bulbs and install the new neat-o LED bulbs with load resistors to avoid potential issues. However, you can always contact the iJDMTOY support guys for help with installation.
The featured 2010 Hyundai Genesis Coupe looks incredible and gets more attention from people with its brand new LED Turn Signal Bulbs. With LED upgrade like this, the vehicle will be more noticeable in bad weather, which dramatically raises the safety bar for good. And at last, but not the least, you'll dramatically change your car's appearance for just a few well-spent dollars. So, if you want to increase the safety, improve the overall look of your ride and you have just one shot – iJDMTOY is the right place for you.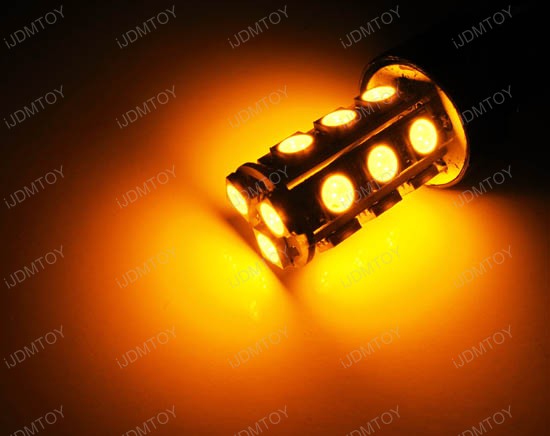 Brought to you by iJDMTOY.com, the expert for your Car LED. Follow us on Facebook for exclusive promo codes.
Leave a Comment
:1016, 1034, 1073, 1093, 1129, 1141, 1154, 1156 LED bulbs, 1157, 1159, 1259, 1459, 1619, 1651, 1680, 2057, 2357, 2397, 3496, 3497, 5007, 5008, 7506, 7527, 7528, backup reverse lights, LED brake, LED bulbs, led lights, LED stop lights, LED Turn Signal Bulbs, LED turn signal lights, led turn signals, turn signal corner lights, turn signal lights
more...
by iJDMTOY on Feb.04, 2013, under LED & HID News and Updates
If you think that a 2003 Volvo S40 can't come up with something cool, then think again – this ride has a brand new 1157 Switchback LED package installed and definitely stands out. The owner replaced his front turn signal stock bulbs with these "switchback" LED bulbs and the difference is obvious.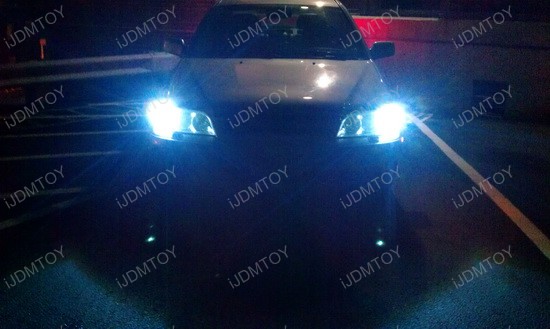 The featured 1157 Dual Color LED bulbs light up the parking lights in very nice Xenon White color, that perfectly matches HID headlights and when you use the turn signals, they will alternate from white to flashing amber. This allows you to gain a uniform white appearance in the front of the vehicle at night, while still having amber turn signals. And if you own a Volvo like this one here, replacing the bulbs will take you just a few minutes.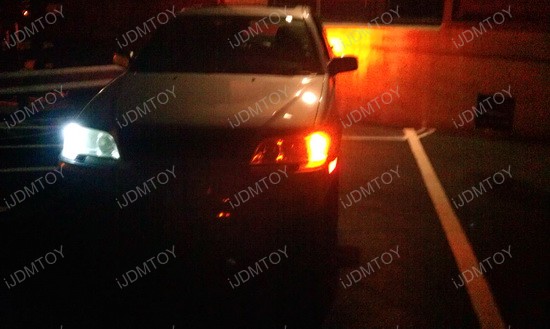 First you have to open the hood, then look at the signal assembly from above and you'll notice a screw that holds it. Loosen it and the signal assembly should slide out, allowing for access to the harness and socket. Then unplug the adapter and replace the old bulb with the new 1157 Switchback LED bulb. Before you put things back together, test if everything is working fine, then proceed with the other front turn signal. Please note you might need to add a pair of load resistors to prevent hyper flashing or malfunction problem. By adding a resistor to the bulb's circuit, you can mimic the power consumption of the original bulb, and return the vehicle to normal turn signal speed.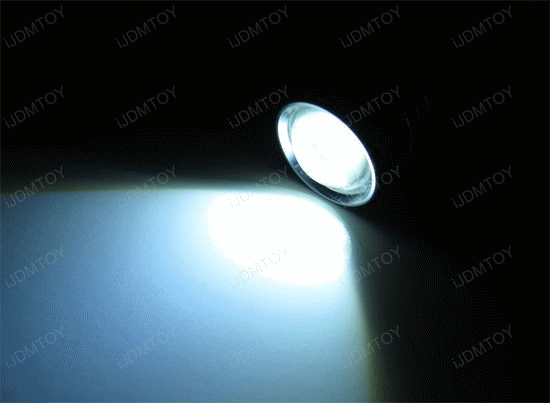 I hope you like this upgraded 2003 Volvo S40 with 1157 Dual Color LED lights, and if you haven't noticed, these bulbs are with magnified projectors in front, which means they are 2-3 times brighter than conventional LED bulbs even in the daytime. This bulb is only suitable for front turn signals with a dual filament bulb (1157, 2057, 2357, 7528 etc), when there is a clear reflector. So, if the featured bulb is suitable for your car, then definitely should think about getting a pair!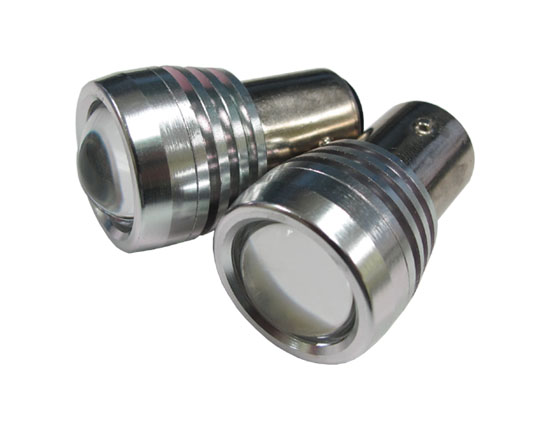 Brought to you by iJDMTOY.com, the expert for your Car LED. Follow us on Facebook for exclusive promo codes.
Leave a Comment
:1157, 1157 Dual Color LED, 1157 Switchback LED, 1157 switchback LED bulbs, 1157 switchback LED lights, 2057, 2357, 7528, corner lights, front parking lights, front turn signal lights, high power led, LED Driving Lights, LED parking lights, LED Turn Signal Light Bulbs, Switchback LED, switchback LED bulbs, turn signal bulbs, turn signal lights, Volvo S40 1157 Switchback LED, Volvo Switchback LED
more...
Visit our friends!
A few highly recommended friends...
Archives
All entries, chronologically...