Tag: 335i
by iJDMTOY on Aug.12, 2011, under LED & HID News and Updates
HID Angel eyes for BMW – People said it couldn't be done, but we finally make it. After a long time of testing, our BMW HID angel eyes are now ready to go.
The HID angel eyes lights are the shorter version of the H8 HID bulbs, which will provide more precise beam pattern than the stock lights. The brightness and the cool xenon color provided by the HID bulbs will make your bimmer a rock star on the road. The lights will even be brighter than the 2011 BMW's stock LED angel eyes.
The HID angel eyes can be a wide investment for all bimmer drivers. With less than a hundred dollars, you will get a nice touch to compliment all of the other exterior mods. More importantly, you can't go wrong with them. HID BMW angel eyes will become the new standard lighting package that everyone wants.
The installation will be much easier than you can imagine. With its plug & play design, it may takes less than an hour to put the HID lights on your BMW. The preconfigured HID angel eyes kit requires no cutting and wiring. The lights will generally fit new models of 1 series, 3 series, 5 series, 7 series and X series. The lights are completely error-free, so you won't be bothered with the error message on dash.
We recently installed this HID angel eye lights for a BMW Z4. The lights are as bright as the headlights under direct mid day sunshine without any flickering issue. Take a look at the video, and consider HID angel eyes for your next project.
Brought to you by www.iJDMTOY.com, the one and only one automotive accessories store for all your Car LED Lights. Follow us on Facebook for exclusive promo codes.
Leave a Comment
:335i, BMW, bmw 328i, BMW 740i HID angel eyes, bmw angel eyes, BMW HID angel eyes, BMW X6 HID, BMW Z4, E90 HID angele eyes, F01/f02 hid angel eyes, hid angel eyes, iJDMTOY
more...
by iJDMTOY on Jan.10, 2011, under LED & HID News and Updates
In 2011, after almost 15 years BMW first introduced the Angel Eyes as a distinguish way for its daytime running lights, BMW has officially made the BMW Angel Eyes go LED! For BMW's new F10 5 Series, the new E92 3 Series Coupe in US and Canada, as well as the BMW X1, X5 sold in Asia such as Japan, the super bright LED Angel Eyes upgrade have become an option that you can add when you purchase the new bimmer.
So for rest of the BMWs already on the road, upgrading its ugly yellowish angel eye bulbs to the high power LED BMW Angel Eyes become more and more popular.
The high power LED BMW Angel Eyes can light up the halo rings with a HID matching 7000K color nicely.
We have recently installed this kind of BMW Angel Eyes LED bulbs for a customer's 2009 BMW E92 328i.
You can see the pictures below comparing the stock angel eye rings with the all new BMW LED Angel Eye. The 6W high power LED bulb did a great job to light up the rings that even at daytime, you can clearly see the difference.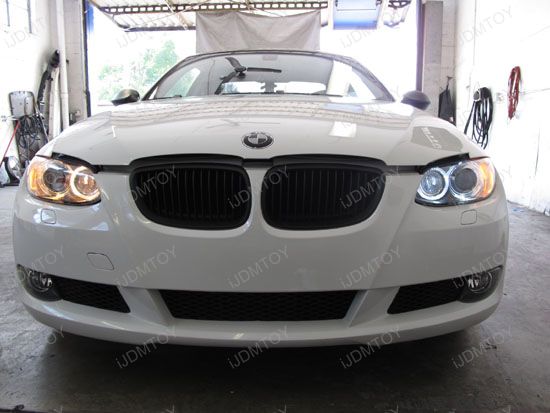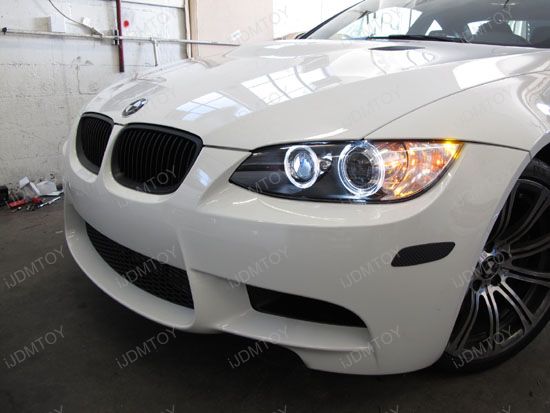 If you are interested at this product, you can buy BMW Angel Eyes here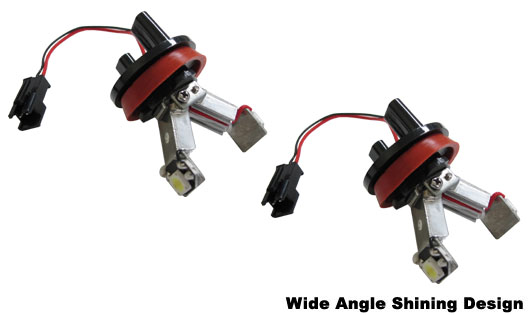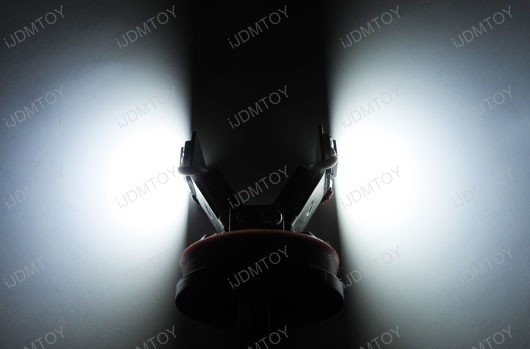 Leave a Comment
:328i, 335i, BMW, bmw angel eyes, E90, E92, led angel eyes, LED Halo, M3
more...
Visit our friends!
A few highly recommended friends...
Archives
All entries, chronologically...