If you take a look at the front end of a 2010 Nissan Juke you'll see it features a stacked array of lights that are begging to be tuned up and this is exactly what we did? We replaced the old glowing monotonous amber light bulbs of the parking lights and turned them into LED Parking Lights. This product is outstanding, as the LED bulbs look very bright and give a matching HID color, which results in a fresh all-clean front end look.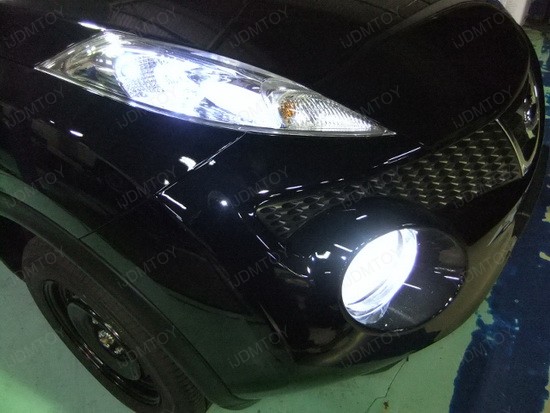 Many drivers will find themselves lacking sufficient amount of light during driving at night, but this ends here. With the help of 360-Degree Shine 5-SMD T10 LED bulbs, driving at night becomes safer, which is probably the most important reason to buy this product. And this Nissan Juke is the proof. It takes a few minutes to install the bulbs and what you get is a perfect and strong lighting. And if you seek a little creativity for your car, when aren't stopping here, as these little bad boys come in a variation of colors such as Xenon White, Brilliant Red, and Ultra Blue.
Some people think LED parking lights are just a fancy add-on, but these bulbs can provide much more lighting especially at night. After replacing the stock Nissan Juke parking lights with LED ones, we saw a big difference increased visibility and comfort, which means increased safety. Not only that, LED also has a longer sustaining life. These bulbs will run as long if not run longer than your headlights!
Spending a few bucks on a pair of 5-SMD T10 LED bulbs is a purchase that really worth every penny. Just imagine how tedious and uncomfortable could be driving this Nissan Juke at night, but with the help of these LED Parking Lights, you'll be eased with greater visibility and therefore perform better.
Brought to you by iJDMTOY.com, the expert for your Car LED Lights. Follow us on Facebook for exclusive promo codes.