Tag: Audi DRL
by iJDMTOY on May.15, 2013, under LED & HID News and Updates
This custom Infiniti G37 Coupe features a very nice addon- Bumper LED DRL. The famous Audi style 9 LED DRL perfectly fits in the lower bumper area of this car and makes it even more appealing and sporty. I guess most of you will love the new sleek LED look of this Infiniti G and will agree that Bumper LED daytime lights are great add-on to the overall luxury and aggressive look.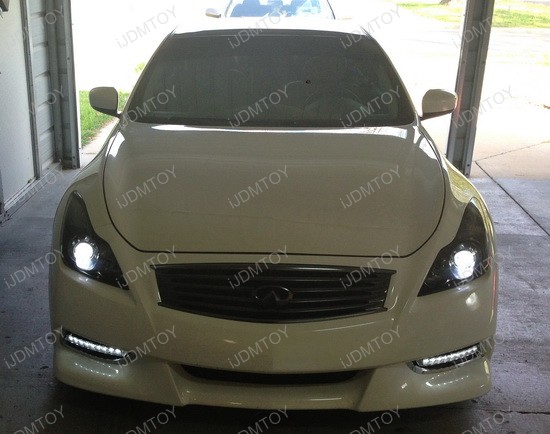 Each lamp has 9 bulbs, that are obviously enough to make the car noticeable from greater distance. Very bright during the day and even brighter at night time, these powerful lamps shine in Xenon White light that perfectly matches with 6000K HID headlights. And this Infiniti G37 is the proof how great this Audi style kit fits in. What's more, the very same high quality product from iJDMTOY is an universal fit and can be installed on many other cars, too.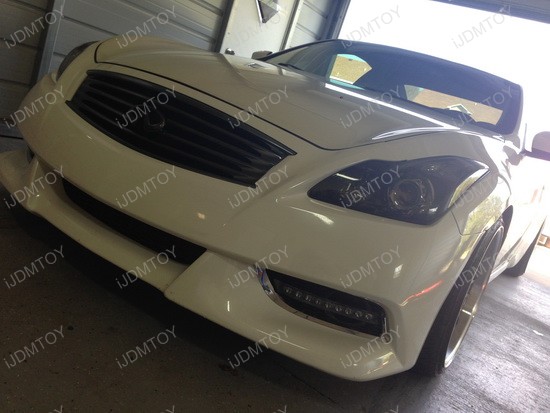 Installing this super cool product is very easy. Take off the lower bumper grille, peel the double-sided tape and align the lamp in place. Then use the included screws to fix it. Do the same with the other side grille and then tap the positive (+) and negative (-) to the parking light (+ / – ) wire. Test, enjoy and showcase your new Bumper LED DRL addon with a drive down the street.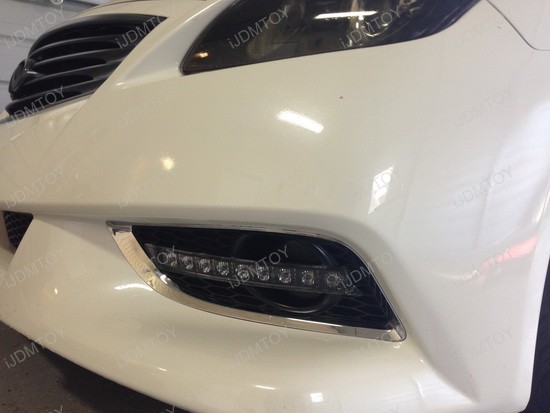 The appearance of this eye-catching Infiniti G37 Coupe with bumper LED DRL installed is amazing – wrapped in a well-tailored suit of sleekness, this ride is a real head-turner. Think about how such small addon takes the sporty coupe to the next level and increases the vehicle's visibility to oncoming traffic during the day. Add the awesome Euro look and you just got the formula of awesomeness.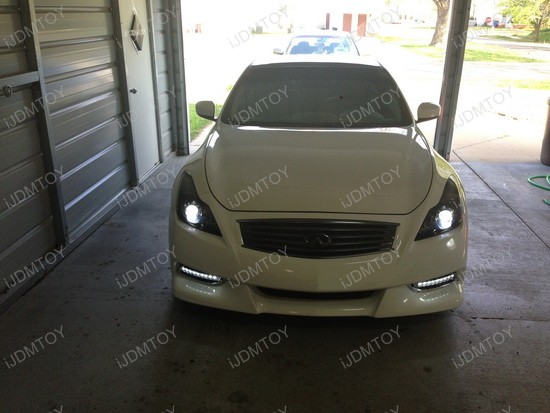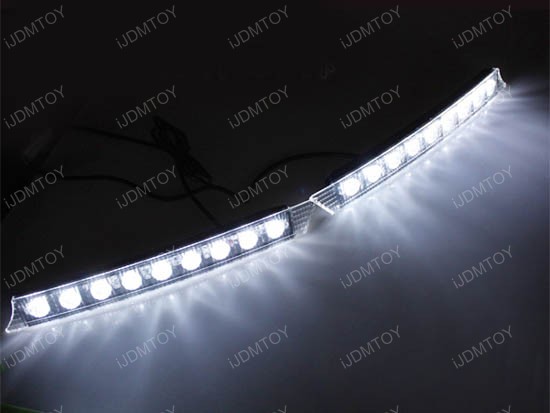 Brought to you by iJDMTOY.com, the expert for your Car LED. Follow us on Facebook for exclusive promo codes.
Leave a Comment
:Audi DRL, Audi style LED, Bumper LED daytime lights, Bumper LED DRL, car led lights, daytime driving lights, daytime running lamps, daytime running lights, Euro DRL, Infiniti G37 daytime lights, Infiniti G37 daytime running lights, Infiniti G37 LED DRL, Infiniti G37 running lights, LED bulbs, LED Daytime Lamps, led daytime lights, LED daytime running light, LED Daytime Running Lights, LED DRL, led lights, LED Running Lights
more...
by iJDMTOY on Jul.29, 2010, under LED & HID News and Updates
Our customer shared his pictures of his 2010 Pearl White Nissan Cube with the new Audi style LED daytime running light.
These Xenon White LED daytime running lights are high power LED lights that give the appearance of an Audi A5 or A6 style. Each LED Daytime Running Light has 9 pieces high power LED lights. Each is 1W to give an eye-catching exotic Euro style look.
Each LED Daytime Running Light Lamp comes with three mounting screws and no brackets are required for the installation.
Purchase this look for your car!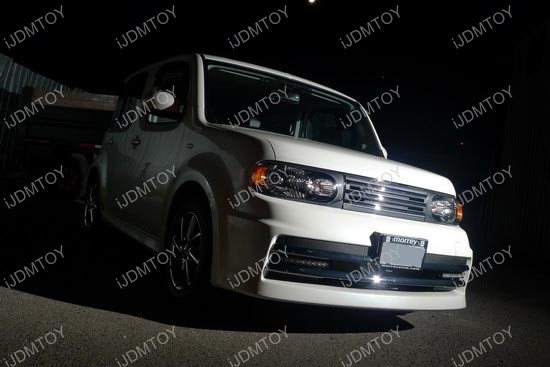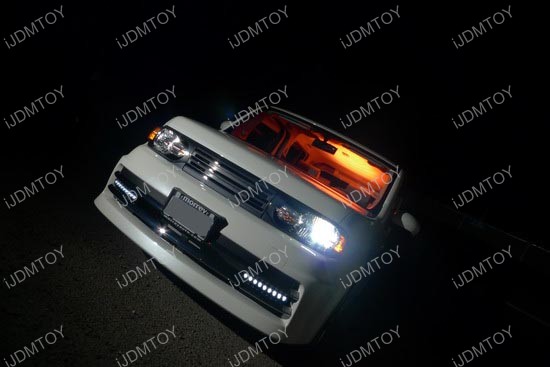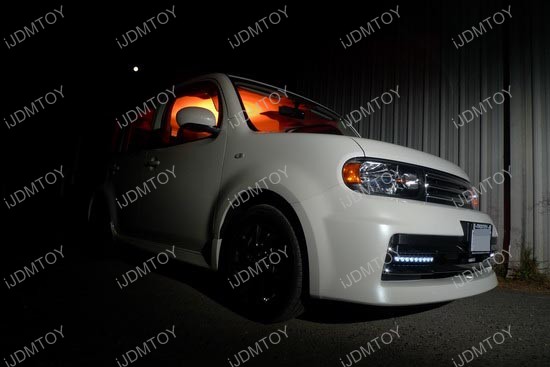 Below is the product, 9-LED High Power Audi Style LED Daytime Running Light (LED DRL Kit)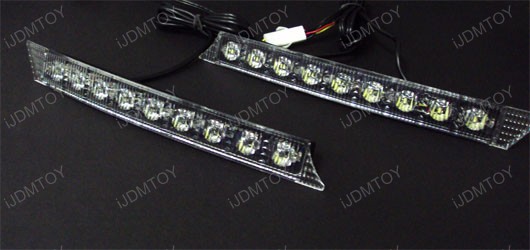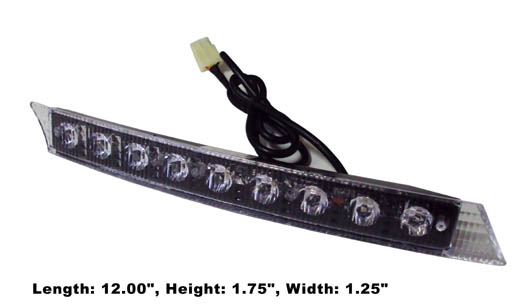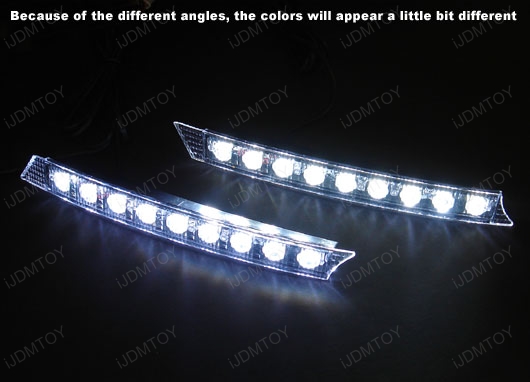 To find these pictures and others please view our website Gallery pictures.
Also there is a Installation and DIY Guide on how to install products.
Your total LED Bulbs and HID Lights are available at iJDMTOY.com.
Leave a Comment
:Audi DRL, Audi style LED, car led lights, daytime running lamps, daytime running lights, Euro DRL, LED daytime running light, Nissan Cube LED, Super Bright LED
more...
Visit our friends!
A few highly recommended friends...
Archives
All entries, chronologically...