Tag: BMW 650i angel eyes
by iJDMTOY on May.01, 2012, under LED & HID News and Updates
A 2009 BMW 650i and LED BMW Angel Eyes – a perfect visual symbiosis! This is what I call a real beauty – the fabulous pearly white bimmer is nothing, but awesome. You even might get shivers while looking at it only half shown from the dark garage with its LED BMW Angel Eyes switched on… No, this isn't ad footage! This is the new LED product from iJDMTOY – The High Power BMW Angel Eyes H8 LED Ring Marker Bulbs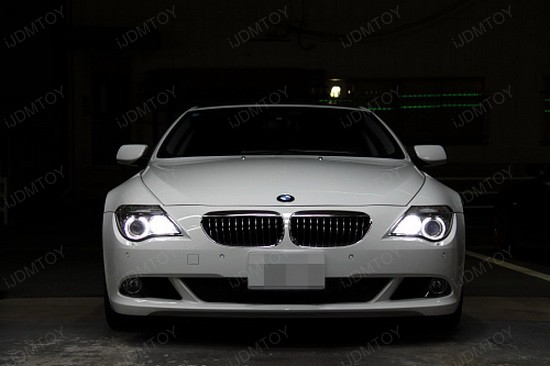 Admit it – the 2009 BMW 650i is extremely stylish and beautiful car, but these new LED Angel Eyes took the ride into a whole new dimension! Style, appearance, impression – all of these got a whole new meaning when the stock dull yellow look was replaced with this nice xenon white HID matching look. The secret of the super bright rings is hidden in the revolutionary new design of the iJDMTOY's 60-degree Wide Angle High Power H8 LED ring marker bulbs. To sum things up, what you get is a maximum lighting output to light up the BMW Angel Eyes much brighter! What's more – each bulb is enough to power up two rings on each side.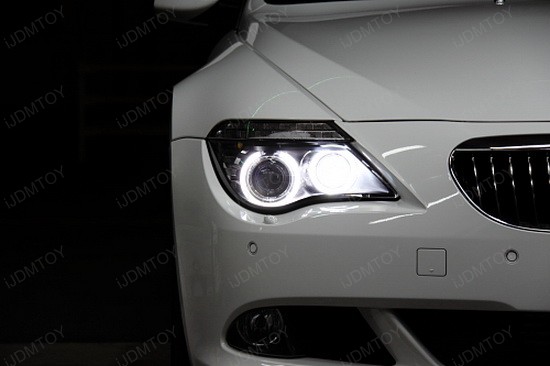 Let me tell you the best part – you can install this awesome LED product at your place in no time! Don't worry – it is as easy as one, two, three. First make sure the engine is turned off and key is off, too. Then proceed and locate the angel eye ring bulb cap, open it and remove the stock H8 halogen bulbs. Take the clamp, included in the package and use it to fold the 60 degrees wide angle H8 LED bulb and install it back to the H8 housing. Next, connect the Wide Angle H8 Angel Eye Bulb to the Error Free Decoder and plug the decoder back to the stock harness. Finally, make sure the LED bulb is directly facing the Angel Eye Ring Tube Opening for maxima lighting performance. That's it! Take some steps back and enjoy the new LED look of your BMW!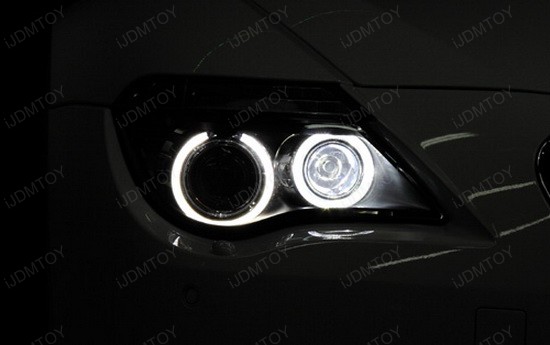 Here we have a 2009 BMW 650i, but please note that these awesome BMW Angel Eyes will fit in other BMW models such as 2010 BMW 6 Series LCI version, E90 Sedan 2009 and up, E92 Coupe 2008 and up, E90 M3 2009 and up, E92 M3 2008 and up, E93 Convertible 2008 and up, etc. Make sure the BMW has factory equipped HID headlights, otherwise this kit won't fit in. However, more models are compatible with this LED set, but for full list, check out the iJDMTOY online shop and look for this fantastic LED upgrade.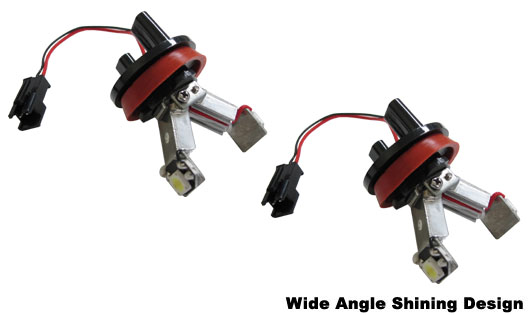 Brought to you by iJDMTOY.com, the expert for your Car LED. Follow us on Facebook for exclusive promo codes.
Leave a Comment
:Angel Eye Rings, BMW 6 series angel eyes, BMW 650i angel eyes, bmw angel eyes, BMW Demon Eyes, BMW Halo Rings, bmw headlights, BMW LED Angel Eyes, BMW LED bulbs, how to install bmw angel eyes, led angel eyes, oem angel eyes
more...
by iJDMTOY on Mar.26, 2012, under LED & HID News and Updates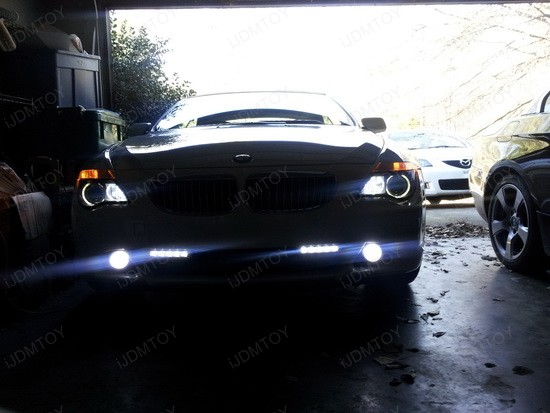 There's one word to describe this 2007 BMW 650i and the BMW Angel Eyes – phenomenal! Just take a look at the unique combination of LED Daytime running lights, LED fog lights and the BMW Angel Eyes! The pictures are taken from inside the garage with only one purpose – to emphasize the stunning effect of such LED accessories and you know what.. these are breathtaking!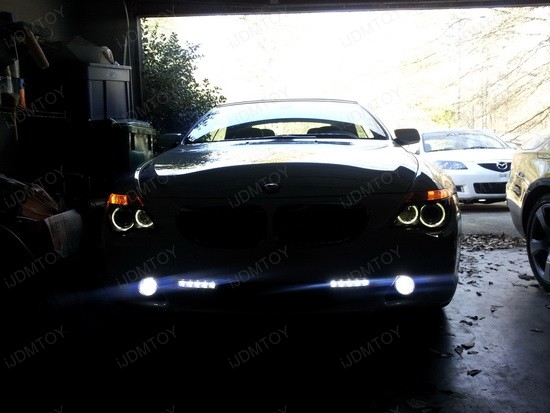 I suppose you already got the tickling feeling of seeing this gorgeous beast at night and I can assure you – it is a lot more beautiful after sun goes down the hill. However, the most distinctive LED lighting upgrade is inside in the headlights. You must have already guessed I talk about the super bright Xenon White BMW Angel Eyes. These pretty LED lights will get rid of the dull yellow look for a nice HID matching look – just like the all 2011 BMW E92 3 Series and 2011 BMW 5 Series.
Let me tell you some of the greatest BMW LED Angel Eye features – 7000K Xenon White color, Super bright 360 Lum lighting output thanks to the high quality CREE LED technology, built-in CAN-bus controller, etc. To sum it up – These Super Bright LED bulbs produce a powerful crisp white light, which looks just amazing. They fit directly into your existing bulb holder, so there is no modification or cutting of wires required – just 'plug and play'.
And you don't have to worry whether an OBC error will pop up on the dashboard, because these quality bulbs from iJDMTOY have built-in CAN-bus controller. There's just one small thing you should have in mind when purchasing the BMW LED Angel Eyes – they work for the BMW vehicles with factory equipped HID headlights only. For full compatibility list, please check out the product description page on the iJDMTOY online shop. What's more, there you can watch a video showing you how to install this perfect upgrade in your own garage!
As you may have already guessed, driving 2007 BMW 650i with BMW LED Angel Eye is a delight – people don't buy large luxury coupes and convertibles because they're practical. They buy them because they're beautiful and extravagant. And if you want to spice up your ride and give it even more classy look – then go for it and visit iJDMTOY.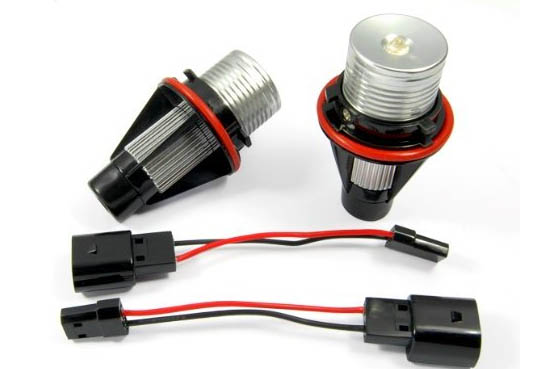 Introducing iJDMTOY's new products for halo projector headlights and LED tail lights.
Leave a Comment
:2007 BMW 650i LED angel eye, BMW 650i angel eyes, bmw angel eyes, BMW LED Angel Eye, Car LED, high power led, LED bulbs, led lights, ring marker bulbs
more...
Visit our friends!
A few highly recommended friends...
Archives
All entries, chronologically...