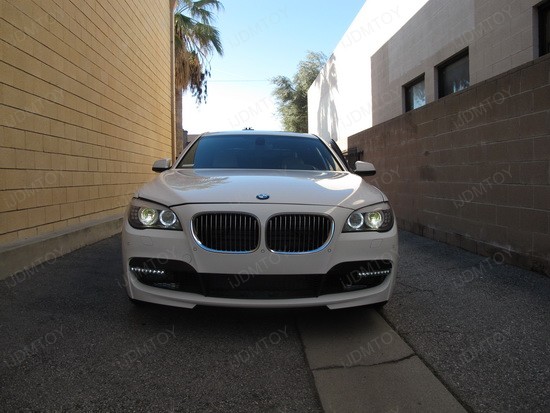 This extended-wheelbase 2010 BMW 740Li is outstanding, and when the owner purchased the new LED Day Lights, everything worked perfectly. The LED Running Lights fitted like a glove and the BMW got a lot of great looks and comments. In fact, many people thought this LED upgrade is included in some of the extra packages for this model, but no – it has nothing common with car's myriad electronic gizmos.
Styling is once again in line with how BMW enthusiasts think a German-made flagship should look – stately, substantial and with a hint of aggression. Add up some modern LED technology and you get a perfect combination of style, elegance, safety and energy efficiency. I think this quality LED product covers all those points and in addition to that, it will also fit many other vehicles that have enough space under the bumper, not just the 2010 BMW 740Li.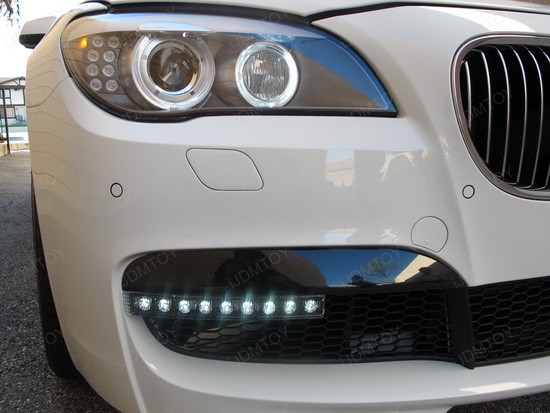 If you want to upgrade the look of your car and improve the safety, give these LED Day Lights a shot. To be honest, installation of these LED Running Lights is very simple, but before purchasing, please make sure the space in between the bumper is long and wide enough for this LED Daytime Running Light (DRL) lamp to fit. Start with figuring how to take off the grille plastic cover and when you take it off, mount the LED Day Lights on the grille plastic using screws or 3M tape. Do this with the other grille cover, too. When you are done, put the covers back and draw power from the sidemarker or parking lights by tapping their wires together. Then step back and enjoy the super-cool new look!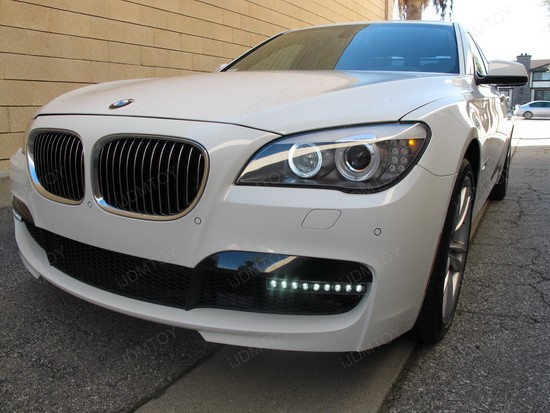 The pearl white 2010 BMW 740Li with its LED Day Lights is fantastic! Look at the pictures and see the new super bright LED Running Lights perfectly matching the LED Angel Eyes and HID headlights. I admit this product from iJDMTOY just nailed it. You can give your car an awesome eye-catching Euro luxury look and safety improvement with these LED Daytime Running Light (DRL) Lamps. Go get them at iJDMTOY!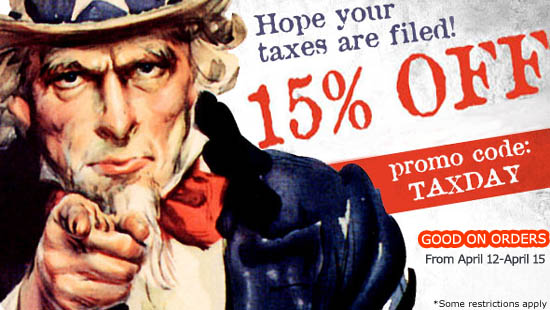 Introducing iJDMTOY's new products for halo projector headlights, LED tail lights and JDM decals.