Tag: BMW E92 LED lights
by iJDMTOY on Apr.13, 2012, under LED & HID News and Updates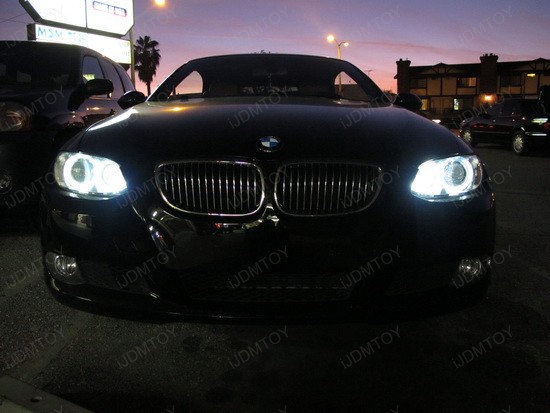 2008 BMW 335i Coupe is said to be the ultimate driving machine, but when the owner added the LED BMW Angel Eyes, this ride turned out to be the ultimate driving machine with a perfect blend of style, appearance and performance. Just look at the beautiful front end, the bright light, coming from the HID headlights and the perfectly matching xenon white E92 LED Angel Eyes. Then look at yourself and see the smile on your face this car puts on.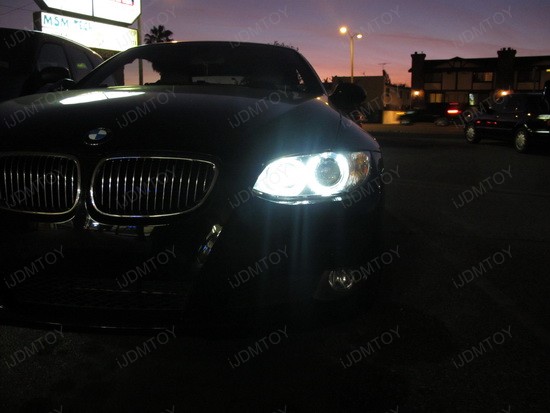 Well, this is what I am talking about – the BMW Angel Eyes will get rid of the dull yellow look for a nice xenon white HID matching look similar to the all new 2011 BMW E92 3 Series and 2011 BMW 5 Series. The secret of the super bright rings is hidden in the revolutionary new design of the iJDMTOY's 60-degree Wide Angle High Power H8 LED ring marker bulbs. Basically, what you get is a maximum lighting output to light up the BMW Angel Eyes much brighter! And guess what – each bulb is enough to power up two rings on each side.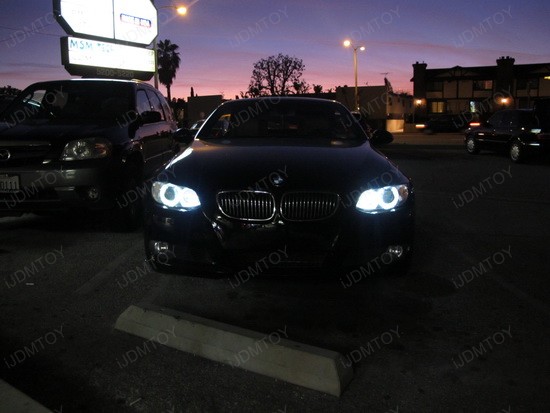 Fully deserving of its popularity, the BMW E92 3 Series sets the bar for many aspects, but true fans always look for available improvements and certain level of customization. This is where the new BMW Angel Eyes come in. I guess you wonder how to install this awesome LED product, but don't worry – it is as easy as a pie. First make sure the engine is turned off and key is off, too. Then proceed and locate the angel eye ring bulb cap, open it and remove the stock H8 halogen bulbs. Take the clamp, included in the package and use it to fold the 60 degrees wide angle H8 LED bulb and install it back to the H8 housing. Next, connect the Wide Angle H8 Angel Eye Bulb to the Error Free Decoder and plug the decoder back to the stock harness. Finally, make sure the LED bulb is directly facing the Angel Eye Ring Tube Opening for maxima lighting performance.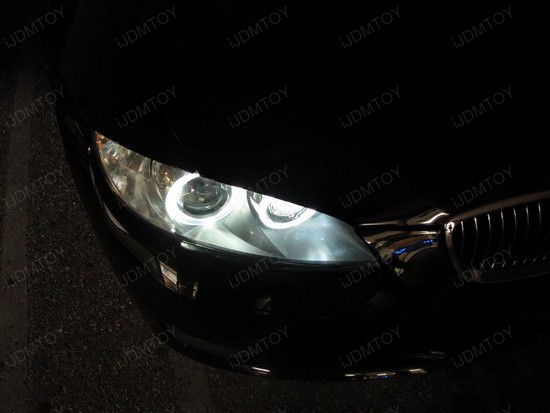 Please note that these awesome BMW Angel Eyes will fit in other BMW models without modifications, too. Some of them are E90 Sedan 2009 and up, E92 Coupe 2008 and up, E90 M3 2009 and up, E92 M3 2008 and up, E93 Convertible 2008 and up. What's more, make sure the BMW has factory equipped HID headlights, otherwise this kit won't fit in. However, more models are compatible with this LED set, but for full list, check out the iJDMTOY online shop and look for this fantastic LED upgrade.
Anyway, apart from being the most fantastic car, the 2008 BMW 335i Coupe looks much better with the LED BMW Angel Eyes and very similar to the new 2011 and up BMW's stock high power LED Angel Eyes rings. People who own such amazing car say it is worth every penny and is the nicest and best car they have ever owned, but when they installed the completely error free plug and play E92 LED Angel Eyes, it truly became the ultimate driving machine!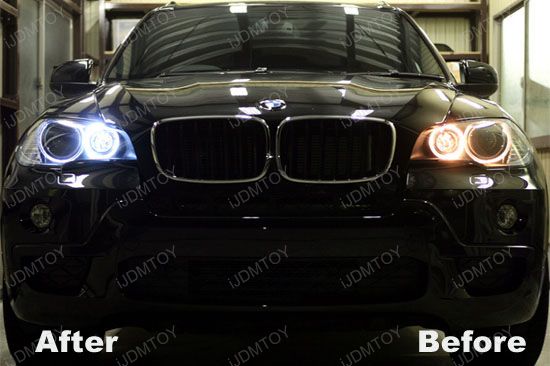 Introducing iJDMTOY's new products for halo projector headlights, LED tail lights and JDM decals.
Leave a Comment
:Angel Eye Rings, bmw angel eyes, BMW Demon Eyes, BMW E92 angel eyes, BMW E92 LED lights, BMW Halo Rings, bmw headlights, Car LED, E92 LED Angel Eyes, H8 Ring Marker Bulbs, LED bulbs, led lights
more...
Visit our friends!
A few highly recommended friends...
Archives
All entries, chronologically...