Tag: BMW HID angel eyes
by iJDMTOY on Sep.28, 2011, under LED & HID News and Updates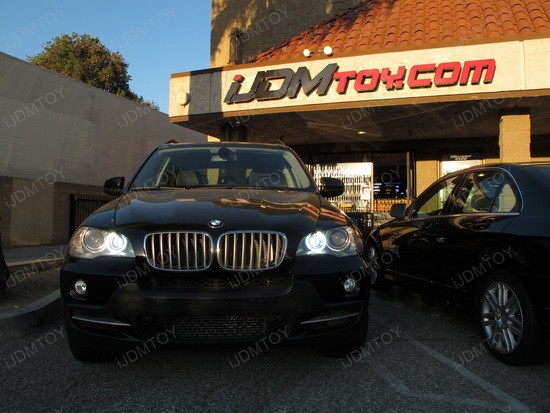 We all know that BMW X5 is a luxury mid-size SUV and it was BMW's first SUV (Sport Utility Vehicle), but we add something new to this revolutionary automobile and this is our HID Angel Eyes kit. Yes, we did it? No more halogen or LED Angel Eyes.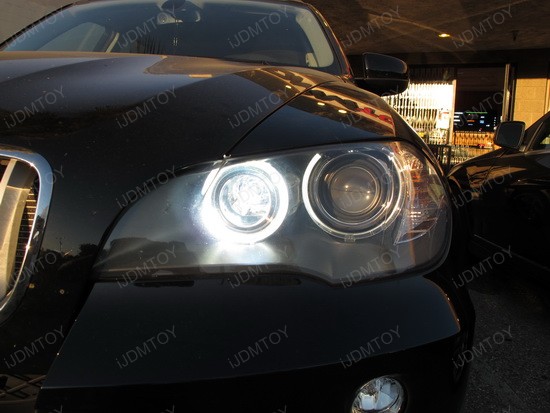 The cool thing about this kit is the bulb length? They are shorter than the H8 HID bulbs, which results in more precise beam pattern. This means the lights will be brighter and the cool Xenon color will give your BMW a great new look. Forget about the stock Angel Eyes? Your Bimmer deserves the best.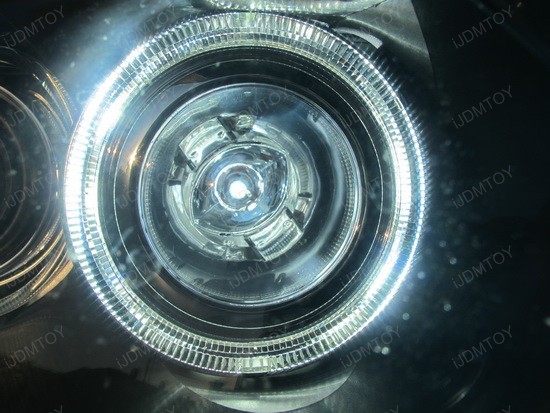 Installation of this HID Angel Eyes kit is really easy. Please note that no modifications are required? Just plug and play, but for this BMW HID Angel Eyes to fit, your BMW must have factory equipped HID Headlights first. Once installed, you'll never see them flickering. And just because these bulbs are quality-made error free product, there will be no annoying warning message on dashboard. You can install the lights on a wide variety of BMW models? Starting from 1 series: E87, E87, go through 3 series E90-E93, 5 series E60, 7 series F01/F02, X5 E70, X6 E71 and up to Z series E89. For a complete list please check out our product page.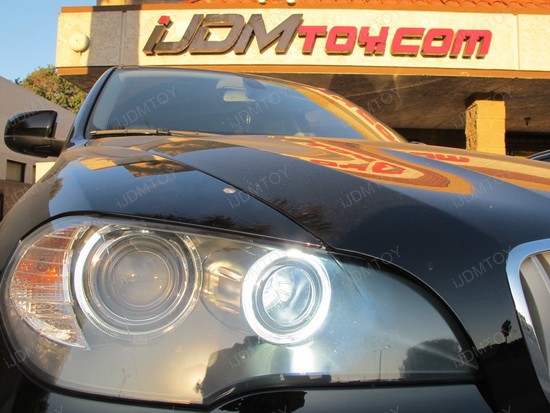 If you want your car to look better day and night, a smart and inexpensive purchase will do the magic? You will be amazed, your friends will be amazed, as HID Angel eyes are noticeably brighter during the day, too. Get rid of the annoying glare and the cheesy ambient light of the stock angel eyes. If you own a BMW X5, you would probably treat it like a BMW and have in mind HID angel eyes for your next project, as you just can't go wrong with this kit.
Brought to you by iJDMTOY.com, the expert for your Car LED Lights. Follow us on Facebook for exclusive promo codes.
Leave a Comment
:bmw e70 x5, BMW HID angel eyes, BMW X5, H8 HID Bulbs, hid angel eyes, HID lights
more...
by iJDMTOY on Aug.12, 2011, under LED & HID News and Updates
HID Angel eyes for BMW – People said it couldn't be done, but we finally make it. After a long time of testing, our BMW HID angel eyes are now ready to go.
The HID angel eyes lights are the shorter version of the H8 HID bulbs, which will provide more precise beam pattern than the stock lights. The brightness and the cool xenon color provided by the HID bulbs will make your bimmer a rock star on the road. The lights will even be brighter than the 2011 BMW's stock LED angel eyes.
The HID angel eyes can be a wide investment for all bimmer drivers. With less than a hundred dollars, you will get a nice touch to compliment all of the other exterior mods. More importantly, you can't go wrong with them. HID BMW angel eyes will become the new standard lighting package that everyone wants.
The installation will be much easier than you can imagine. With its plug & play design, it may takes less than an hour to put the HID lights on your BMW. The preconfigured HID angel eyes kit requires no cutting and wiring. The lights will generally fit new models of 1 series, 3 series, 5 series, 7 series and X series. The lights are completely error-free, so you won't be bothered with the error message on dash.
We recently installed this HID angel eye lights for a BMW Z4. The lights are as bright as the headlights under direct mid day sunshine without any flickering issue. Take a look at the video, and consider HID angel eyes for your next project.
Brought to you by www.iJDMTOY.com, the one and only one automotive accessories store for all your Car LED Lights. Follow us on Facebook for exclusive promo codes.
Leave a Comment
:335i, BMW, bmw 328i, BMW 740i HID angel eyes, bmw angel eyes, BMW HID angel eyes, BMW X6 HID, BMW Z4, E90 HID angele eyes, F01/f02 hid angel eyes, hid angel eyes, iJDMTOY
more...
Visit our friends!
A few highly recommended friends...
Archives
All entries, chronologically...