Tag: BMW LED Turn Signal
by iJDMTOY on May.10, 2013, under LED & HID News and Updates
The owner of this 2008 BMW E92 335i wanted something really cool and upgraded his front turn signals with BMW LED Turn Signal bulbs from iJDMTOY. As you can see from the pictures, the new LED bulbs are lighting up in a very nice rich amber yellow color and look amazing next to the white BMW Angel eyes. What's more, the front end is far more stylish and appealing when lights are off.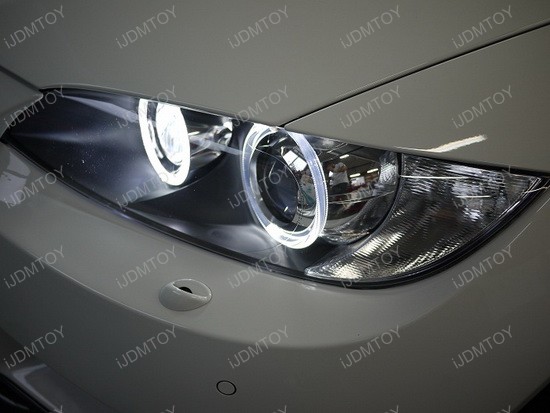 The featured PY24W Turn Signal LED bulb has a revolutionary new design that makes installing additional load resistors completely unnecessary. After conducting a few long tests on several BMWs, no errors came up on the dashboard. This means the specially designed PY24W Turn Signal LED bulb is plug and play and completely error free for BMW models listed below:
3 Series E90 LCI 2008-2011 (with halogen capsule headlamps)
3 Series E91 Wagon 2007-2011 (with halogen capsule headlamps)
3 Series E92 Coupe 2007-2011
3 Series E90/E92 M3 08 (Coupe and Sedan), 2009-2011 (Coupe only)
3 Series E93 M3/Convertible
X3 E83 LCI 2006-2009
X3 F25 2010 and up
X5/X5M E70 2007 and up
X6/X6M E71 2008 and up
Z4 E89 2009 and up
5 Series F10 2010 and up
5 Series F07 Gran Turismo 2010 and up
Please note, that LCI stands for Life Cycle Impulse, the upgraded, facelift model.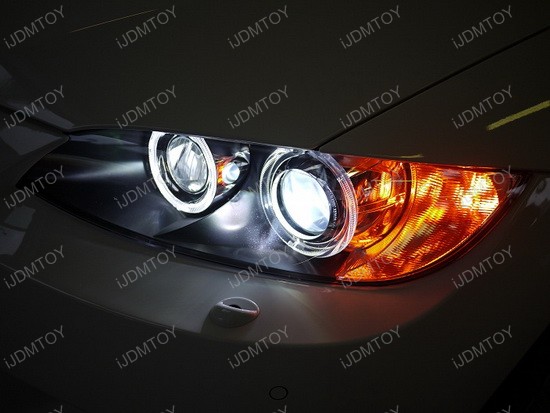 But let's get straight to the point – changing those ugly, reflective, incandescent amber bulbs to crisp LED in amber color has never been easier. Simply plug out the stock bulbs and replace with the new ones. If you have some concerns or difficulties switching to better and brighter LED lights, don't hesitate to contact iJDMTOY for more information.
Take a look at this 2008 BMW E92 335i with the significantly brighter PY24W Turn Signal LED bulbs and ask yourself whether you want to maximize the signal visibility and give your BMW a sharper edge. You just can't go wrong with purchasing a pair of these LED bulbs and give your car a fresh new look, which could be described in just one word – outstanding!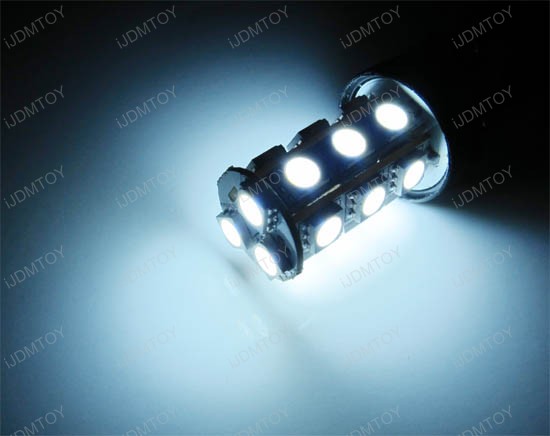 Brought to you by iJDMTOY.com, the expert for your Car LED. Follow us on Facebook for exclusive promo codes.
Leave a Comment
:BMW Front Turn Signal Lights, BMW LED Turn Signal, front turn signal lights, led turn signals, PY24W LED bulbs, PY24W Turn Signal
more...
by iJDMTOY on Sep.24, 2012, under LED & HID News and Updates
2010 BMW M3 is the fifth generation of the most powerful 3-Series cars and because being "stock" is too mainstream, we rolled out the BMW LED Signal Lights for all you people out there who want to bring your Ultimate driving machine in the spotlight! Yes, the BMWs grew heavier and more expensive, and switched from classic BMW six-cylinder engines to big V-8 powerplants, but adding a little piece of uniqueness won't cost you a fortune.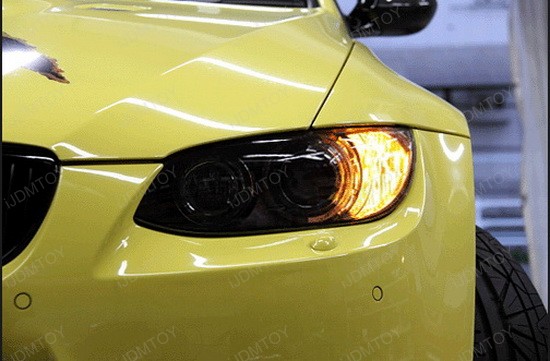 The featured BMW LED Turn Signal bulbs are super bright and truly error free! Each error free LED bulb contains 18 pieces Beautiful High Quality 3-Cell 5050 SMD chips (available in Xenon White or Amber Yellow) and no resistors are required to shine three times brighter than stock filament bulbs. With specifications like these, replacing the front turn signal lights of this 2010 BMW M3 was a piece of cake. There was no errors, and the revolutionary new design gave that car eye-popping look in just a few minutes.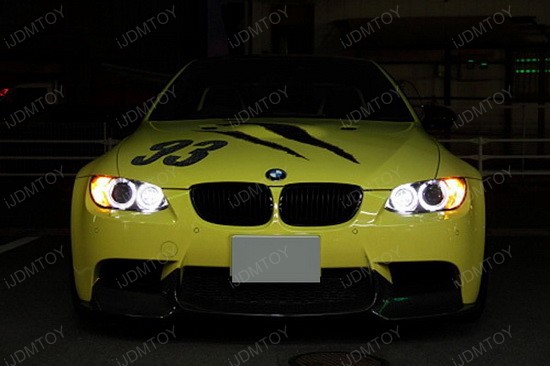 As a matter of fact, you can upgrade your own turn signal bulbs even if you don't own a 2010 BMW M3, but some other vehicles just like other 3 Series, 5 Series, some Audi and Mercedes Benz models – check out the complete compatibility list on the product page! Installation is very simple if you own E90 – these have a nice little access panel in the wheel well and everything takes a few minutes, but if you own E92, then some more work is involved.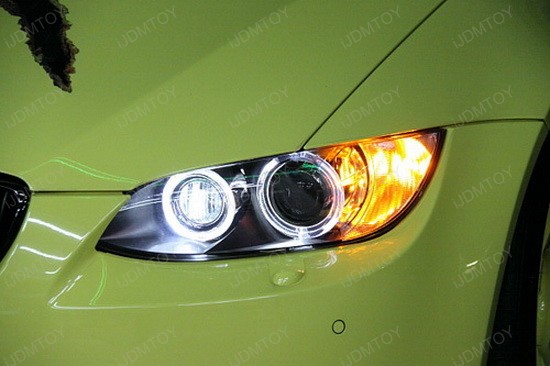 If you look at your inner fender well you will see a number of screws. You'll have to remove a bunch of them to be able to pull the lining back enough to access the bulb. If you have a jack and jack stands, it will be easier with the wheel removed. If you don't have access to a jack or jack stands, just turn the wheel to a point where you have easier access. Once you get in there, it is really obvious.
Please note: the bulbs can be tricky to get seated correctly. Take your time so you don't break anything and get it lined up correctly. Once you think you have the lights seated properly, test them before you button everything back up (i.e. turn on the turn signals and make sure they light up).
Coupes like the 2010 BMW M3 have always been among the most eye-pleasing on the planet and you can trim your car to luxury standards with upgrading to BMW LED Signal lights. Just check out the iJDMTOY online store and look for this awesome LED upgrade!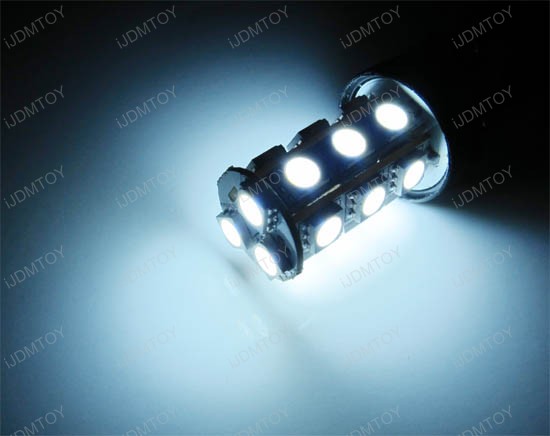 Brought to you by iJDMTOY.com, the expert for your Car LED. Follow us on Facebook for exclusive promo codes.
Leave a Comment
:BMW Front Turn Signal Lights, BMW LED Signal Lights, BMW LED Turn Signal, Error Free LED bulbs, front turn signal light bulbs, LED bulbs, led lights, LED turn signal light bulb, LED turn signal lights, PY24W LED bulbs
more...
Visit our friends!
A few highly recommended friends...
Archives
All entries, chronologically...