Tag: conversion kit
by iJDMTOY on Nov.15, 2010, under LED & HID News and Updates
For Thanksgiving, www.iJDMTOY.com is having the biggest SALE in 2010, a storewide 20% OFF everything deal from November 19-30th. Even Bigger, from November 25th-30th, on selective items such as LED Strip Lights, HID Conversion Kit, LED license plate light bulbs, certain LED Daytime Running Lights, High Power LED Bulbs, and D1S/D2S/D3S HID bulbs will receive up to 62% off from its original price.
This Deal will not last, get prepared and happy shopping!
Please remember to visit our JDM-store during this holiday season and receive mega savings for all your auto car lighting needs. Want more money saving deals for this holiday? don't forget to subscribe to our newsletter at www.iJDMTOY.com.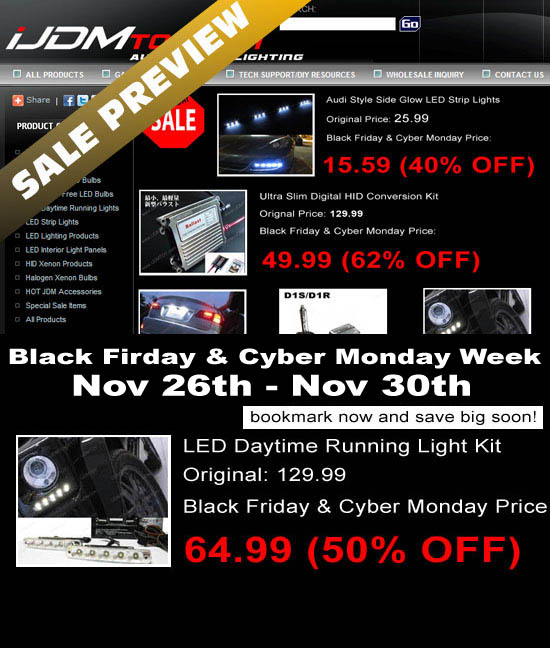 Below is a product that will receive additional discount during this Black Friday & Cyber Monday Sale!
For our Black Friday & Cyber Monday sale, the $129.99 HID conversion kit will be on sale for $49.99, 5 days only from November 26-30th. Some cars don't come with stock HID bulbs, meaning the headlight bulbs, or fog light bulbs, are not the type D1S/D2S/D3S etc. Rather, the bulb is something like H1, HB2, or 9003. If your headlight bulbs are halogen, do not worry. This means you can convert your headlights to High Intensity Discharge lights using a HID conversion kit (pictured below). As long as you plug all the wires together, i.e. the power source wire to power source, like the old bulb, and the HID bulb into the headlight socket, just like the old bulb, you'll have a plug and play experience without hassle. For pictures of this installation go to HID conversion kit installation guide.
Most high end (pricier) cars come with HID factory bulbs – but with a price. Don't miss out on this opportunity to get HID light bulbs for your car at a discounted price of only $49.99! This deal will not last forever and a price like this is unbeatable for a quality HID product.
Before you shop, here are a few tips:
Choose your bulb size (must match the factory bulb size for a proper fit) and then choose which Kelvin you'd like. For example, if you like white color then get 6000K, if you want somewhat bluish hint go for 8000K or 10000K and so forth. Here are a few pictures of what the cars look like with HID kits installed.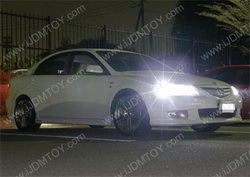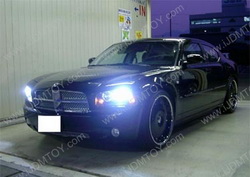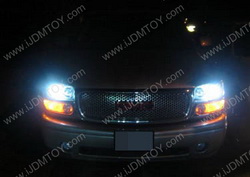 The pictures include examples of HID kits in 6000K, 8000K, 10000K, and 12000K, pretty much in order from top left to right bottom. If you get HID, you can enjoy these lights forever because HIDs are probably the most longest lasting type of bulbs ever made. Don't forget, from November 26-30th, 2010 iJDMTOY is having a steep discount on HID kits, over 60% off. The conversion kit is plug and play and easy to install. The size of the ballast is about the size of a pack of cigarettes. Enjoy your HID lights forever!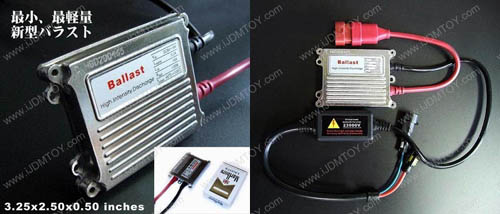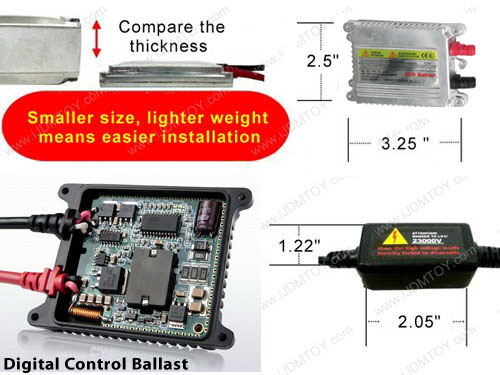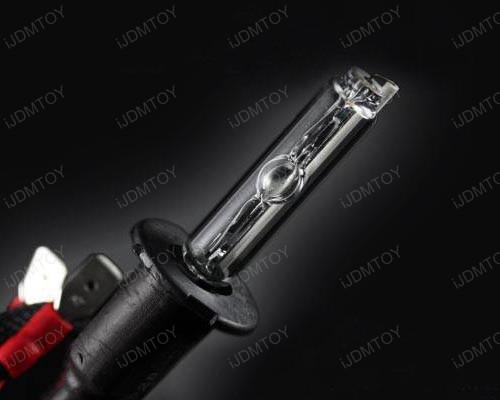 For more product pictures, please visit our Pictures and Video Gallery.
You can also find useful information on iJDMTOY Tech Support, Installation and DIY Guides as well.
Brought to you by iJDMTOY.com, the one stop store for all your Super Bright LED Car Light needs.
Leave a Comment
:black friday, conversion kit, cyber monday, HID Conversion Kit
more...
Visit our friends!
A few highly recommended friends...
Archives
All entries, chronologically...