Tag: daytime running lamp
by iJDMTOY on Jun.14, 2013, under LED & HID News and Updates
We offer a large variety of LED daytime running lights, some that are vehicle specific and some that are universal which can be made to fit a plethora of vehicles. In this particular case, we have a customer who purchased our 9-LED Daytime Running Lamps and installed it on his BMW.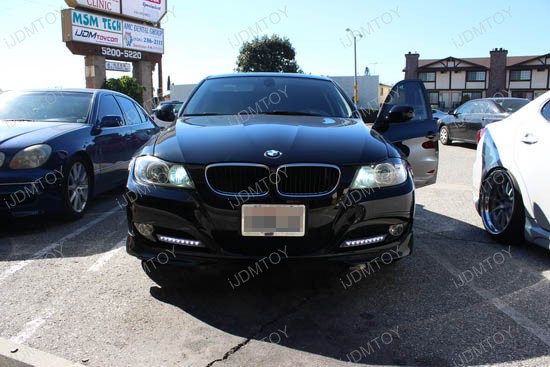 These particular lights are easily installed when there is a mesh grill behind them since they are screwed into the back of the housing through the mesh which holds it in place. Fortunately for this customer, his car's fog light area was the perfect size to accommodate these lights and required little to no modification to install. The shape and flow of the lamp and application area allowed these lights to fit flush and look very natural there.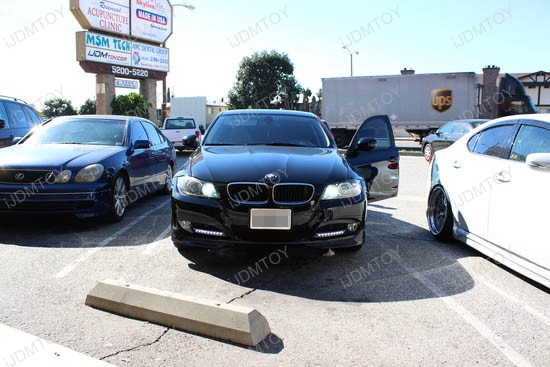 Our customer connected the wires to these lights directly to his daytime running lights so that when those lights are on, the LED daytime running lamps are also on acting as additional lights. Since there are only two wires coming off the LED lamp, the installation is very easy and straight forward; they just need to be connected to a 12v power source and ground.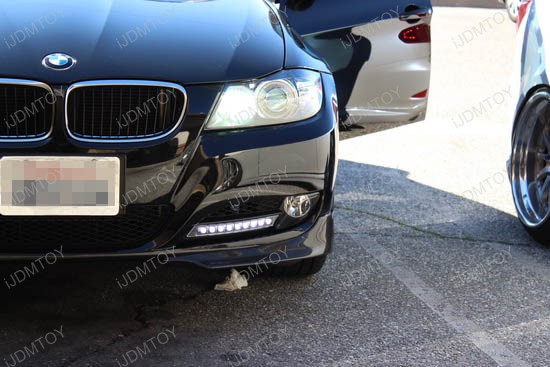 This item has been made to fit on this customer's BMW very easily and it can also fit on other vehicles with similar bumper openings like the picture above. This lamp is actually a direct fit item for 2005-2008 Audi C6/A6/S6, but as shown in this article, it can be fitted onto other vehicles if room allows.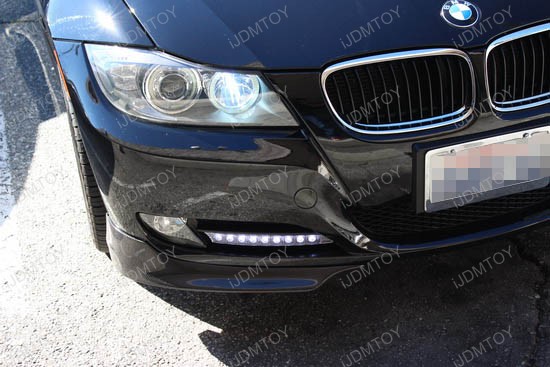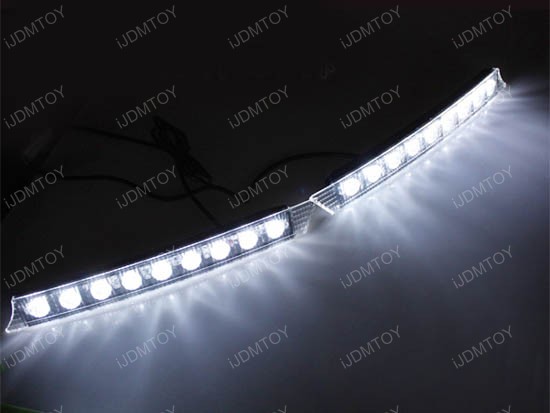 Brought to you by iJDMTOY.com, the expert for your Car LED. Follow us on Facebook for exclusive promo codes.
Leave a Comment
:Audi Style LED DRL, BMW LED daytime running lights, daytime running lamp, daytime running lights, led daytime lights, LED Daytime Running Lamps, LED Daytime Running Lights, LED DRL, LED DRL Lights, LED Running Lights, LED switchback lights
more...
by iJDMTOY on Apr.16, 2013, under LED & HID News and Updates
Volkswagen GTI is one of the best-known performance cars sold in America and what will make it unique is the featured Exact Fit GTi DRL Kit from iJDMTOY. This awesome LED product will turn any 2009-2012 Volkswagen MK6 GTi with the newly designed chrome trims into a real four-wheeled masterpiece. Take a look at this fantastic upgrade and think about changing the look of your GTi.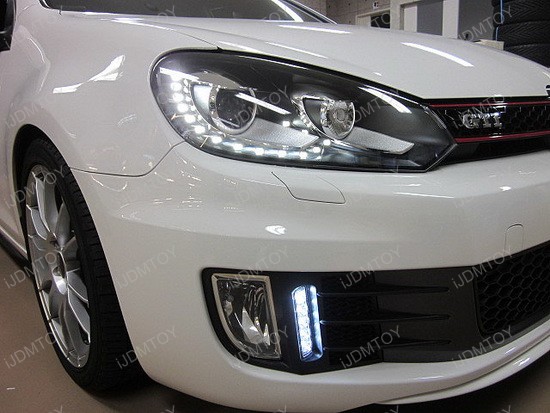 This product is a great complement to the four-unit headlamps in black housings and will not only improve your style, but your safety, too. 5 pieces high power LED lights in each lamp will make the performance-oriented version of the Volkswagen Golf visible from greater distance and the 6000K Xenon White light will perfectly match the bi-xenon headlights. What's more, this kit is waterproof, so you can use it under all weather conditions trouble-free.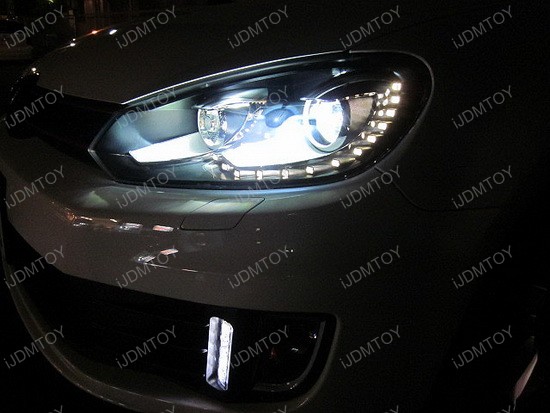 Installing the Volkswagen GTi LED DRL is not hard at all, but your ride must have factory equipped fog lights trim. In order to remove the grille, just pull it carefully and watch out not to break the clips on the back side. Then tap these LED DRL Lights to an existing power source and if everything is good, the automatic on/off DRL switch should take care of the rest. Put back the new LED kit in place and you are ready to take your German sporty hatchback for a spin.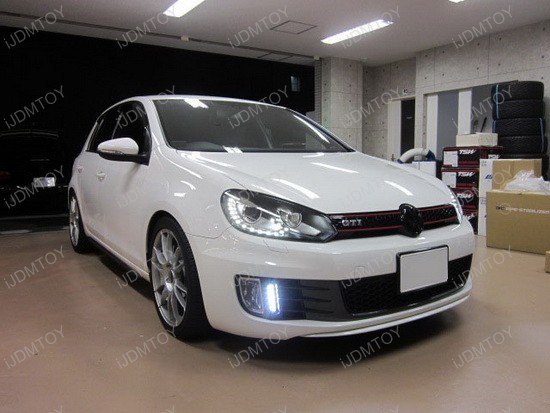 Everybody knows Volkswagen GTi has always been a great tuning car and this Exact Fit GTi DRL Kit is a great mod, too. So, if you want to show off your Golf, don't waste your money on other cheap-looking products. iJDMTOY's high quality LED DRL kit will make your car stand out and get you nothing but compliments.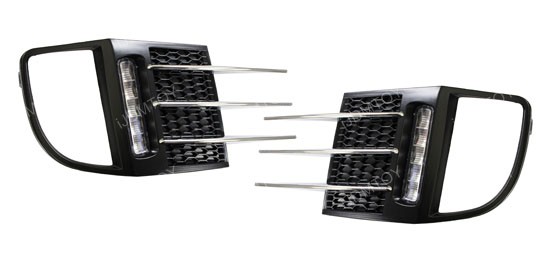 Brought to you by iJDMTOY.com, the expert for your Car LED. Follow us on Facebook for exclusive promo codes.
Leave a Comment
:daytime running lamp, daytime running lights, Exact Fit GTi DRL Kit, GTi DRL, GTi LED DRL, high power LED lights, LED daytime running lamp, LED Daytime Running Lights, Volkswagen GTi daytime lights, Volkswagen GTi daytime running lights, Volkswagen GTi DRL, Volkswagen GTi fog lights, Volkswagen GTi LED DRL, Volkswagen GTi running lights, Volkswagen MK6 GTi LED DRL
more...
Visit our friends!
A few highly recommended friends...
Archives
All entries, chronologically...