Xenon white LED angel eyes are an improvement to BMW angel eyes, which are daytime running lights to give driver awareness when the headlights are not on. Some call BMW angel eyes "demon eyes" for the intimidating appearance they give when coming down the road. The factory equipped BMW angel eyes are a Mars orange color. Some prefer a whiter look that contrasts well with the HID headlights on the BMW. In this case, you should not settle with factory angel eyes but upgrade to durable LED angel eyes. Unlike CCFL angel eyes, the LED angel eyes will light up no matter the weather condition. You always get the perfect halo ring.
The LED angel eyes have a hyper white 7000K color with a hint of blue. You can compare the difference of our LED angel eyes with the OEM angel eyes notice the difference. Our cool white LED angel eyes and much more laid back and cool looking than yellow BMW angel eyes which are hardly noticeable. The angel eye kit comes with a clamp, CAN-bus controllers, and H8 LED ring marker bulbs.
To set you up for the installation, we have a guide on our tech-support page under Installation Guide for BMW Angel Eyes. There is a thirty day money-back policy if you happen to dislike these BMW angel eyes.
The BMW angel eyes are compatible with the following vehicles:
1 Series: E87 Hatchback 2008 and up
E82 Coupe 2008 and up
3 Series: E90 Sedan 2009 and up
E92 Coupe 2007 and up
E92 M3 2009 and up
E93 Convertible 2008 and up
X Series: E70 X5 2007 and up
E71 X6 2008 and up
Z Series: E89 Z4 2009 and up
Below: 2008 BMW X5 with H8 LED Angel Eye Bulbs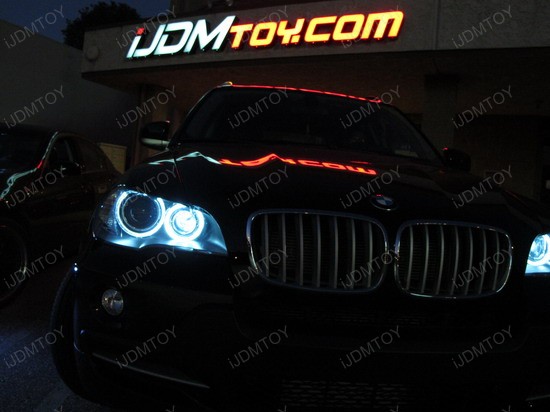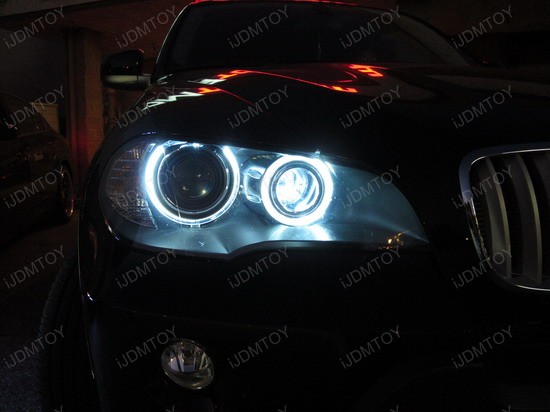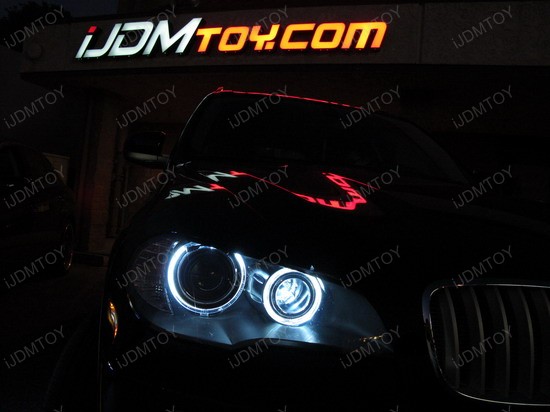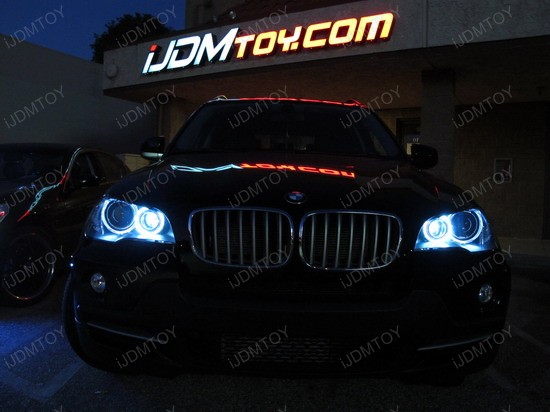 If you have any questions email us at info@motoringmax.com.
——————————————————————————
For more product pictures, please visit our Pictures and Video Gallery.
You can also find useful information on iJDMTOY Tech Support, Installation and DIY Guides as well.
Brought to you by iJDMTOY.com, the one stop store for all your Super Bright LED Car Light needs.