Tag: Error Free T10 LED bulbs
by iJDMTOY on Apr.04, 2012, under LED & HID News and Updates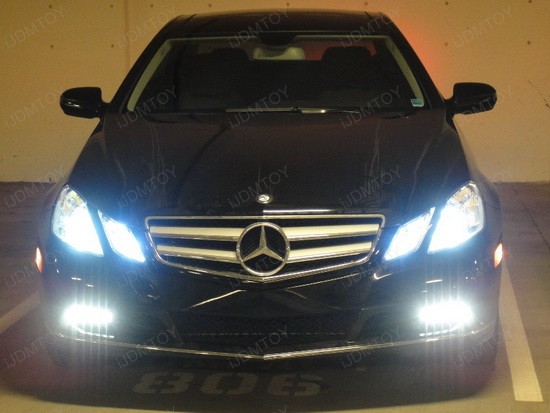 This 2010 Mercedes-Benz E350 Coupe is a very hot car and the 6000K LED Parking Lights add a touch of elegance and beauty. The car is a rock star to me – it has everything you need, and despite you see it on the parking lot, don't be fooled – when it drives by with all the windows down, it receives so many nods of appreciation. One beautiful vehicle!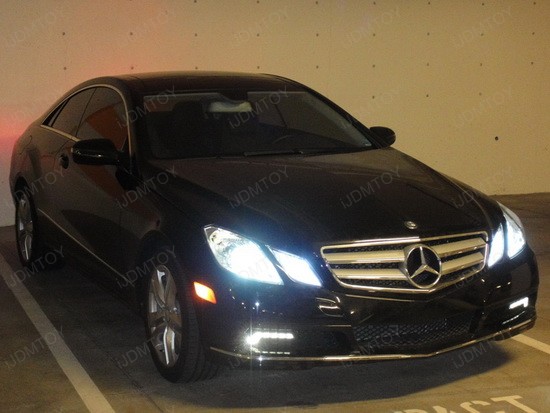 I am smitten! The 6000K LED Parking Lights transformed the whole appearance and turned the Benz into a real princess. The owner was very happy with his purchase and said proudly:
"This is my 2010 Mercedes E350 Coupe with its new Xenon White 6000K Parking Lights using iJDMTOY's 5-SMD-5050 T10 LED Bulbs with built-in resistors to replace my halogen W5WB bulbs".
As you have already read, this Error Free T10 LED bulb is equipped with 5 pieces 3-chip 5050 CREE SMD LED lights with built-in load resistors and fits most European cars such as Audi, Mercedes, Volkswagen without triggering "Bulb Out" error message on the dashboard. It is a perfect replacement for 168, 194, 2825, 2825LL, W5W LED bulbs, commonly used for parking lights, position lights, eyelid lights or license plate lights. What's more, it gives a nice match with the HID headlights and the stock LED Daytime running lights from every angle.
Installing these shining pearls is very easy. First open the hood and locate to the back of the parking light lamp. Then twist the bulb socket and take it off. Replace the old stock bulbs with the LED one from iJDMTOY and insert it back. That's all! But please have in mind the LED light is polar sensitive and if it doesn't lit up, flip the adapter around and this should do the trick.
The owner of that 2010 Mercedes-Benz E350 Coupe got many nods of appreciation because of the 6000K LED Parking Lights and this is enough to think about getting a pair of this perfect LED high quality product. You know that every little detail does matter and could be the missing piece of the puzzle, called "That's my hot ride!".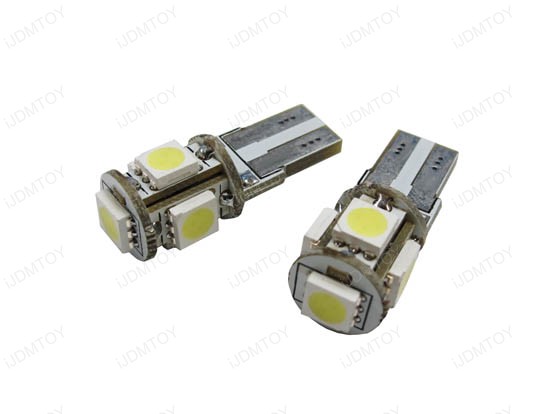 Introducing iJDMTOY's new products for halo projector headlights and LED tail lights.
Leave a Comment
:2825 LED bulbs, 6000K LED Parking Lights, E350 LED lights, Error Free T10 LED bulbs, LED eyelid lights, LED license plate lights, LED parking lights, LED position lights, Mercedes-Benz parking lights, W5W led bulbs
more...
by iJDMTOY on Feb.08, 2012, under LED & HID News and Updates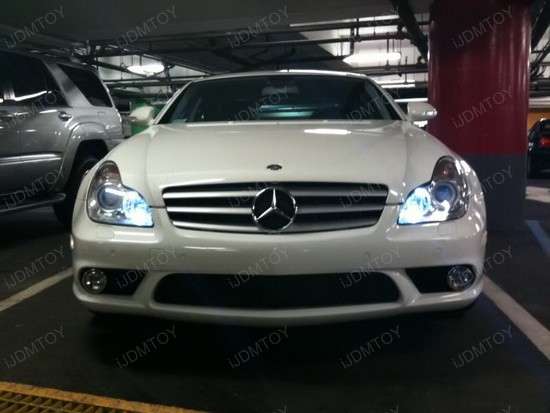 This 2007 Mercedes CLS550 is definitely shaking up the luxury car world not only with its LED parking lights, but with its awe-inspiring design. Being inside, surrounded by technological sophistication and supple leather interior, more stunning remains the visual presence of the luxury sedan's exterior .. and probably this is how it's gonna stay for some time.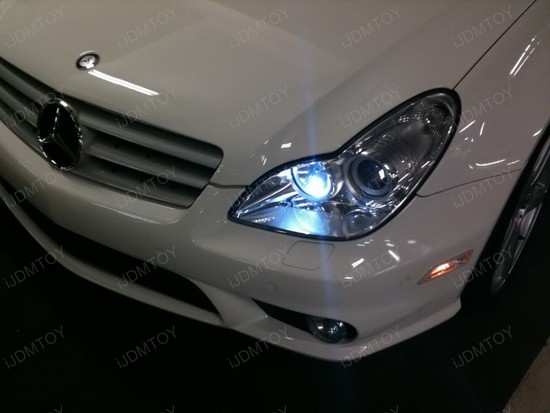 The featured LED parking lights are perfect match to the diamond white metallic and will perfectly fit all 2006-2011 Mercedes-Benz W219 CLS Class. What's more, this easy, but fancy mod is a great addition to the HID headlights. These LED bulbs light in super bright xenon white color to guarantee much more visibility daytime or nighttime.. and to underline the beauty and elegance of this marvelous vehicle. However, if you own another European vehicle such as Audi, BMW, MINI, Mercedes, Porsche, Volkswagen, etc., heads up! This product is specially designed for parking lights (position lights) and will successfully replace 168, 194, 2825 or W5W bulb.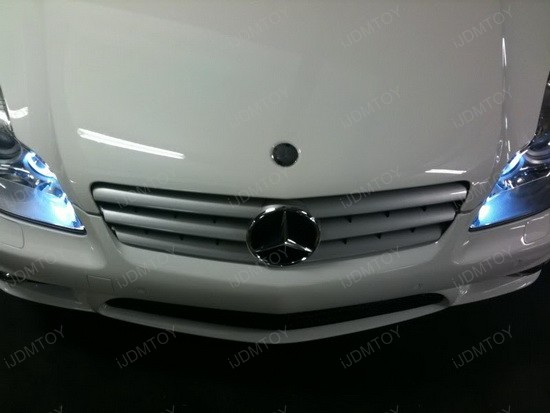 But let's go to the specifics and features of the 24-SMD T10 LED bulb. Each one of these bright shiners comes with 24 LEDs to ensure superb output and built-in CAN-bus controller. This means iJDMTOY's product is completely error free, simply plug and play. When installing these bulbs, please make sure to key off. Then replace the old stock bulbs with the brand new 24-SMD T10 LED one and start the car to check and see whether the bulbs will light up. If not, turn off the car again and flip the bulb around. There you go, enjoying the sleek new look of your car. Please note that these bulbs are slightly longer than the stock 2825 bulbs (1.52 inches to 0.95 inches) and you must make sure whether they will fit into the housing prior buying.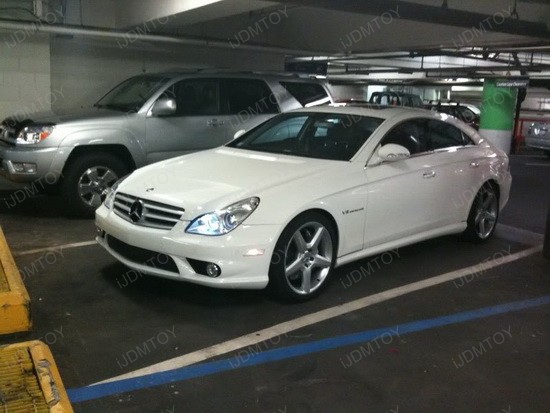 While looking at this 2007 Mercedes CLS550 upgraded with LED position lights I remember when I first saw a CLS. I was struck by the gorgeous combination of beauty and style and I can tell you that if you want to turn your ride into a real "attention grabber"- start with iJDMTOY and LED parking lights.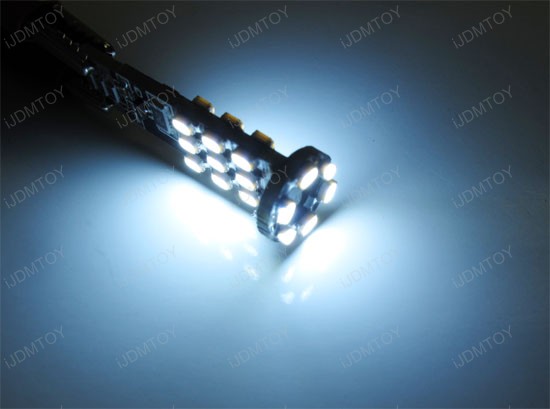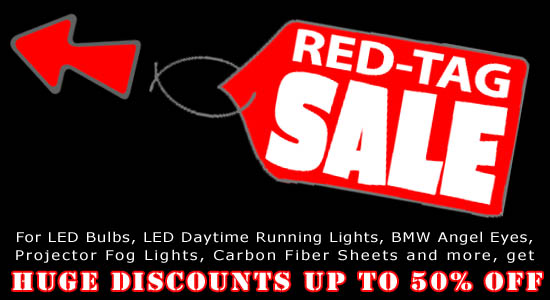 Red Tag Sale for New and existing iJDMTOY customers can save up to 50% OFF. Deal expires soon! Don't miss it!
Leave a Comment
:Audi parking lights, BMW parking lights, Car LED, Error Free T10 LED bulbs, LED bulbs, led lights, LED parking lights, LED position lights, Mercedes CLS550 parking lights, Mercedes CLS550 position lights, Mercedes parking lights, MINI parking lights, Porsche parking lights, Volkswagen parking lights
more...
Visit our friends!
A few highly recommended friends...
Archives
All entries, chronologically...