Tag: High Power LED bulbs
by iJDMTOY on Jun.18, 2013, under LED & HID News and Updates
This 2013 Scion FR-S is upgraded with a pair of super bright 25W CREE LED backup lights. iJDMTOY developed a brand new LED bulb using only the best components, exclusively designed for backup reverse lights. The featured T15 LED bulb is equipped with 5 pieces CREE XP-E R4 LED Lights (1 piece on top with 3x Optical Lens + 4 pieces on each side) delivering incredible amount of Xenon White light, ensuring premium visibility.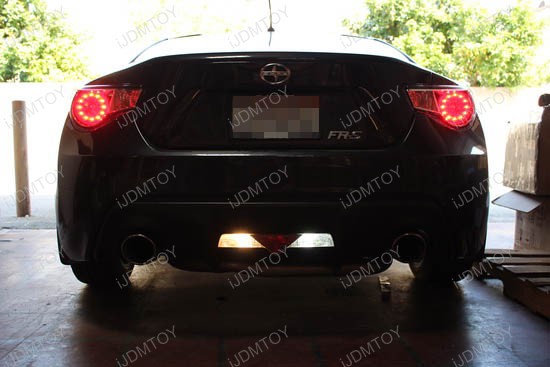 We talk about 25W LED Backup Lights, that are much brighter even at daytime and will fit in vehicles with 912, 920 or 921 bulbs for backup reverse lights. These iJDMTOY CREE LEDs are not the cheap quality, these are 25W, not 2.5W or 3W and will last at least 20000 working hours!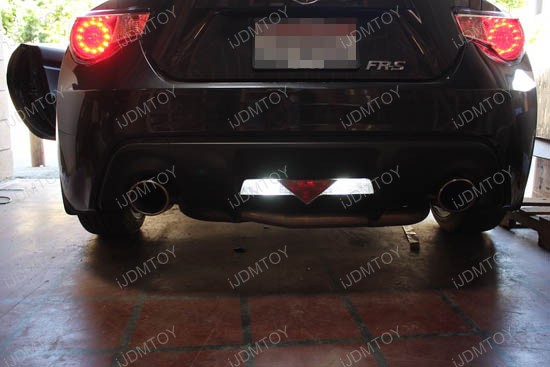 For 2013 Scion FR-S owners, replacing the stock backup lights takes about 2 minutes. You don't have to raise the car, but go to the rear of the car, lay on your back and look for the wire harness going to the reverse lights. It's usually a black and green wire connected to a socket connector. Rotate it counter clock wise and pull out the connector. Replace the stock lights with iJDMTOY's 25W CREE LED Backup Lights on both sides and this is the time to test the function of the bulb. If it doesn't work, remove it, rotate, and reinstall in the socket. Put everything back together and you are ready! If your 2013 Scion FR-S is equipped with a rear view camera, check out the big difference in visibility at night.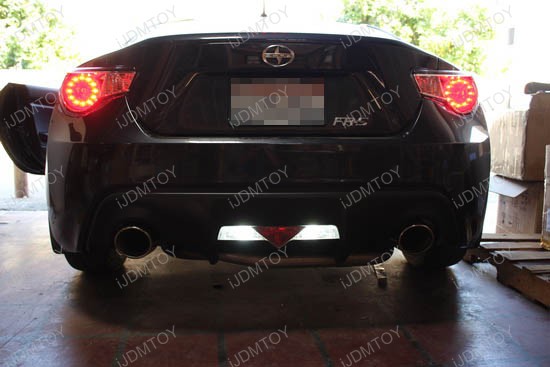 The owner of this 2013 Scion FR-S gave a very nice touch of trendy LED appearance with these 921 25W LED Backup Lights. Besides being amazing, LED products from iJDMTOY are of the highest quality and will not let you down. What's more, they are very affordable safety improvements, making your car visible from greater distance and increasing your visibility when backing up at night. And at last, but not the least – they are much more attractive and longer lasting than stock bulbs.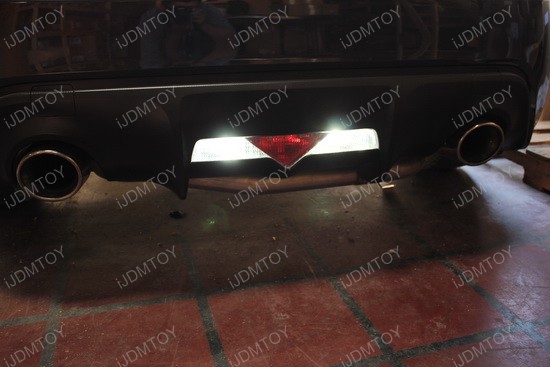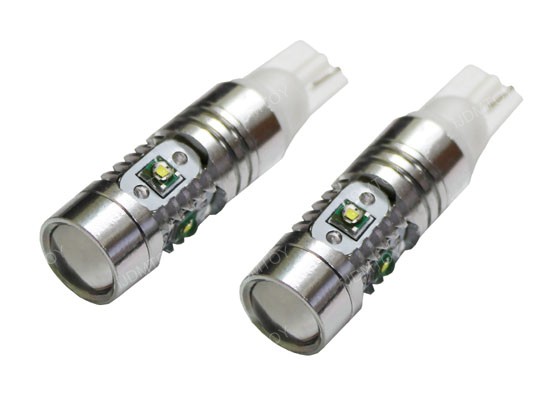 Brought to you by iJDMTOY.com, the expert for your Car LED. Follow us on Facebook for exclusive promo codes.
Leave a Comment
:25W CREE LED, 25W LED Backup Lights, 912, 920, 921, backup reverse lights, CREE R4 LED, high power led, High Power LED bulbs, LED backup lights, led reverse lights, T15 LED bulbs, W16W
more...
by iJDMTOY on May.11, 2011, under LED & HID News and Updates
Nowadays, drivers are switching their stock headlights for HIDs for a better look and performance. But, did you know there is different LED parking lights to choose from as well? Next to headlights, Parking City Lights illuminate significantly at night. Upgrading to LED parking lights can your next investment if you're looking to changing up your lights beside headlights.
Blue is the new amber! Not really, they both are very different. One is warm and the other one is cool. But if you want to stand out like a sore thumb than why not change your Parking City Lights to blue ones? Our extroverted customer wanted to sport a different style and has changed his amber Parking City Lights to blue ones as we see here.
This distinctive color is an excellent addition to car enthusiasts who want to go for a new look on their car. Changing up your Parking City Lights really does make a difference! And if you don't like blue, there are also other colors such as pure xenon white and red for all you hot heads.
Those LED parking lights are so bright, they can replace the car's headlights! Blue Parking City Lights complements HIDs very well like peanut butter and jelly, you can't have a plain jelly sandwich that's just wrong.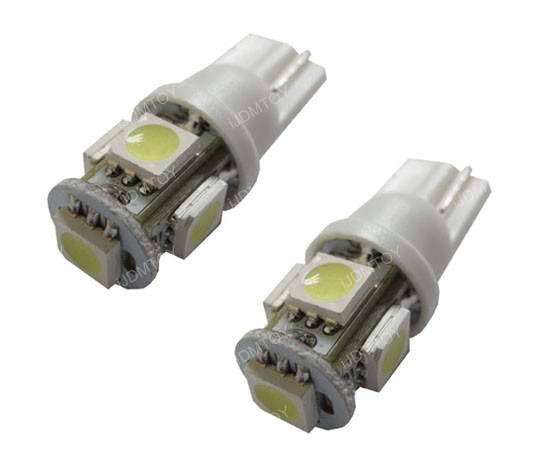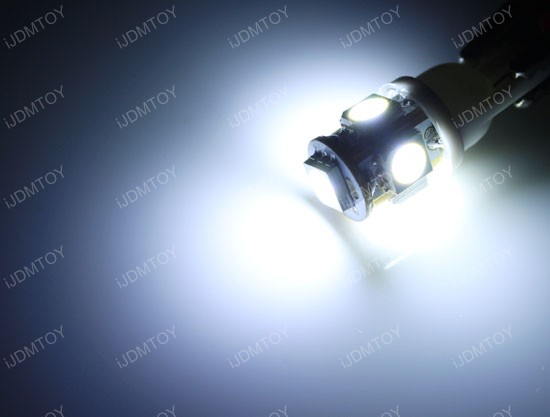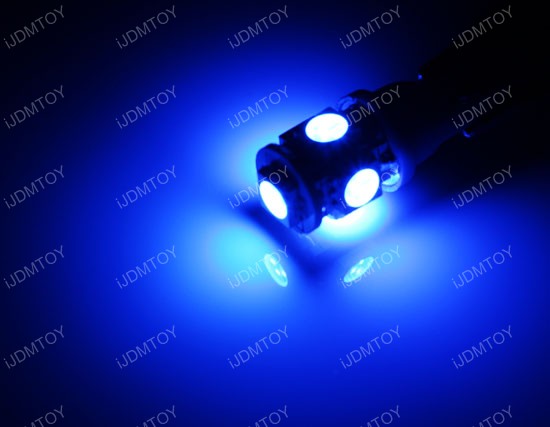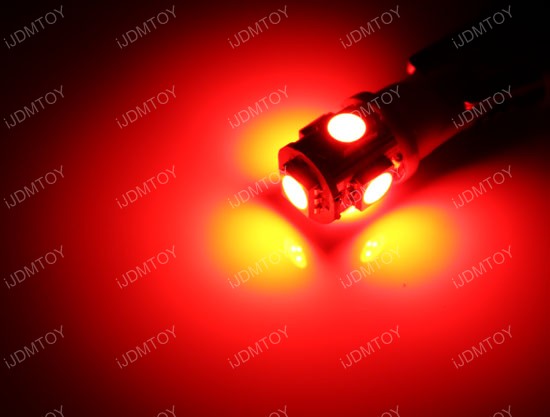 The cool and relaxing color of blue provides attitude to the car and driver. Amber provides…well, nothing. It's too common. Unless you like to be common, then stick with Amber. But if you're adventurous and wish to stick out from the crowd like myself, then blue is the new amber for you.
Brought to you by www.iJDMTOY.com, the one and only one automotive accessories store for all your Car LED Lights. Follow us on Facebook for special discount and product upgrade information.
Leave a Comment
:168 led bulbs, 194 LED bulbs, 2009 Acura CSX, 2009 Acura CSX led parking lights, 2825 LED bulbs, 5-SMD T10 LED bulbs, High Power LED bulbs, Honda Civic Type-R, Honda Civic Type-R led parking lights, iJDMTOY, LED bulbs, led lights, LED parking city lights, LED position lights, parking city lights, smd led bulbs
more...
Visit our friends!
A few highly recommended friends...
Archives
All entries, chronologically...