Tag: Honda Civic LED DRL
by iJDMTOY on Sep.26, 2013, under LED & HID News and Updates
The daytime running lights are on whenever the vehicle is operating for the 2006+ Honda Civic so it's a noticeable part of the car. The incandescent halogen bulbs that originally came with the car are very generic and do not give it any unique qualities to the car; our LED DRL replacement kit is aimed to provide an aesthetic and unique look. The 9005 high beam DRL kit comes with the LED bulbs, wiring harness, and resistors to prevent any error messages and flickering from occurring.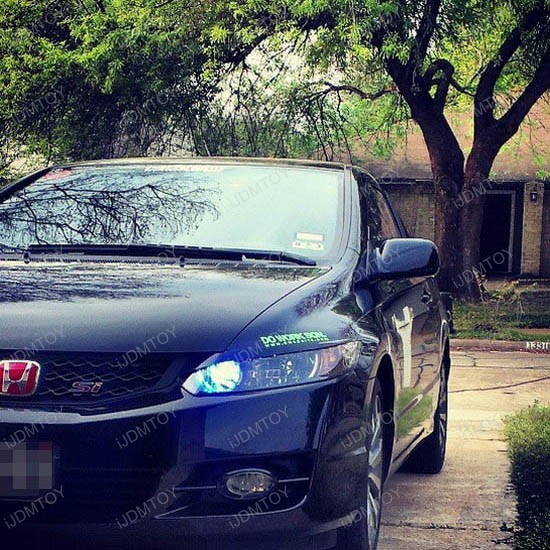 The high beam LED DRL Kit for the 2006+ Honda Civic uses 68-SMD LED Bulbs that are available in either 6000K Xenon White or 20,000k Ultra Blue; this customer opted for the 20,000K Ultra Blue which are considered for "off-road" use only due to the exotic color. The whole kit is plug and play so there is no need to re-wire or cut any factory harnesses; you will just need to secure the wires and position the resistors to a metal surface away from wires and plastic. While these lights are perfect for the daytime running lights, these would not be an ideal replacement for the high beams at night due to their low intensity; these are purely an aesthetic upgrade.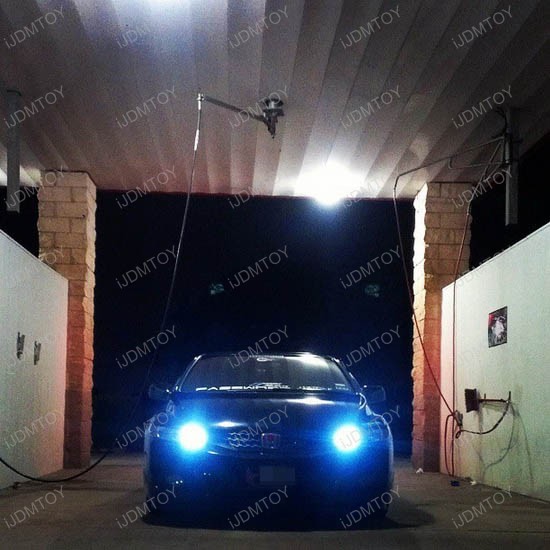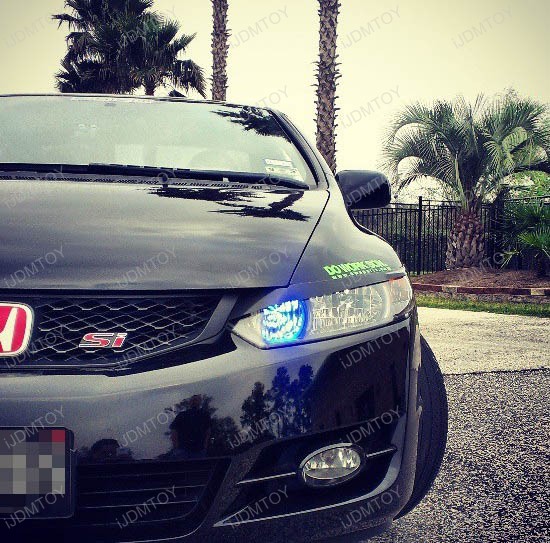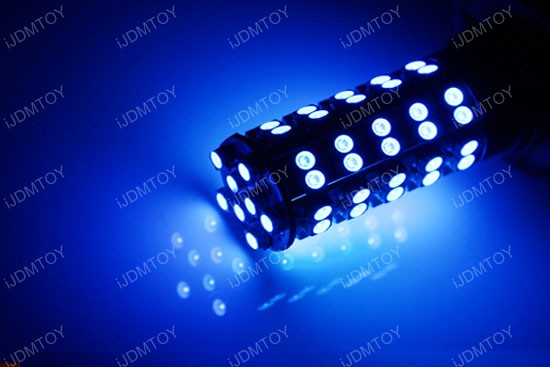 Brought to you by iJDMTOY.com, the expert for your Car LED. Follow us on Facebook for exclusive promo codes.
Leave a Comment
:9005 High Beam DRL, blue 9005 LED, blue LED DRL, Civic blue DRL, Civic bulb daytime running lights, drl kit, high beam drl, High Beam LED, High Beam LED DRL, high beam lights, Honda Civic LED DRL, LED bulbs, led daytime lights, LED Daytime Running Lights, LED DRL, led drl kit, LED DRL replacement kit, led lights, LED Running Lights, smd led bulbs
more...
by iJDMTOY on Apr.22, 2013, under LED & HID News and Updates
Today's 2013 Honda Civic benefits from a significant refresh and with the featured Honda Civic LED DRL upgrade, this car looks awesome. You just can't miss the super cool front-end look that clearly follows sporty lines – black honeycomb mesh grille, more aggressive front bumper, great styling and LED Civic High Beam DRL.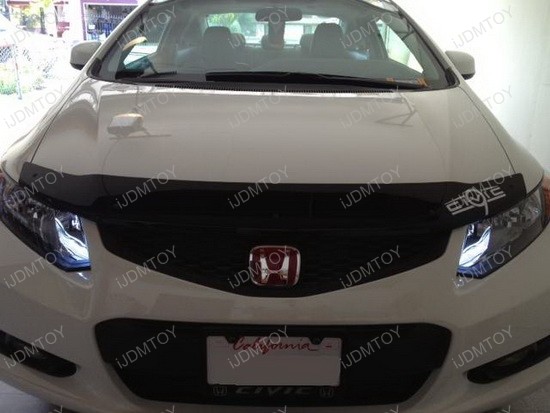 When the Error Free 9005 (HB3) LED DRL kit from iJDMTOY was installed, this happy customer took some pictures of his Civic and posted them on a famous Honda Civic Forum. As you might expect, only positive feedbacks were received from many car enthusiasts. Once he got rid of the yellow light and replaced the stock DRL bulbs with the Error Free 9005 LED bulbs, everybody loved the new sharper look of his 2013 Honda Civic.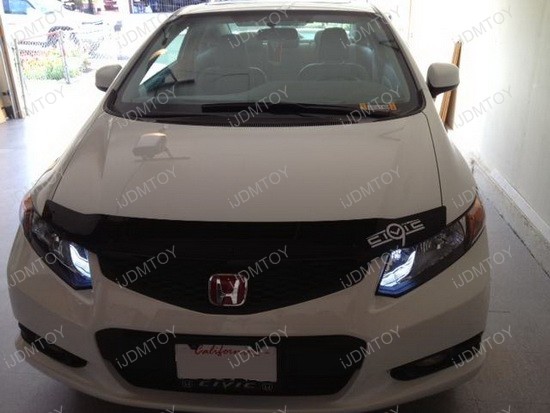 You can upgrade the front-end look in just a few minutes with this completely plug and play product, too, as this 9005 LED bulb will directly replace the stock 55W 9005 (aka HB3) halogen bulb on the high beam function as daytime running lights. A special DRL decoder set will ensure the LED bulbs light up without malfunction issue nor flickering issue and you'll get a nice HID matching look without paying for HID kit.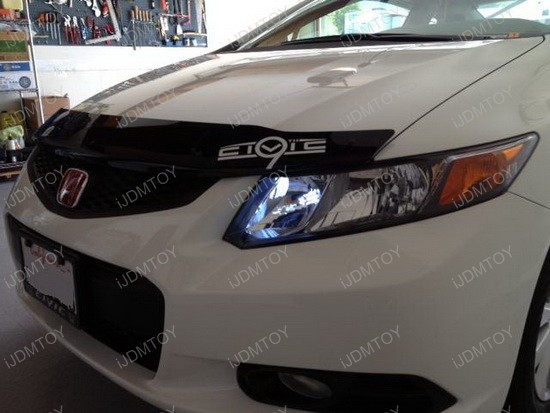 Installation is very easy – first make sure the car is off and remove both left and right stock daytime running light bulbs and harness. Then connect back with the special harness to one side, and one resistor decoder to the other side. Next plug both LED bulbs to the special wiring and plug the other resistor decoder as well. Finally install back with the 9005 (HB3) LED bulbs on each side and you are good to go!
This 2013 Honda Civic really stands out from the crowd and the Honda Civic LED DRL kit from iJDMTOY contributes to the fact. Here we talk about combination of quality, brightness, safety and style – this is what you get for your money! If you want to give your car an awesome luxury look and safety improvement, then opt in for this high quality Civic High Beam DRL kit.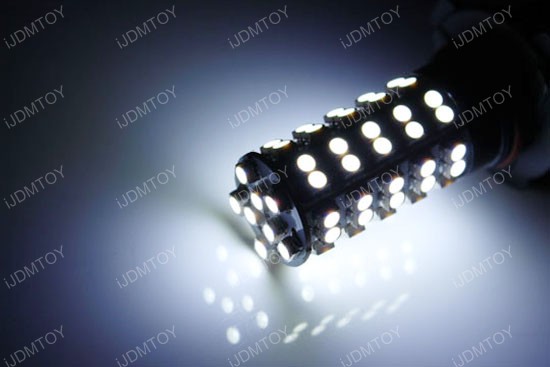 Brought to you by iJDMTOY.com, the expert for your Car LED. Follow us on Facebook for exclusive promo codes.
Leave a Comment
:Civic High Beam DRL, honda civic drl, Honda Civic LED daytime running lights, Honda Civic LED DRL
more...
Visit our friends!
A few highly recommended friends...
Archives
All entries, chronologically...