Tag: Honda strip lights
by iJDMTOY on Jun.17, 2013, under LED & HID News and Updates
Not all vehicles come with original lights for every part of the vehicle, especially for the inside such as foot area lights or even side door lights. For those vehicles which did not come with those lights, you can easily add simple to install LED strips to provide ambient lighting within the cabin that is sure to draw attention.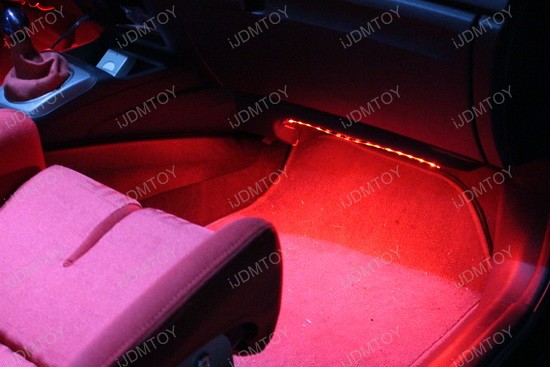 Installed on this Honda Civic Si are our 12" LED foot area strips with 3M adhesive tape on the back which can be easily mounted to a flat surface within the cabin. These lights are available in a range of colors including Brilliant Red (shown), Ultra Blue, Xenon White, and Light Green; each strip contains 15-SMD LED chips to provide the power and are easily installed by connecting the positive and negative wires to any 12v power source inside the vehicle. The most common sources of power to light these strips up are the 12v ACC wire so that these lights stay on when the vehicle is on to act as ambient lights or the interior light fuse to power them up whenever the interior lights are on.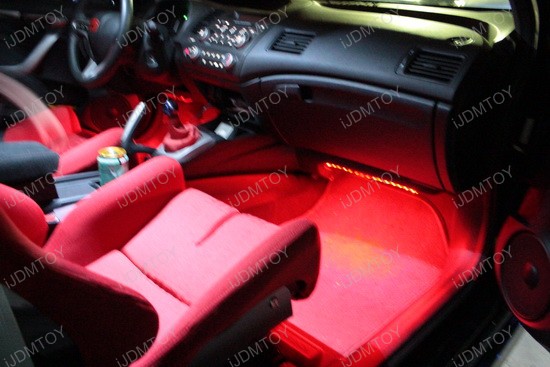 We also offer these same LED strips in the 24" size for larger applications which contain 30-SMD LED chips per strip instead of 15-SMD chips. These are also sold in pairs at a very affordable price that would not break the bank and still add a very updated look to your car.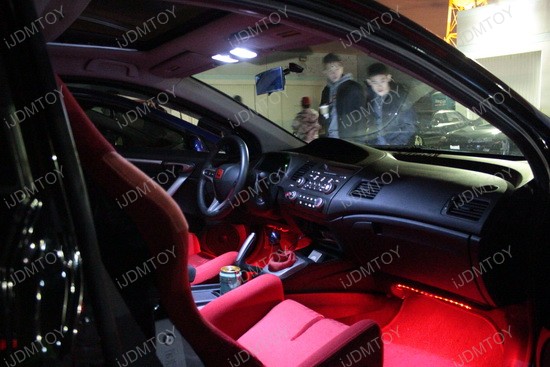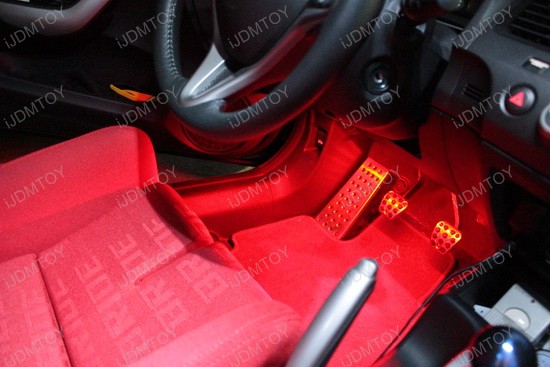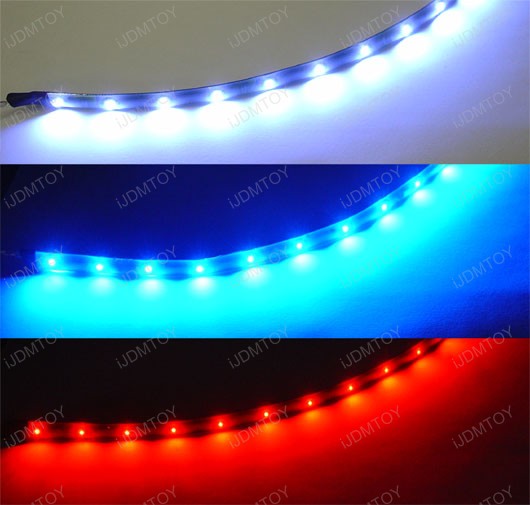 Brought to you by iJDMTOY.com, the expert for your Car LED. Follow us on Facebook for exclusive promo codes.
Leave a Comment
:Civic interior strips, Honda Civic interior lights, Honda strip lights, LED foot area lights, LED Interior Lights, LED interior strip lights, LED interior strips, LED Side door lights, LED strip, LED Strip Lights, LED strips
more...
by iJDMTOY on Mar.05, 2012, under LED & HID News and Updates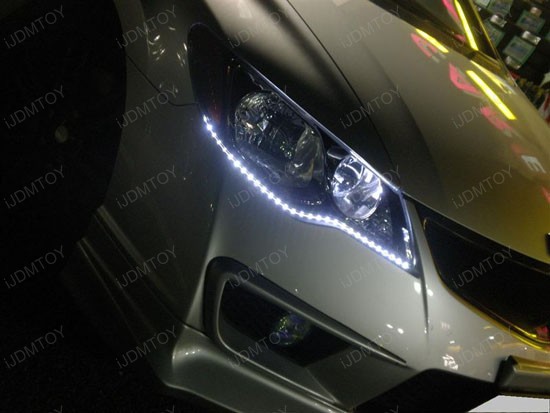 Today's featured Honda Civic with Type-R headlight conversion has awesome Headlight LED Strips and if it's up to me, this project deserves many compliments. Take a look at the harmonious synergy between these crystal-clear Type-R headlights, xenon white LED strips and smooth silver metallic paint. I can say one thing for sure: this guy loves his car and does his best to make it unique.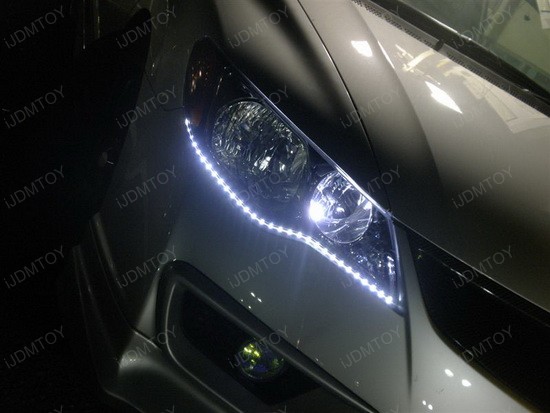 Look at the luxurious appearance these LED Strips For Headlights provide. To be honest, they remind me that Audi ad run during last week's Super Bowl . The commercial features 20-something vamps out for an impromptu fireside party and when another vamp arrives in Audi S7, they all turn to ash because of the super bright LED lights. Anyway, I think you got the idea: these Headlight LED strips shine very bright and provide excellent noticeability whether by day or night. Be careful not to shed light on those party guys … Naah, I am just kidding.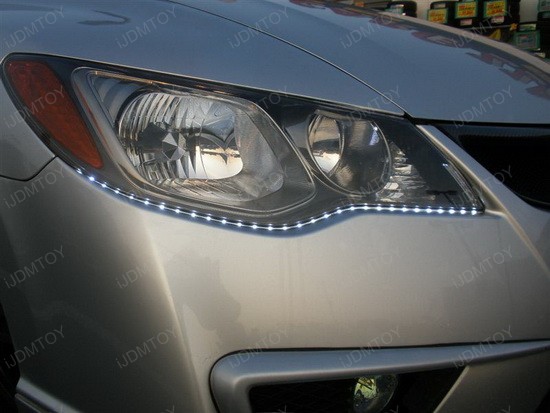 However, each LED strip is 20" (50cm) long, with 21 pieces high power super bright SMD LED bulbs, flexible and ultra thin, so you can easily insert it in between the gap of the headlight lamp and bumper (like our Honda fellow) or under the bumper virtually without noticing it at all. It is self-adhesive on the back and it's pretty much very easy to install. A very cool feature is the "Side Shine", which means that no matter how you flip it, the LED bulbs are always facing the front. A perfect and fancy solution for decorating the headlight lamps, fog lights or driving lights.
The gorgeous Honda Civic with Type-R headlight conversion is a great example on how you can apply Headlight LED Strips. Now, you can get your ride a fresh new European LED daytime running lights (DRL) look for just a few bucks! Get this sick upgrade, dress up your whip and you'll be crushing the scene with iJDMTOY!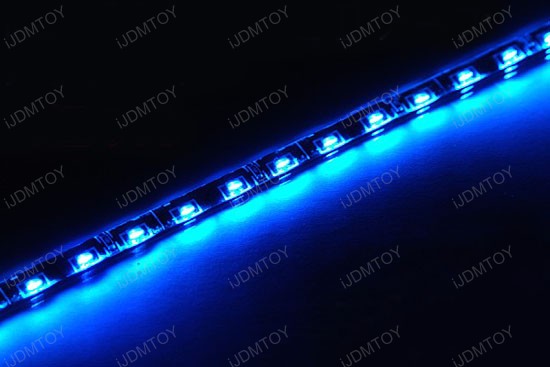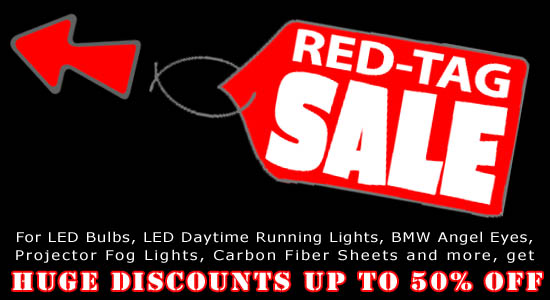 Red Tag Sale for New and existing iJDMTOY customers can save up to 50% OFF. Deal expires soon! Don't miss it!
Leave a Comment
:audi style strip lights, Car LED, Headlight LED Strips, honda civic lights, Honda Civic strip lights, Honda strip lights, LED bulbs, LED Strip Lights, led strips for headlights
more...
Visit our friends!
A few highly recommended friends...
Archives
All entries, chronologically...