Tag: Hyundai Genesis daytime running lights
by iJDMTOY on Apr.02, 2013, under LED & HID News and Updates
The 2013 Hyundai Genesis Sedan offers style, features and power, but the High Beam LED DRL are a must have for an authoritative presence on the road. This customer really wanted to give his luxury car a distinctive look and purchased H7 LED High Beam bulbs from iJDMTOY. After that he brought it to an autoshop for installation. It seems that guys over there couldn't figure out how to install this plug and play product and informed him the product is wrong. Anyway, he went back to iJDMTOY for return and these guys installed the very same High Beam LED DRL bulbs for free.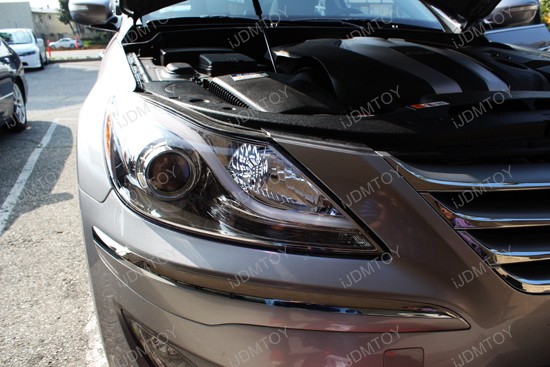 Let's pay some attention to this smooth upgrade. Each bulb has 68 pieces super bright 1210 (3528) SMD LED lights for amazing output and will fit in 2010 and up Hyundai Genesis Sedan, 2011 and up Hyundai Sonata (except hybrid), 2012 and up Hyundai Veloster, 2013 and up Hyundai Genesis Coupe on high beam for daytime running lights. It comes in Xenon White or Ultra Blue color and has 20000 working hours lifespan.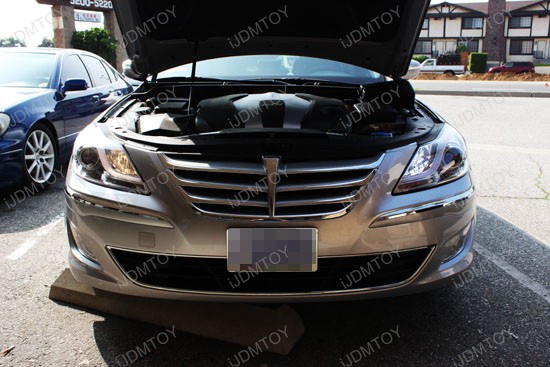 In order to replace the H7 High Beam bulb you need to access the headlight housing by removing the air box on the passenger's side, and moving, without disconnection, the fuse box on the driver's side. It's easy to do with no "tricks", and is done with a 10mm socket. Next remove the plastic covers, unplug the old dull yellowish bulb and install the new H7 LED High Beam bulb. Finally, put everything back together and you are good to go.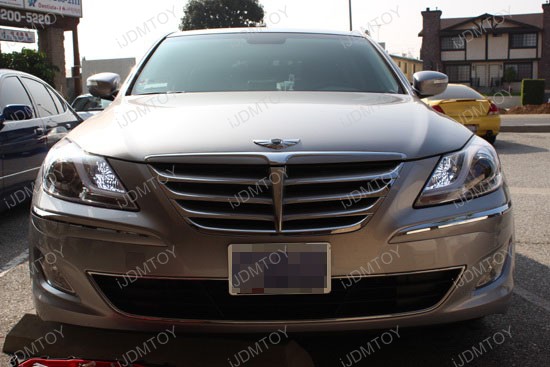 This 2013 Hyundai Genesis Sedan with the featured High Beam LED DRL is a proof that not all works of art are parked in museums. The brand new LED bulbs emphasize the aggressive and sporty look of this luxury car and the best thing is that you don't have to spend a fortune to make your car a head-turner.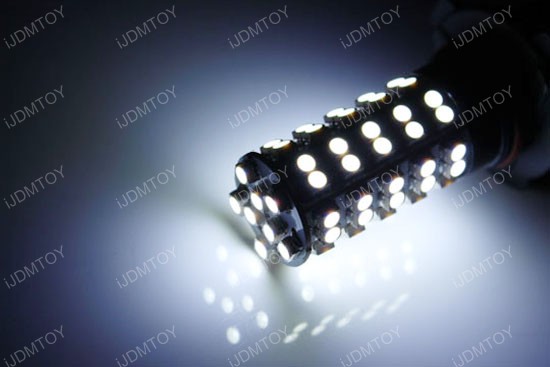 Brought to you by iJDMTOY.com, the expert for your Car LED. Follow us on Facebook for exclusive promo codes.
Leave a Comment
:daytime running lights, H7 LED bulbs, H7 LED DRL, H7 LED DRL Kit, H7 LED High Beam, High Beam daytime lights, high beam daytime running lights, High Beam DRL lights, high beam for daytime running lights, High Beam LED, High Beam LED DRL, High Beam LED DRL lights, High Beam running lights, Hyundai Genesis daytime running lights, Hyundai Genesis DRL lights, Hyundai Genesis high beam lights, Hyundai Genesis LED DRL, LED bulbs, led lights
more...
by iJDMTOY on Jan.13, 2012, under LED & HID News and Updates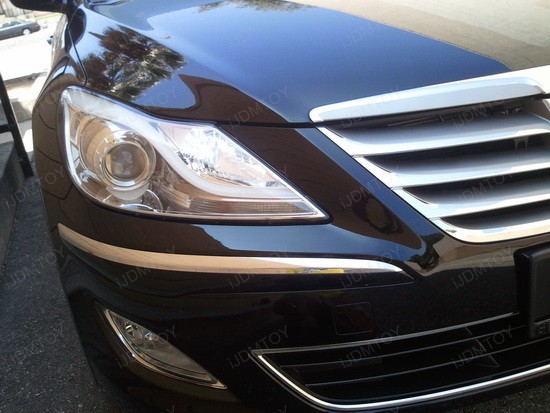 Today's featured car is this 2011 Hyundai Genesis, which is equipped with very nice LED Headlights. We all know that with the Genesis, Hyundai started to take a swoopy, sleek new design direction that's been developed in an even more pronounced way in other models, but here we have a small modification, that gives the vehicle crystal clear elegant look.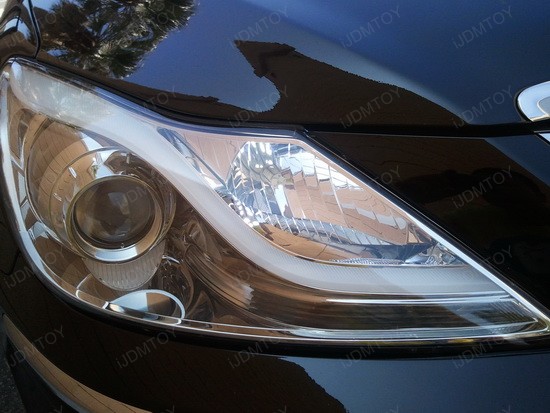 In order to achieve this awesome appearance, the OEM halogen bulbs on the high beam were replaced with the more advanced 18-SMD 3 Chips 360-degree shine H7 Hyper-Flux LED bulbs. These bad boys transformed the stock yellowish halogen lights into a beautiful and exact 6000K Ultra White HID matching look without paying the HID price. Don't you like that new sleek look? Don't you think your car deserves some pampering, too?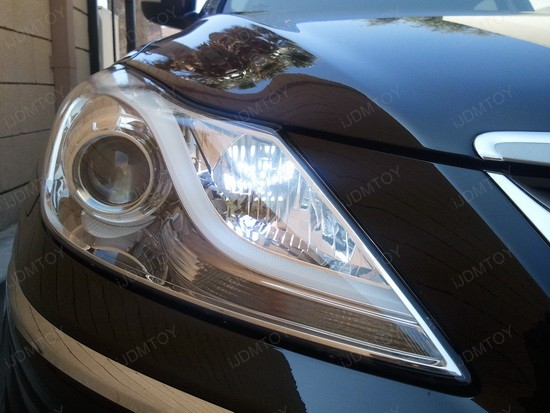 Let's take a closer look at the pros of using LED bulbs for LED Headlights or LED Daytime Lights. Since LED technology is way more innovative and power efficient than regular halogen bulbs, driving with LED Daytime Lights on, measurably decreases fuel consumption. And that's not everything – the highly effective signal light increases the vehicle's visibility to oncoming traffic during the day, which means it also contributes to the safety improvement.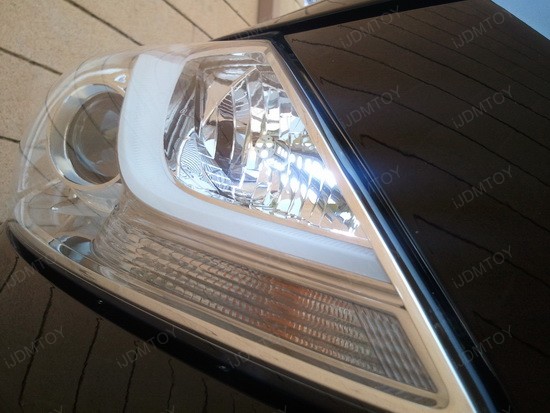 So, this equipment is perfect for both daytime and night time use and could be installed on any vehicle in no time, as it is plug and play. Please note that for some vehicles like Audi, BMW, etc., which have on board computer (OBC), you might need to add Error Free Decoder Wiring Kit in order to avoid the error message showing up on dashboard. Besides that, these H7 LED bulbs are great add-on to any vehicle, and this 2011 Hyundai Genesis doesn't need the decoder kit. No decoders are required for Hyundai Sonata, too.
If you really like the LED Headlights of this 2011 Hyundai Genesis, then you just can't go wrong with purchasing a pair of these wonderful and super bright H7 LED bulbs. Since everyone can afford this quality iJDMTOY product, you are one step closer to give your car a fresh new look.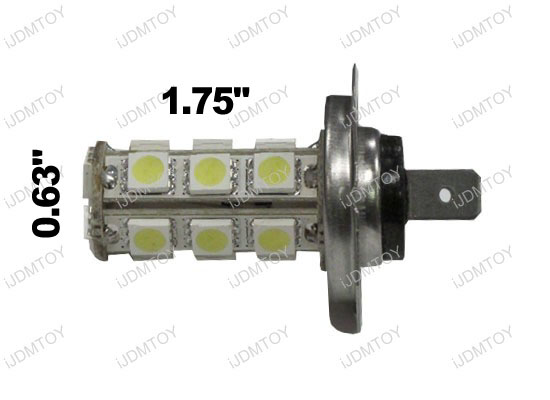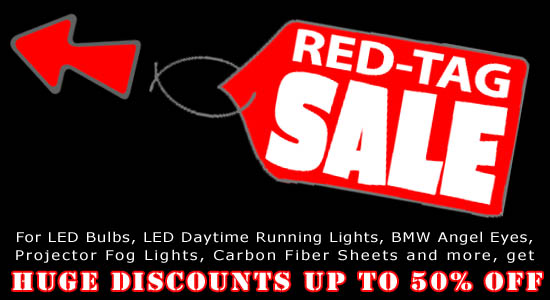 Red Tag Sale for New and existing iJDMTOY customers can save up to 50% OFF. Deal expires soon! Don't miss it!
Leave a Comment
:daytime running lights, DRL lights, Genesis headlights, Hyundai Genesis daytime lights, Hyundai Genesis daytime running lights, Hyundai Genesis Headlights, Hyundai Genesis running lights, Hyundai Headlights, led daytime lights, LED Daytime Running Lights, LED DRL, led headlights, LED Running Lights, red tag sale
more...
Visit our friends!
A few highly recommended friends...
Archives
All entries, chronologically...