Tag: LED headlight strips
by iJDMTOY on Feb.18, 2013, under LED & HID News and Updates
The 2011 Kia Sportage is a great choice if you like to be noticed, as its futuristic styling is refreshingly different from the norm, but if you don't own the premium model and want to get the exact same look like this Kia, then check out iJDMTOY's fancy Daytime Running LED Strip. You'll get a lot of compliments on how awesome your car looks, and most importantly, you'll enjoy driving it down the street with LEDs turned on.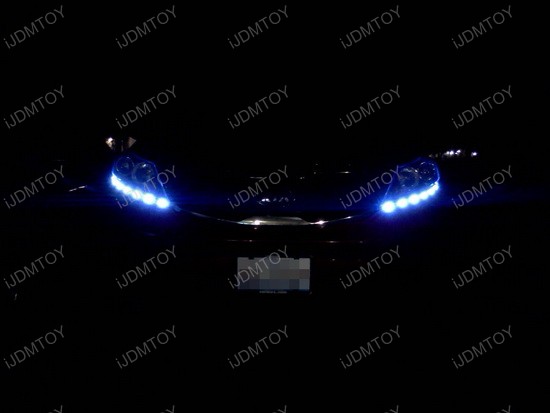 This guy installed the Audi Style LED strip for headlights in the gap between the headlights and bumper, getting his vehicle newer European LED daytime driving lights look, such as the latest Audi A5 or R8 LED headlights, for under 20 dollars! These flexible strips are ultra thin and ultra bright at the same time. They add very nice touch and shine in Xenon White color, perfectly matching with other LED lights or HID headlights. Of course, if you decide to get a pair for your whip, you can install it somewhere else, just like under the bumper. The cool thing is that properly installed, these LED strips are virtually invisible when off.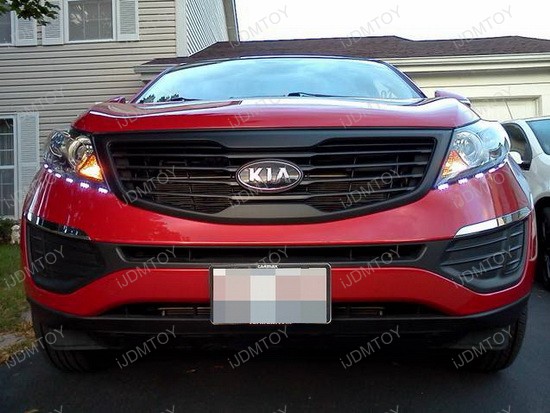 Just like other iJDMTOY high quality products, the installation is very easy. All you have to do is to decide where you want them installed, then clean the surface very well and use the double-sided tape to stick them firmly to the surface. Then you can simply tap the two wires, coming out of each strip to the parking lamp wires and enjoy the crisp, bright light coming out of your brand new Audi style DRL strips.
And if the featured 2011 Kia Sportage is a crossover that stands out from the crowd and is without question very appealing model, don't forget that some of its beauty comes from the daytime running LED strip below the headlights. You can get your car the very same sexy look and pose for just a few bucks, so check out the iJDMTOY store and grab your pair now!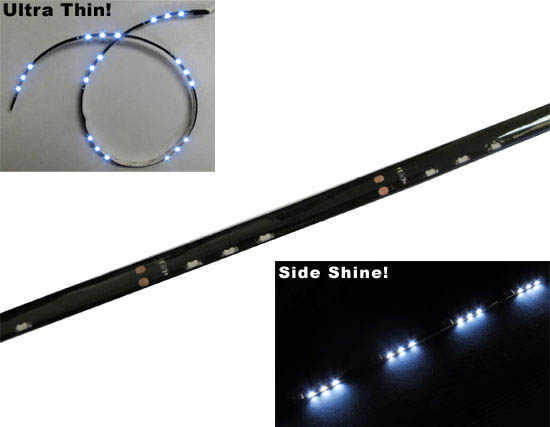 Brought to you by iJDMTOY.com, the expert for your Car LED. Follow us on Facebook for exclusive promo codes.
Leave a Comment
:12v led light strips, Audi style DRL strips, Audi Style LED Strip Lights, automotive led light strips, bumper strip lights, car led light strips, daytime running LED strip, daytime running LED strip lights, daytime running lights, headlight strips, Kia Sportage strip lights, LED headlight strips, led light strips, LED Lighting Strip, LED strip for headlights, LED Strip Lights, LED strips
more...
by iJDMTOY on Oct.27, 2011, under LED & HID News and Updates
If you take a good look at this 2009 Ford Escape, you may notice something different, something like a hybrid – American vehicle with European look; and you won't be wrong, because this American SUV has a pair of LED Strip Lights just like that hot Audi R8!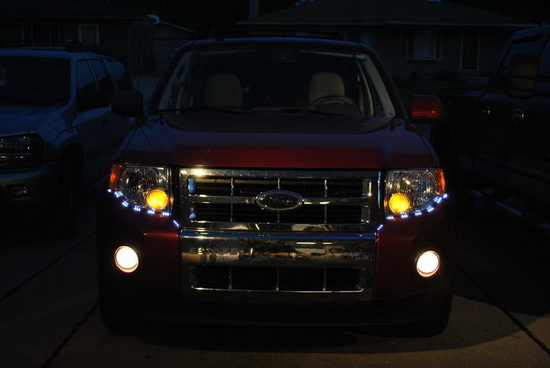 These super bright LED strip lights are commonly used around the headlight lamps to emphasize their shape. They could be installed on different places, too – around the fog light lamps or under the bumper, it's up to you. Please note the strips are bendable and each one is 12 inches long with 15 LED bulbs on a strip. This will definitely give your ride a new, sleek, Euro look as the newer Audi A5 LED headlights, or Mercedes E Class LED fog lights.
In case you are worried about installing these LED headlight strips, you should know that this quality product is installed in no time and could be put on any car, SUV, truck, etc. All you have to do is to peel the self-adhesive 3M tape on the back and attach on any smooth surface, then tap the wires to any 12V power source – either parking lights or fog lights, but have in mind the positive and negative wires. And that's all – you can freely enjoy the shining LED strip lights in Xenon White color.
You may think our product could be a great add-on to any vehicle, and you are right! Treat your ride with a newer, luxurious look without the luxurious price! Our customers rate this product 5 stars, and have gotten lots of compliments after purchasing and installing these fantastic LED Strip Lights! Give any car a nice Audi A5 or R8 look, just like that tweaked American 2009 Ford Escape SUV.
Brought to you by iJDMTOY.com, the expert for your Car LED. Follow us on Facebook for exclusive promo codes.
Leave a Comment
:2009 Ford Escape, Audi Style, Car LED, LED headlight strips, LED Strip Lights
more...
Visit our friends!
A few highly recommended friends...
Archives
All entries, chronologically...