Tag: LED interior packages
by iJDMTOY on Nov.05, 2013, under LED & HID News and Updates
LED interior packages are a great way to improve the light output inside your car at a reasonable cost. LED replacement bulbs are the easiest way to achieve this, but they may not always give you the same amount of output you're looking for. LED replacement bulbs replace the factory incandescent bulb with an equivalent LED version which allows more light output, but the amount of light that is distributed is still the same. Direct fit LED panel packages are circuit board panels with many LED diodes on it that distribute the light in a very wide pattern and are also brighter which creates a better result.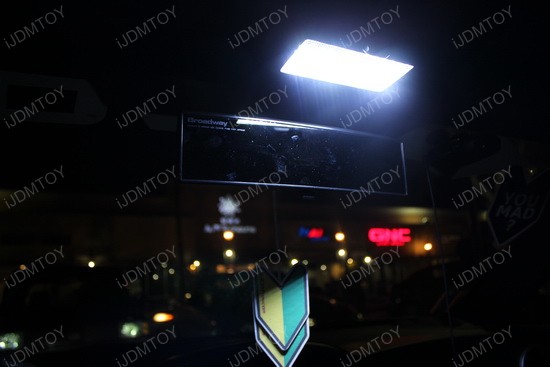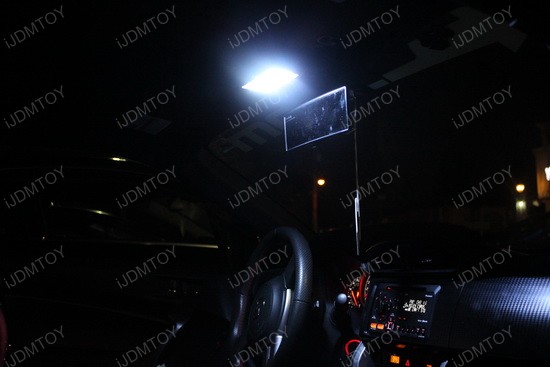 As seen on this Scion FR-S with our direct fit LED interior package, it gives off much more light output than a regular LED bulb replacement would. This specific package provides exactly 110 SMD LED diodes between the map and trunk light; the front map lights utilize a huge 90-SMD 3020 LED panel for a blinding output and the trunk uses a smaller 20-SMD 3020 LED panel. Our panels are typically only available in 6000K Xenon White, but they are available as Ultra Blue for a select few. Since the Subaru BR-Z is virtually the same car, our Scion FR-S direct fit LED interior package will also work as a Subaru BRZ direct fit led interior package also!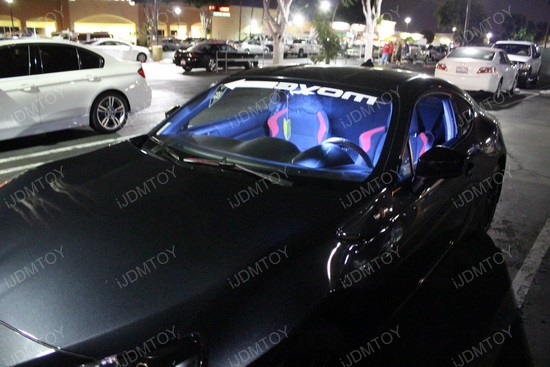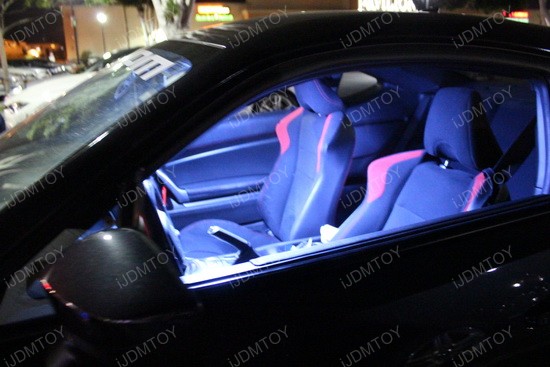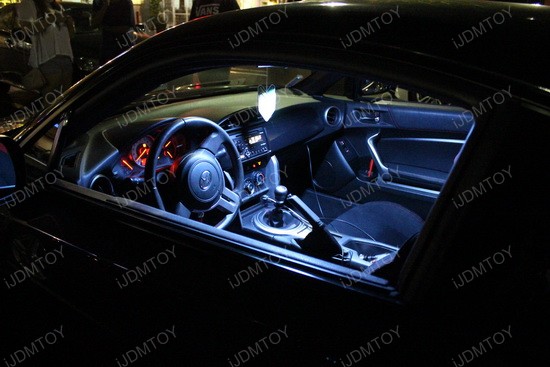 The amount of LED diodes on the panel will vary depending on kits for various vehicles, but it is considerably more than a standard bulb replacement would have. In addition to that benefit, the size of the panel allows the light to shine from a larger surface area. LED panels are noticeably more expensive than the regular standard LED bulb replacements, but the benefits are highly worth it if the need for an ultra-bright cabin light is needed.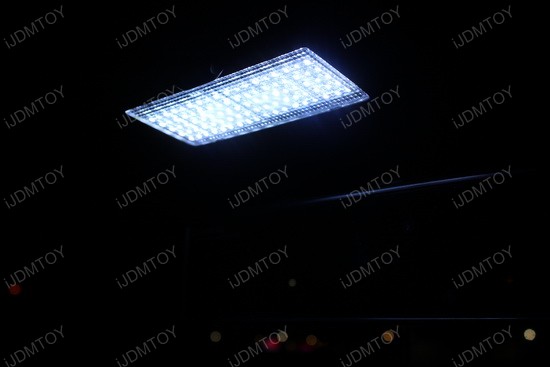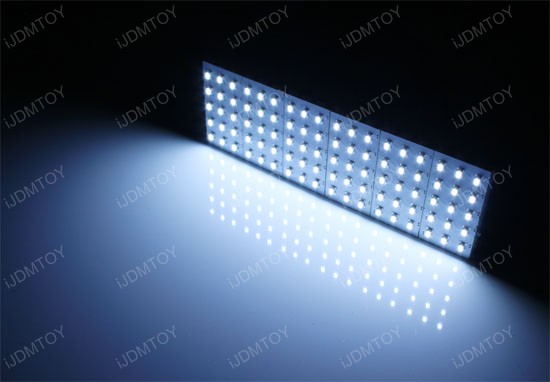 Brought to you by iJDMTOY.com, the expert for your Car LED. Follow us on Facebook for exclusive promo codes.
Leave a Comment
:Direct Fit LED Interior Package, Direct fit LED panel, Direct fit LED panel packages, front map lights, led bulb, LED bulb replacement, LED interior package, LED interior packages, LED panel, LED panel packages, LED panels, LED replacement bulbs, map lights, Scion FR-S Direct Fit LED Interior, SMD LED, Subaru BRZ Direct Fit LED Interior, Subaru BRZ direct fit led interior package
more...
by iJDMTOY on Aug.24, 2012, under LED & HID News and Updates
BMW 135i makes impression of a very compact, squat machine, smart and classy without being overt, and with the upgraded BMW LED Interior, I take my hat off to this road beast. Road beast, yes – with 300 hp and 300 lb-ft of torque, super-fast-shifting system, this car is a dynamite! If you own a baby like that, you'll definitely want to make it cool on the inside, too. This is where iJDMTOY comes and offers you the exact fit BMW LED Interior kit.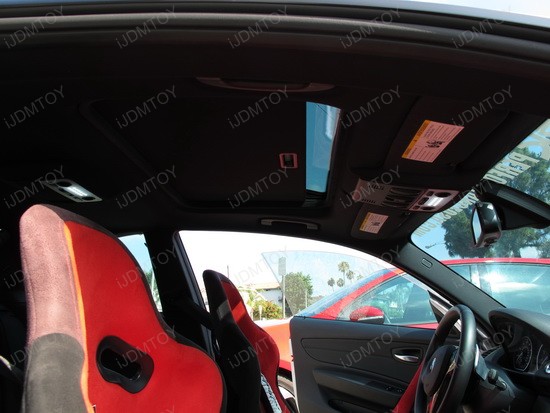 Just imagine you are feeling great in the cabin, the leather-wrapped steering wheel and paddle shifters look so sexy, and the dull yellowish light coming out of the interior lights ruins everything! Of course you'll think about the featured set of Super Bright direct exact fit 44-SMD 3-Emitter 5050 Type LED interior package for BMW. The Xenon White light is up to 5 times brighter than stock interior light bulbs and is everything you need to dress up your car the way it deserves! Plus, this BMW LED kit fits not only BMW 135i, but 3 Series E90/E91, 5 Series E60/E61 and 7 Series E65/E66.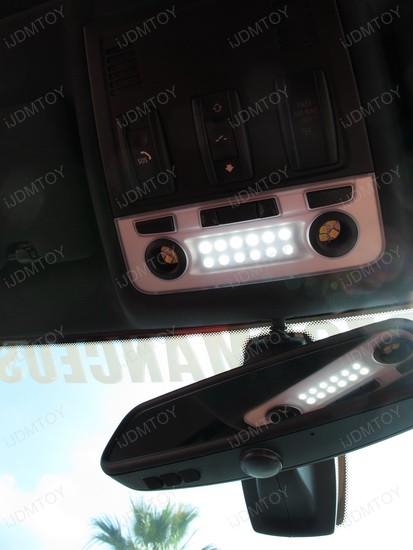 Installing these LED lights might take you about 10 minutes. Let's start with the center interior lamp – unplug it and take it off, so you can work easily. Then remove the one-piece plastic lens cover and the two small circular plastic covers on the sides. Plug out the bulbs and install firmly the BMW Direct Fit LED Interior panel lights. Put back the two small covers first and then the main lens cover. Finally, connect the wire back and put this center interior lamp in its place. Repeat the procedure for the front interior lamp, but since it is hard to remove it, do the steps above without taking off the whole lamp. That's it, step back and enjoy the brand new interior look of your BMW.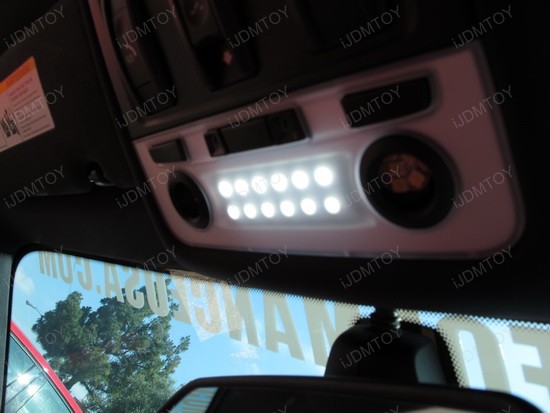 Without BMW LED Interior lights, the feeling in the cabin of BMW 135i is quite sombre, but when the BMW Direct Fit LED kit was installed, everything was beautifully wrought. Then you can enjoy the special kind of German functionality that BMW has made its speciality.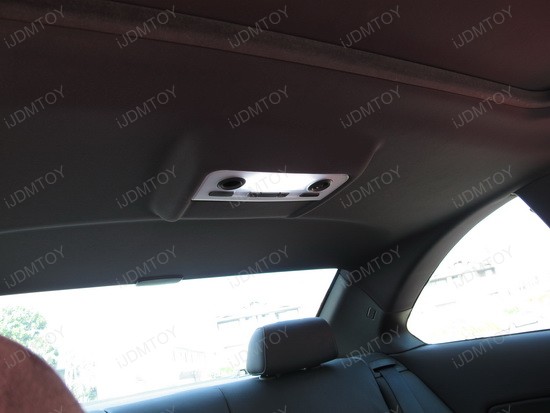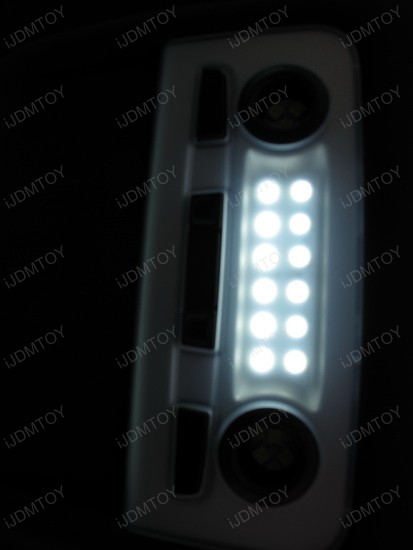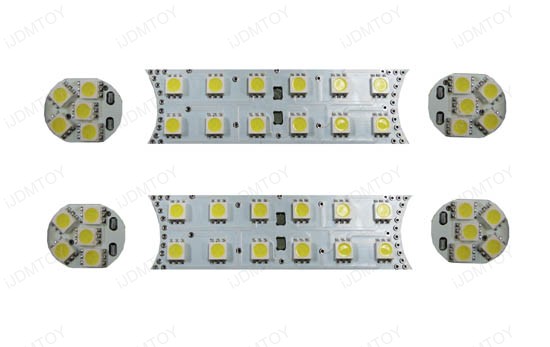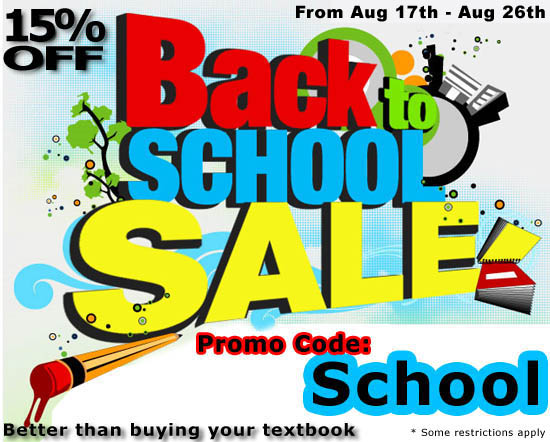 Brought to you by iJDMTOY.com, the expert for your Car LED. Back to School Sale from Aug 17th to Aug 26th, Get 15% OFF for using Promo Code: School.
Leave a Comment
:BMW Interior Light Package, bmw interior lights, BMW LED interior, BMW LED interior kit, BMW LED Kit, bmw led lights, car Interior lights, LED bulbs, LED dome lights, led interior kit, LED interior light bulbs, LED Interior Lights, LED interior packages, led lights, LED map lights, LED panel light, LED Panel Lights
more...
Visit our friends!
A few highly recommended friends...
Archives
All entries, chronologically...