Tag: LED strip
by iJDMTOY on Dec.08, 2010, under LED & HID News and Updates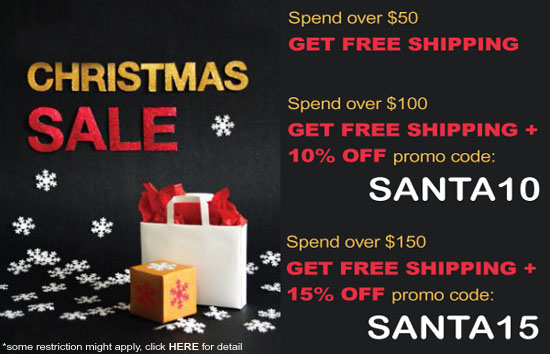 For a limited time get FREE shipping on orders over $50 when you shop at iJDMTOY.com. For even bigger savings, save 10% off when you spend over $100. And finally, save up to 15% off when you spend over $150.

The special deals for December include LED strip lights, LED daytime running lights, LED license plate lights, LED parking lights, LED interior map and dome lights, LED side door lights, LED reverse lights, HID bulbs, carbon fiber sheets, LED underbody lights, bi-xenon HID kits, and single beam HID kits. Over twenty-five items storewide are currently marked down up to 60% off. Visit our website www.iJDMTOY.com for details on this special offer.
Christmas Incredible Deal Item #7
We have another incredible Christmas deal this year on the Audi style 3-chip 5050 15-SMD LED light strip. This LED strip light features 15 super bright 5050 SMD LED lights grouped together in threes so the light is more intensive. This 12 inch long LED light strip can be used for decorating headlights, etc. Best of all, it is on sale for $15.99 – ten dollars off the original price. Install these with the self-adhesive 3M back. Then visit our website tutorials on the Do-It-Yourself Resources for more ideas on how to install these. And take advantage of our other special Christmas offers by using the shop over $100 code SANTA10 and get free shipping and save an additional 10% off! Purchase over $150 and save 15% off, on top of the savings already given, plus get free shipping!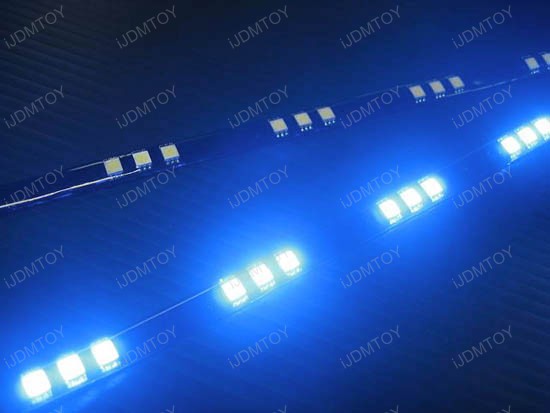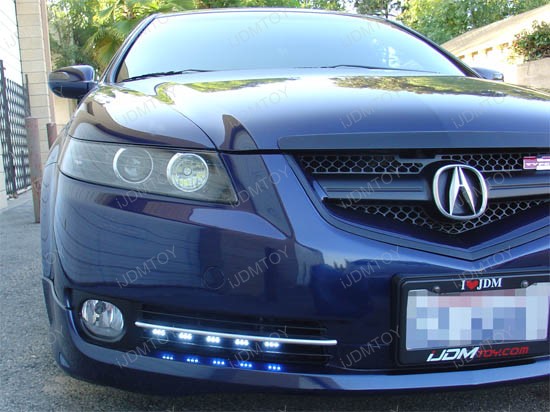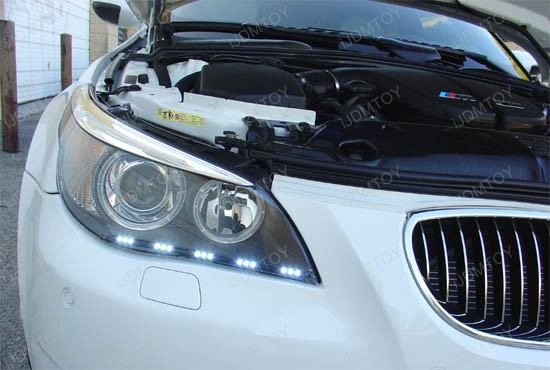 For more product pictures, please visit our Pictures and Video Gallery.
You can also find useful information on iJDMTOY Tech Support, Installation and DIY Guides as well.
Brought to you by iJDMTOY.com, the one stop store for all your Super Bright LED Car Light needs.
Leave a Comment
:christmas led sale, christmas lights sale, LED light strip, LED strip, super bright audi style led, Super Bright LED
more...
by iJDMTOY on Jul.15, 2010, under LED & HID News and Updates
Introducing the new
Audi Style LED strip lights
, come in both Xenon White and Amber Yellow
Dual Color Switchback
Function.
It is perfect for using as both daytime running lights and add-on turn signal lights. These will give you a nice Audi A5 or R8 style LED daytime running lights (also called LED headlights) or the latest 2010 and up Mercedes E Class and S Class LED driving lights (aka LED fog lights)
Here is a YouTube video we took showing how this kind of LED strip lights up like (both Xenon White and Ultra Blue):
also I have included a brief installation diagram showing you guys how to install this kind of LED strip lights (since this is an add-on and if you connect this according to the installation diagram, you will not get error message on dashboard. We have tried on Porsche Cayman, BMW X5 and a Mercedes E Class to confirm this)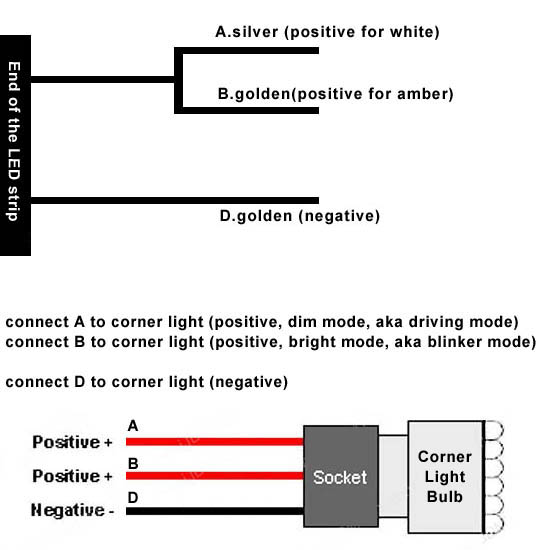 We have done installation for several cars in the past weekend. Oh, man, these look awesome! very aggressive appearance and multi-function (daytime running lights and turn signal lights). I have included couple pictures from a 2008 Infiniti G37 Coupe, a 2010 Porsche Cayman, you guys can take a look.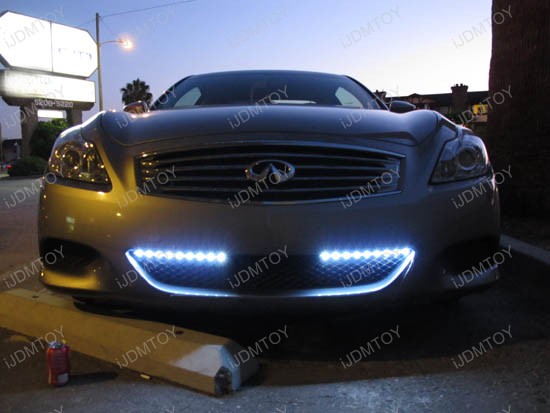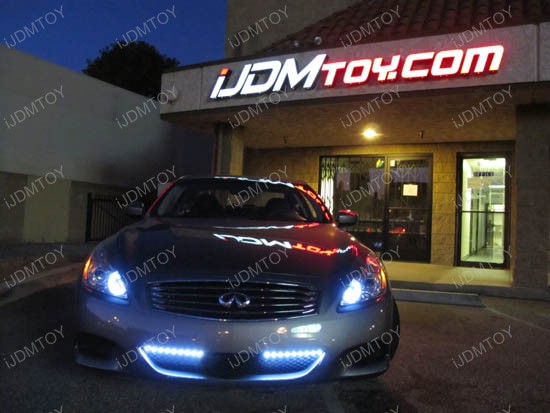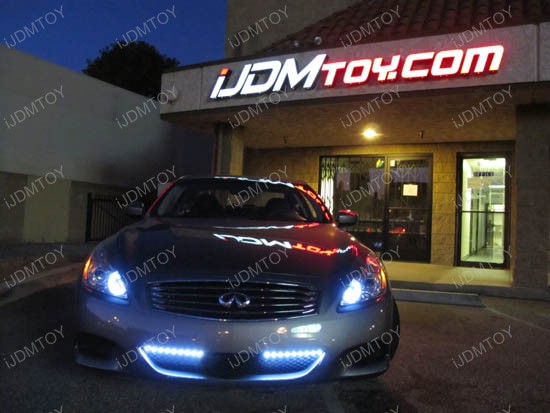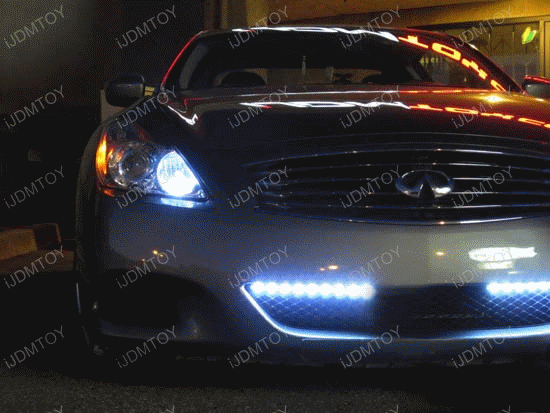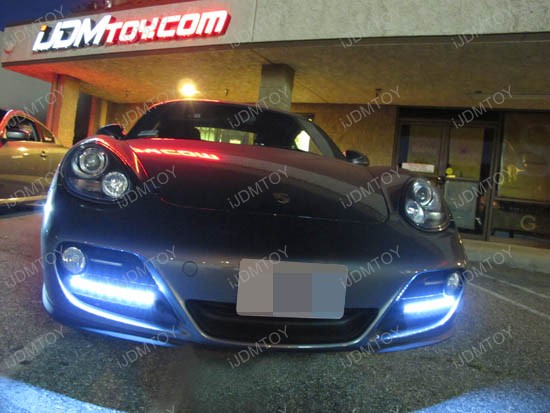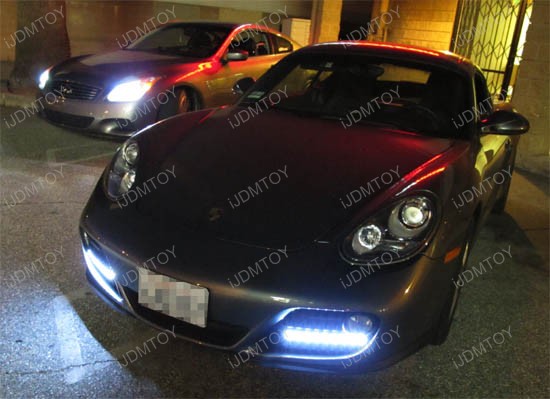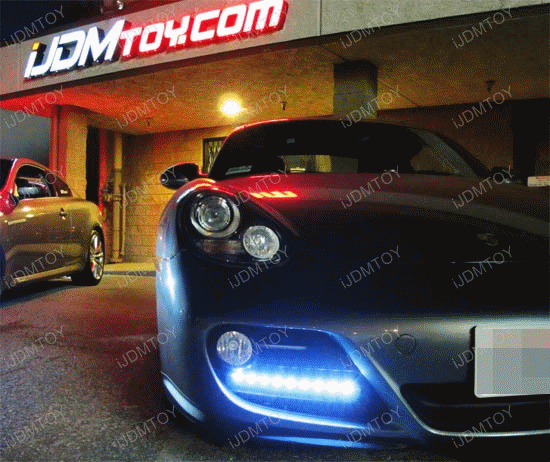 For more pictures about the LED lights we've sold and installed, please visit Gallery Pictures For LED and HID.
We have have the detail installation and DIY guides on our website, please visit LED Tech Support and DIY Guide.
The product installed are listed below, please take a look.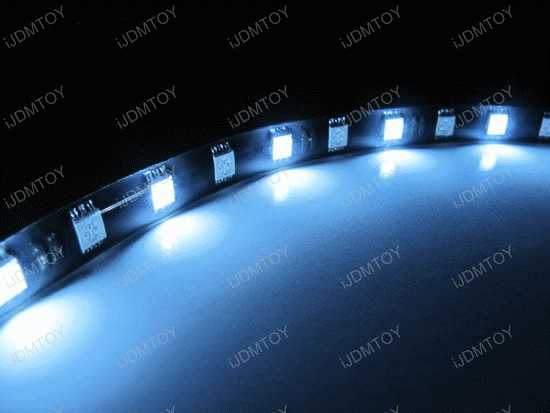 Audi Style LED Strip Lights (Dual Color Switchback version)
http://www.iJDMTOY.com, the Automotive LED bulbs and LED lighting specialist
Leave a Comment
:automotive LED lights, Car LED bulbs, iJDMTOY, Infiniti G37 LED, LED corner lights, LED Daytime Running Lights, LED light strip, LED lighting, led lights, LED strip, LED Strip Lights, LED strips, LED turn signal lights, Porsche cayman LED
more...
Visit our friends!
A few highly recommended friends...
Archives
All entries, chronologically...