Tag: LED switchback lights
by iJDMTOY on Jun.17, 2013, under LED & HID News and Updates
With the resurgence of two prominent Korean car manufacturers, aftermarket companies have a new niche to supply parts to. Take for example, the Kia Optima which was reinvented and designed in 2010 which has been a great success with regular consumers and car enthusiasts alike; this vehicle has been the subject of many aftermarket parts being introduced due to its wide popularity. One of the most popular items we sell for the Kia Optima is our Direct Fit LED Daytime Running Lamp.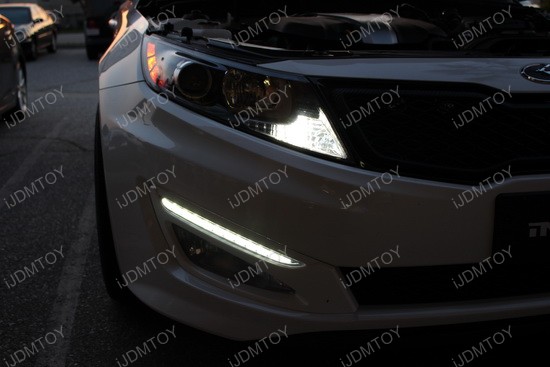 These lights are a direct replacement for the fog light bezel area and will only fit the non-Hybrid trims and vehicles with factory equipped fog lights ONLY. Trimming of the crash beam will be required as this item is designed specifically after the Korean model which does not have a crash beam like how we do in the United States. The bezels come unpainted so you have the option to paint it if you desire.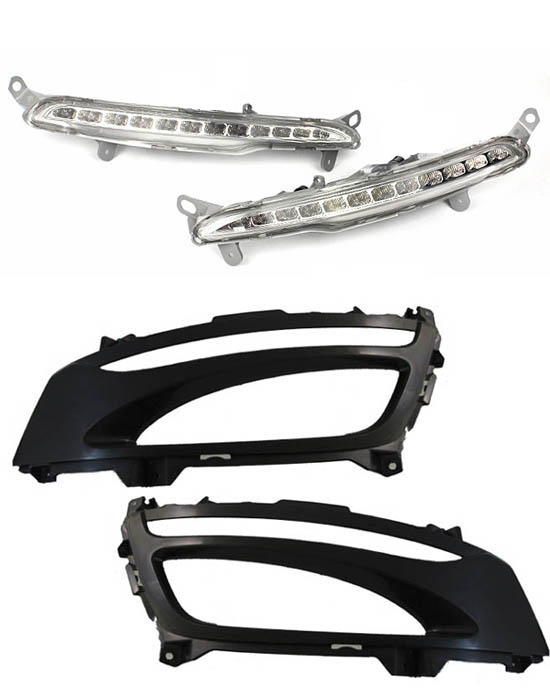 The installation procedure is very straight forward and can be by a professional or anybody with sufficient experience in the aftermarket installation world (the installation requires removal of the bumper and modification of the bumper crash beam). As for wiring, these lights are available in two modes: Bright Mode and Dim Mode and you are given the choice to choose which one to use; most of our customers prefer the brighter mode for obvious reasons.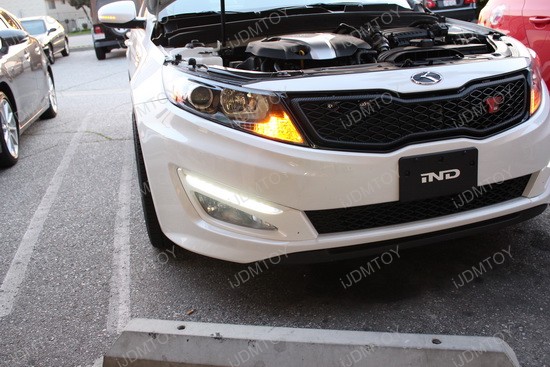 On the same vehicle, we also installed our 27-SMD 1157 LED Switchback bulbs WITH LED load resistors. For some of you who are not familiar with what a switchback LED bulb is, it is an LED bulb that stays lit as Xenon White when the parking lights are running and once the turn signals are engaged, the light blinks Amber. This type of design allows for a stylish look that better matches OEM or aftermarket HID lights compared to the original bulb color and still be legal as the turn signals remain amber when signaling. Resistors are absolutely required for this specific car or else the functions will not work properly (but on other vehicles, it is more of a recommended item instead). Switchback LED bulbs create a drastic change in appearance since LED white is a much closer match to OEM or aftermarket HID lights compared to the original bulb color.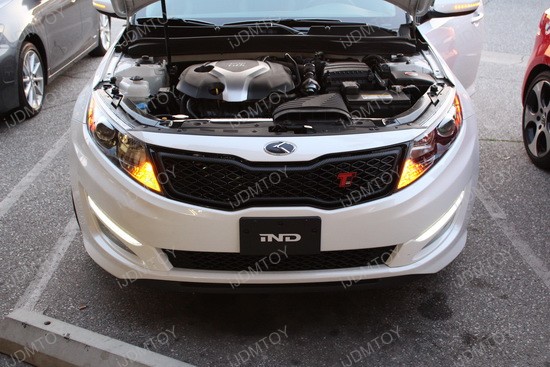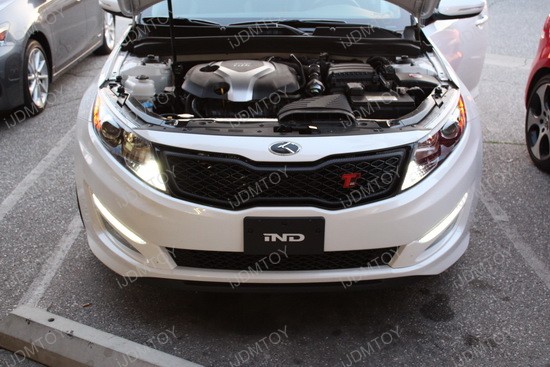 Please check the products below:
Brought to you by iJDMTOY.com, the expert for your Car LED. Follow us on Facebook for exclusive promo codes.
Leave a Comment
:1157 LED Switchback bulbs, Kia Optima daytime running lights, led daytime lights, LED daytime running lamp, LED DRL, LED load resistor, LED Running Lights, LED switchback bulbs, LED switchback lights, LED turn signal sights, Switchback LED, switchback led turn signals
more...
by iJDMTOY on Jun.14, 2013, under LED & HID News and Updates
We offer a large variety of LED daytime running lights, some that are vehicle specific and some that are universal which can be made to fit a plethora of vehicles. In this particular case, we have a customer who purchased our 9-LED Daytime Running Lamps and installed it on his BMW.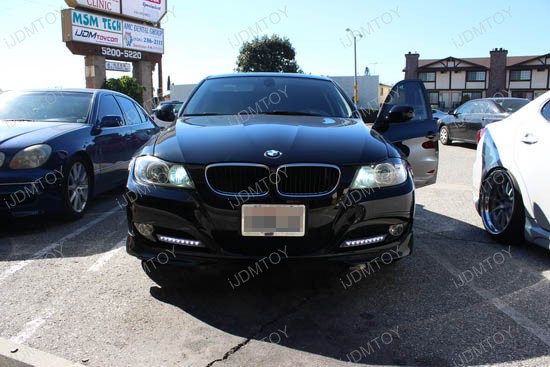 These particular lights are easily installed when there is a mesh grill behind them since they are screwed into the back of the housing through the mesh which holds it in place. Fortunately for this customer, his car's fog light area was the perfect size to accommodate these lights and required little to no modification to install. The shape and flow of the lamp and application area allowed these lights to fit flush and look very natural there.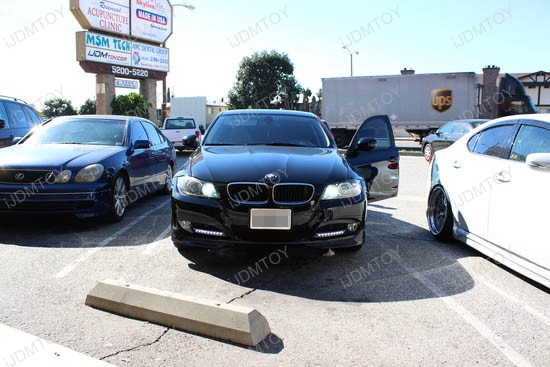 Our customer connected the wires to these lights directly to his daytime running lights so that when those lights are on, the LED daytime running lamps are also on acting as additional lights. Since there are only two wires coming off the LED lamp, the installation is very easy and straight forward; they just need to be connected to a 12v power source and ground.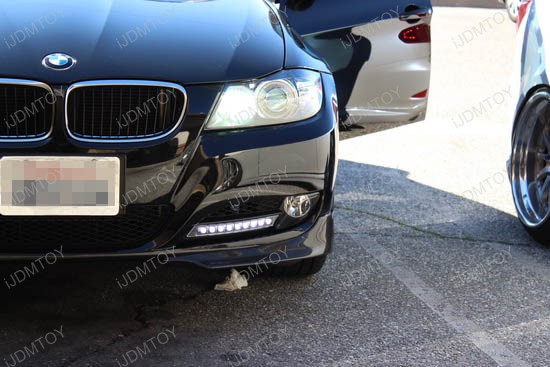 This item has been made to fit on this customer's BMW very easily and it can also fit on other vehicles with similar bumper openings like the picture above. This lamp is actually a direct fit item for 2005-2008 Audi C6/A6/S6, but as shown in this article, it can be fitted onto other vehicles if room allows.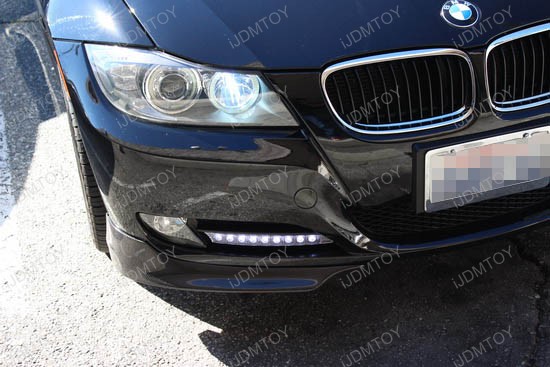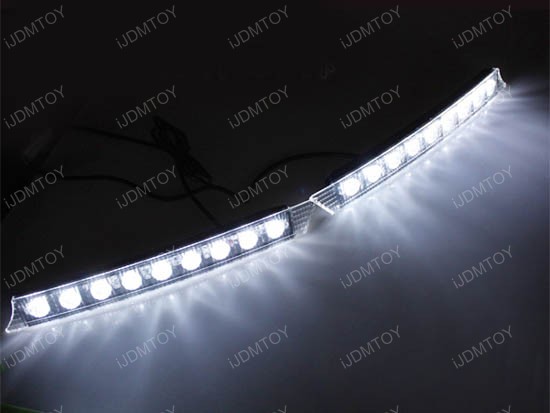 Brought to you by iJDMTOY.com, the expert for your Car LED. Follow us on Facebook for exclusive promo codes.
Leave a Comment
:Audi Style LED DRL, BMW LED daytime running lights, daytime running lamp, daytime running lights, led daytime lights, LED Daytime Running Lamps, LED Daytime Running Lights, LED DRL, LED DRL Lights, LED Running Lights, LED switchback lights
more...
Visit our friends!
A few highly recommended friends...
Archives
All entries, chronologically...