When you see this Honda Accord at night, it will definitely get your attention with these fancy LED ground effect lights. You just can't pass by the vivid color of the all new much more flexible silicon tube RGB LED strips. The light of this innovative tuning kit is brighter than the traditional one and you can be sure about that just by looking at the little blurry pictures taken by one of iJDMTOY customers.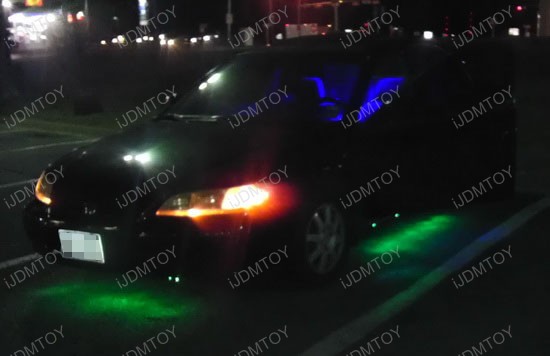 These RGB LED strips are universal fit, sound active and wireless controlled, so you can pimp your ride the way you want. With 7 colors and 23 distinct flash patterns, this amazing product will help you set apart. The kit includes 2 pieces 45" LED strips and 2 pieces 33" LED strips – a total of 378 SMD LEDs that are more than enough to change the whole appearance of your car.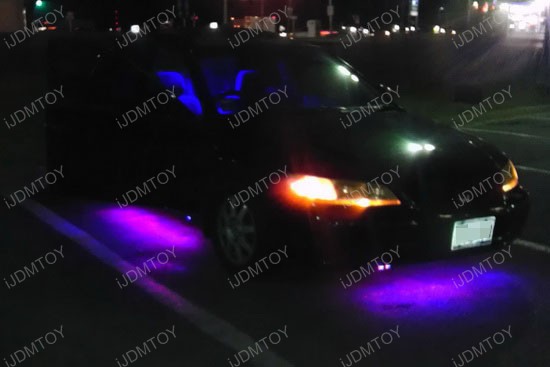 If you wonder how to install these beautiful RGB LED strips, don't worry! It takes about an hour to install everything and what you need is some automotive double sided tape, cutters and a longer wire that will be used as a "fish tool" to help you feed the wires in tight places. Apply strips of the double-sided tape on the back of the LED strips and mount the control module box in the engine bay, where you can easily take power – black wire goes to negative (-), thick red wire to positive (+), the thin red wire is the antenna and the yellow wire should be left absent. When you install the box module, tie some small weight on the "fish tool" and find a spot where you can safely feed the wires down to the underbody. Once you are ready, untie the weight, tie the strip harness and bring it up through the engine bay.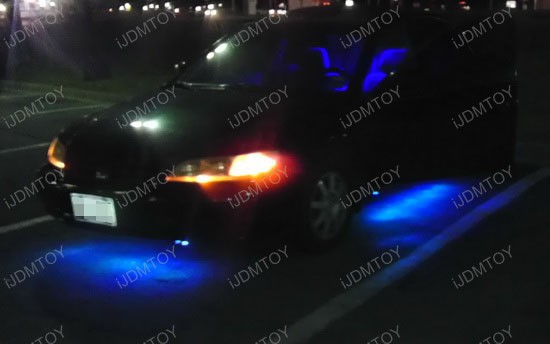 Continue with installing the LED ground effect lights to the underbody of the car. Find a place where you can apply a strip, clean it, peel the double-sided tape and firmly apply to the underbody, making sure you align the strip in the center. Repeat this process for the remaining LED lights and use zip ties for more securely fixing. Finally, connect the harnesses and you are good to go.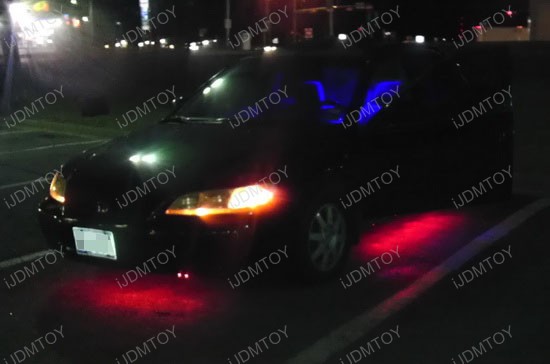 Adding a color to your ride just like this Honda Accord with LED ground effect lights has never been easier, thanks to iJDMTOY. The featured product is a great and easy way to improve the look of your vehicle and get closer to all those fancy show cars. This product has proven itself over time and definitely worth the money.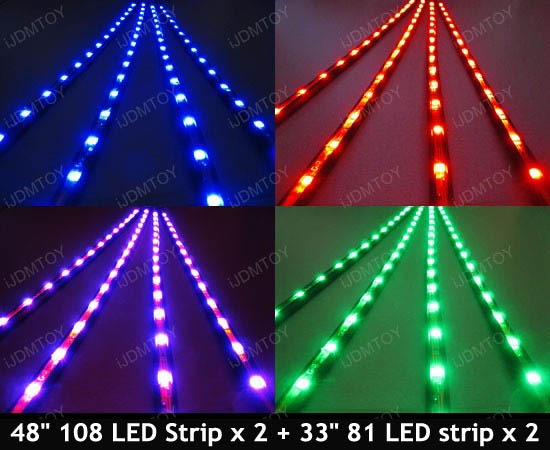 Brought to you by iJDMTOY.com, the expert for your Car LED. Follow us on Facebook for exclusive promo codes.