Tag: Lexus CT200h LED Interior Lights
by iJDMTOY on Oct.03, 2013, under LED & HID News and Updates
Toyota is very experienced and has been getting their feet wet in LED technology world for quite some time now. Lexus, a subsidiary of Toyota has been integrating LED lights into their higher end models such as the GS350 and LS460. Strangely enough, the hybrid CT200H utilizes incandescent interior lighting; since it's a hybrid vehicle it would make sense to save as much energy as possible using LED lights as it already utilizes LED headlights on the upper trim model. Fortunately, we have an LED replacement solution for the interior lights for this car.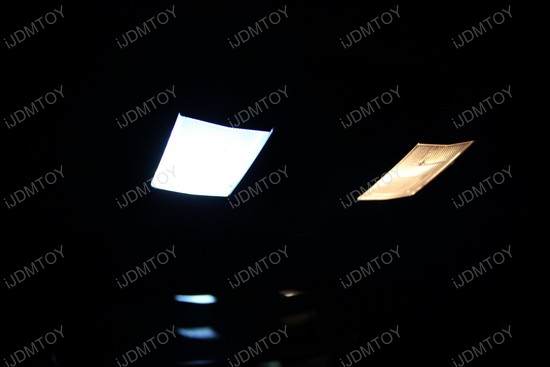 This particular customer wanted a brighter and cleaner looking light for his Lexus CT200H LED interior front map lights because they had trouble finding things at night. Since we didn't have a specific direct fit car interior LED package for this car like we have for others, we opted to use our 36-SMD LED panel instead which fit perfectly. Each panel contains 36-SMD 1210 type LED diodes and is available in either 6000K Xenon White or 20,000K Ultra Blue; we do recommend getting it in Xenon White for it to be really functional though.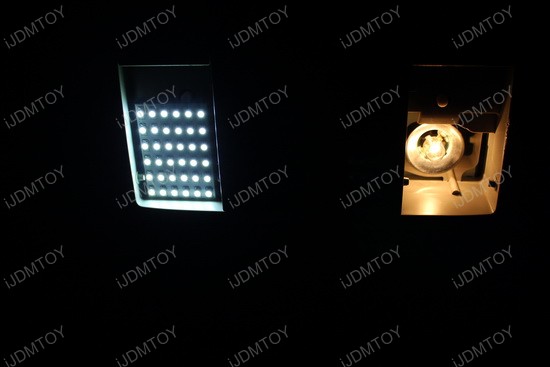 As for the bulb size, each panel comes with a T10 adapter (fits 168,194, 2825, and more sized bulbs), festoon adapter (fits 31 to 42mm festoon bulbs), and a BA9 adapter (fits mini bayonet style bases) so it will fit all the common interior light bulb sizes as long as the housing can accommodate the panel. It also comes with 3M self-adhesive tape on the back so it can stick to the housing for an easy installation. This simple upgrade is perfect to create more CT200h LED interior light inside the car at night at reasonable price.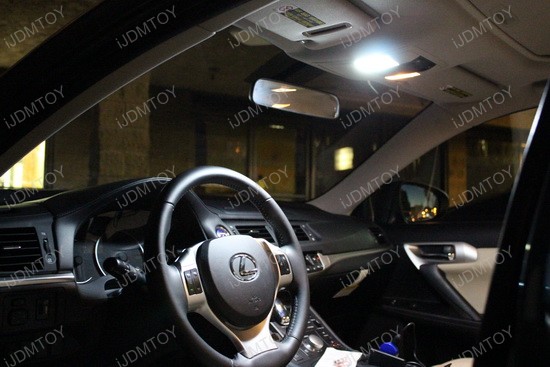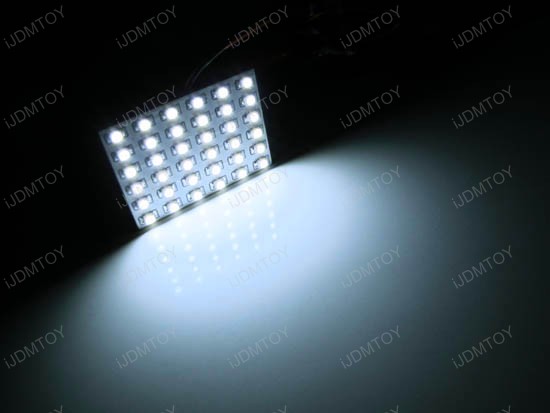 Brought to you by iJDMTOY.com, the expert for your Car LED. Follow us on Facebook for exclusive promo codes.
Leave a Comment
:168, 194, 2825, car interior led, car Interior lights, CT200h interior lighting, CT200h interior lights, CT200h LED Interior, interior light bulb, LED bulbs, LED dome lights, led headlights, LED Interior Lights, led lights, LED map lights, LED Panel Lights, Lexus CT200h LED Interior Lights, Lexus CT200h LED Interior Panel Lights, Lexus interior lights, Lexus LED Interior, Lexus LED Lights, smd led lights, t10 bulbs
more...
by iJDMTOY on Jun.27, 2012, under LED & HID News and Updates
The 2011 Lexus CT200h is a sporty, tech-savvy, and eco-conscious entry luxury car, but this super bright Complete LED interior package is a great upgrade for this low-slung and aggressive hybrid. Check out the pictures – you'll see for yourself that this LED Package for Lexus gives the car not only a fancy look, but also saves you from worries of looking for something in the dark. Pretty cool, huh?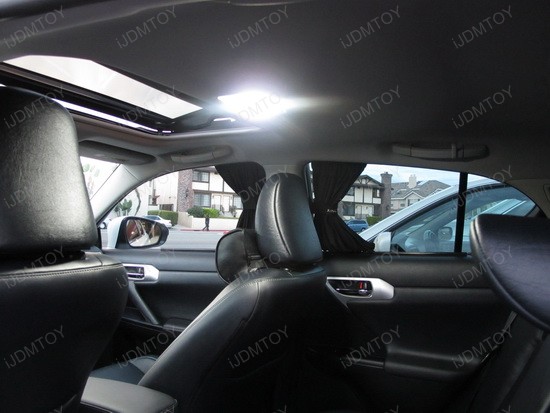 What you need is the pre-configured LED interior light package for Lexus CT200h – a perfect product that will totally upgrade the interior of your vehicle. Each Lexus LED Interior Package consists of 2 pieces SMD bulbs for map lights, 1 piece SMD bulb for dome light and 1 piece SMD bulb for cargo area light, that will fit 2011 and up Lexus CT200h. This guy picked the Xenon White color, but iJDMTOY offers this stuff in two more color options – Ultra Blue and Brilliant Red to match any taste and interior.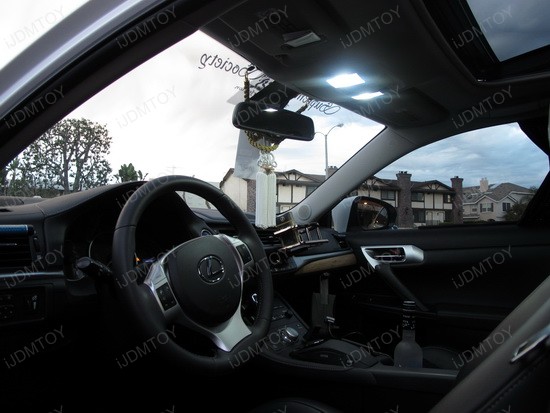 Each bulb from the LED Package for Lexus is plug and play, so basically the installation is piece of cake. Directly replace the OEM halogen bulbs with these new LED lights and you will get your ride the same sexy look as the one featured here. Save yourself the annoying staring in the dimly lit car looking for your keys and transfer the stock yellowish interior lights to a cool xenon white LED interior look like the all new 2012 and up Audi, BMW and Mercedes.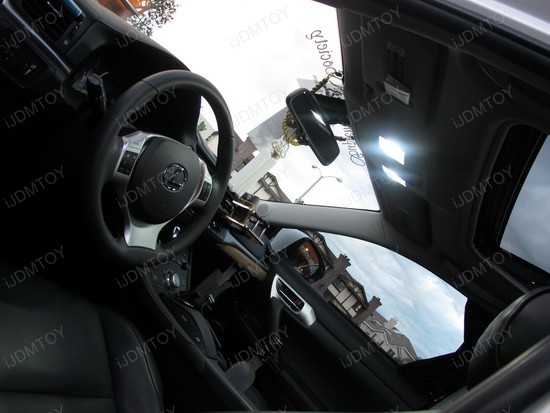 This 2011 Lexus CT200h has these Super bright 3-Cell 5050 SMD lights featured in the Complete LED interior package installed, and as you can see, the LED bulbs are 3-4 times brighter than stock car interior lights! What's more, these bad boys consume less energy, last longer and give this hybrid very distinctive look!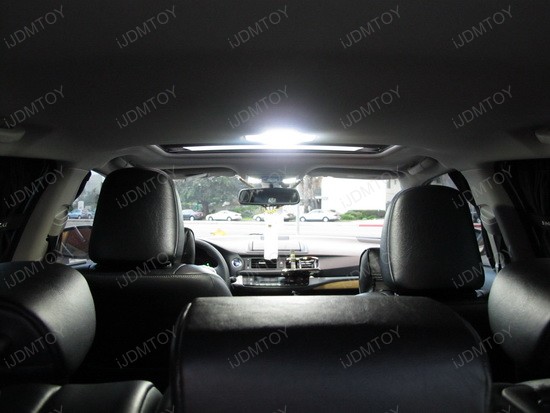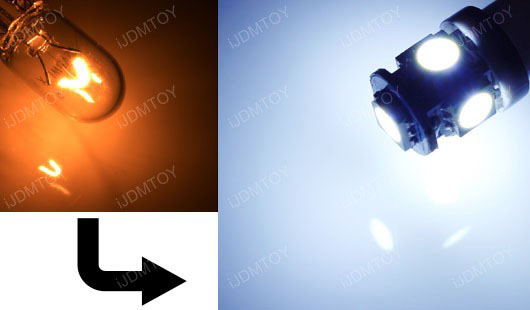 Brought to you by iJDMTOY.com, the expert for your Car LED. Follow us on Facebook for exclusive promo codes.
Leave a Comment
:blue led interior, car Interior lights, Car LED interior package, complete LED interior package, interior dome lights, led car interior lights, LED cargo area light, LED dome lights, LED front map reading lights, LED Interior Lights, LED interior package, LED interiors, LED map lights, LED Package for Lexus, Lexus CT200h interior lights, Lexus CT200h LED Interior Lights, Lexus interior package, Lexus LED interior lights, white Interior Lights, white led interior
more...
Visit our friends!
A few highly recommended friends...
Archives
All entries, chronologically...