Tag: Plug and play
by iJDMTOY on Sep.25, 2013, under LED & HID News and Updates
The Cadillac Escalade is a fairly large vehicle with headlights relative to the overall size of the car. Since the headlight is so large, it has room to have dedicated lights to serve one purpose such as the daytime running lights, parking lights, and turn signals. Since the daytime running lights are one dedicated bulb, it is easy to replace and requires no additional components. The Cadillac Escalade uses 3157/4157 sized bulbs for the daytime running light bulbs and we have a suitable plug and play replacement.
Our 68-SMD 3157 LED Replacement Bulbs are part of our very popular "68-SMD" series; these bulbs are known for their color, brightness, and affordability. Like many dedicated daytime running lights, separates components such as resistors and decoders are not required for installation. These are just plug and play meaning they replace the factory bulb directly with no modifications required. Because the LEDs cover the entire surface area of the bulb, 360 degrees of light coverage is produced so the whole housing is filled with light. With 20,000 estimated working hours, these will surely outlive the life of your car; these LED replacement bulbs are a great way to update the look of your Escalade. Since HID lights are not available in this size, LED replacement bulbs are the perfect way to get that same look for a much cheaper price.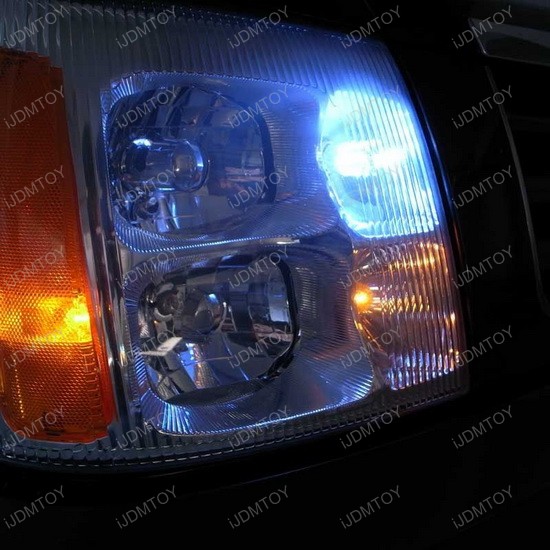 Brought to you by iJDMTOY.com, the expert for your Car LED. Follow us on Facebook for exclusive promo codes.
Leave a Comment
:3157, 3157 LED Replacement Bulbs, 4157, cadillac, cadillac escalade, Cadillac Escalade LED daytime running lights, daytime running light bulbs, escalade, HID, LED, LED bulbs, LED daytime running light, led lights, led replacement bulb, parking lights, Plug and play, turn signals, xenon
more...
by iJDMTOY on Nov.10, 2011, under LED & HID News and Updates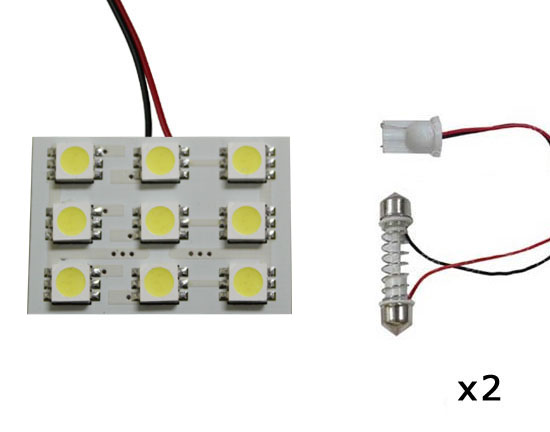 Do you remember that yellow 2010 Hyundai Genesis Coupe we wrote about a few days ago? Well, it seems that guy really like our LED products, as he continued upgrading his vehicle and replaced the OEM interior light bulbs with LED interior lights. The result, however, is quite impressive, and we decided to share this nice add-on with you.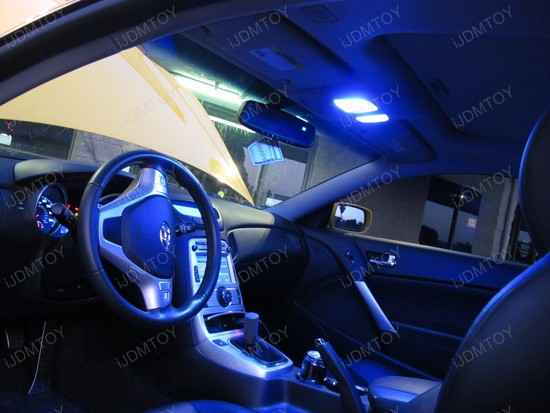 One kit includes a pair of Xenon White or Ultra Blue 9-SMD 5050 type Super Bright LED panel lights, which come with universal adapters for any cars, SUVs, or trucks. To install the LED dome lights you have to unplug the stock bulb, plug in the correct adapter, peel the 3M self-adhesive double sided tape on the back of the LED panel and stick the panel to the plastics. Once installed, you will notice the amazing difference in color these LED panel lights provide. The brilliant super bright xenon white light is no match to the old stock dull and yellowish bulbs, which makes these LED panels perfect for car interior lights such as map lights and dome lights.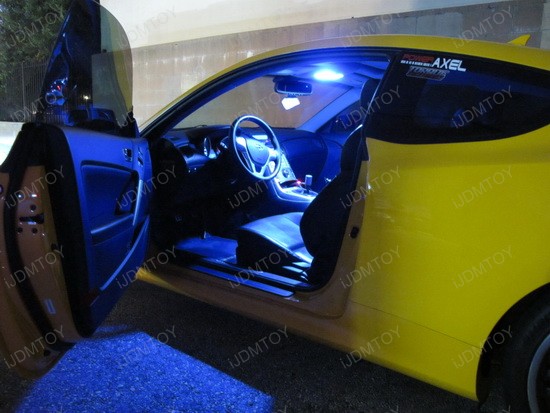 Another great feature of our product is its great power efficiency – the LED interior lights consume less power, which means that if you forget to switch them off and they stay on all night long, there's a very big chance you can still start your car next morning. However, don't try this test.
In conclusion we will say that these LED dome lights are a very good choice if you are determined to tune up your ride. You don't have to be LED maniac like that 2010 Hyundai Genesis Coupe guy to own a pair of LED interior lights. If you are still wondering whether to place an order or not, remember every time you were looking for something in your car and didn't find it because of bad lighting.
Brought to you by iJDMTOY.com, the expert for your Car LED. Follow us on Facebook for exclusive promo codes.
Leave a Comment
:2010 Hyundai Genesis Coupe, LED dome lights, LED Interior Lights, LED light panels, Plug and play, super bright
more...
Visit our friends!
A few highly recommended friends...
Archives
All entries, chronologically...