Tag: Scion IQ
by iJDMTOY on Nov.16, 2011, under LED & HID News and Updates
Remember that Scion IQ I wrote about last time? Well, I just can't wait to tell you about its fancy Daytime Running Lights – they look like tiny shining diamonds! You know how happy women become when they see their best friends, huh? I become more than happy when I see some nice quality automotive lighting products in action. Unfortunately the guys at the Scion Booth switched on the lights only for a while and I couldn't take a good picture, but will tell you more about this accessory and what's more – how to get the same great-looking product at very affordable price.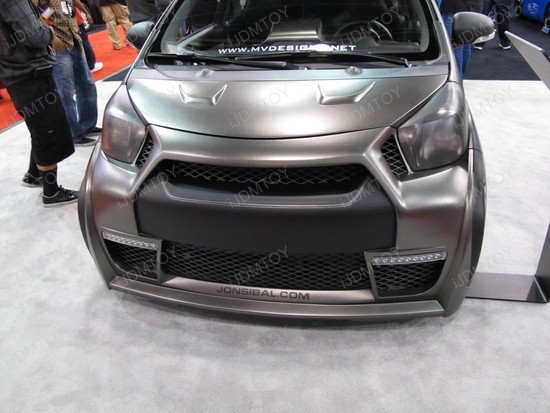 Following the latest trends in the automotive industry, tuners and manufacturers try to offer quality modern-looking products, and this is where the LED technology comes. The fellows, who prepared the Scion IQ for this year's SEMA Show, have very modern vision – such cool 9 LED DRL Lamps are very similar to the ones found in some luxury Audi models. I am sorry you can't see them in action, but I can assure you they have very powerful output and are capable of emitting very bright Xenon White light. These qualities motivated me to find the same cool-looking product on the Internet.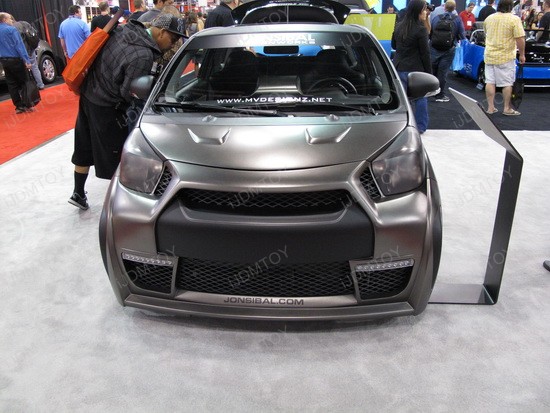 Here I come to the part with a hint how to get the same 9 LED DRL kit for your car. All you have to do is to visit JDM Toys store and look for these eye-catching Audi A6 Style High Power 9 LED DRL lamps. Actually, I think there was even a 10% discount on this universal fit quality product. However, if I judge by the sleek look of that graphite steel Scion IQ, these Daytime Running Lights will become a total hit among car tuners and manufactures.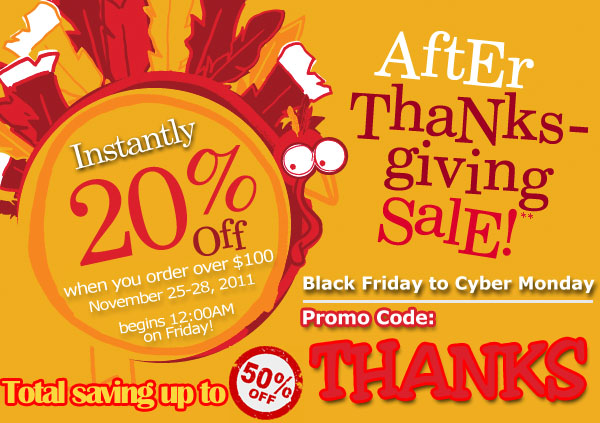 After Thanksgiving Sale – save 20% Off when you order over $100 from November 25-28, 2011 at iJDMTOY.com, the Car LED expert.
Leave a Comment
:9 LED DRL, Autoshow, black friday, cyber monday, daytime running lights, Las Vegas, Scion IQ, SEMA show, thanksgiving
more...
by iJDMTOY on Nov.15, 2011, under LED & HID News and Updates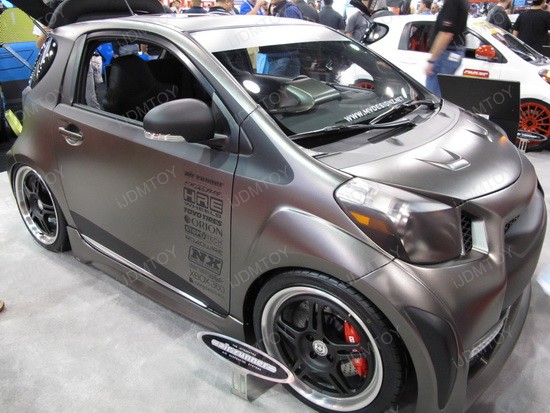 The Scion Booth and their smoking hot Scion IQ show car, equipped with Black Headlight Tint kit, was definitely one of the many SEMA 2011 Highlights. I was very impressed with the whole concept and was very determined to write an article about this beautiful tiny vehicle. Some of you may have never heard about this car – though the Scion IQ is new to the U.S., it's more than familiar to the rest of the world (Japan for example). Other countries have had micro-cars for years; Toyota is just the latest manufacturer to bring them to the States.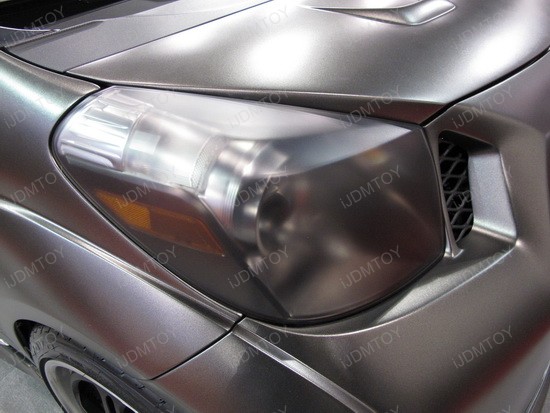 Basically, that's the long story short of Scion IQ. Now, let's take you back to this particular show car: while I was walking around the vehicle, admiring the awesome graphite paintjob and taking down notes, I couldn't miss the Black Headlight Tint and the Smoked Taillight accessories. I just have no words to describe the fantastic combination of graphite steel paintjob with such shaded elements – you have to see it, to believe it! Everything is perfect, nothing less, nothing more – and you have to admit the intelligent design makes this car look like a cyborg from the future.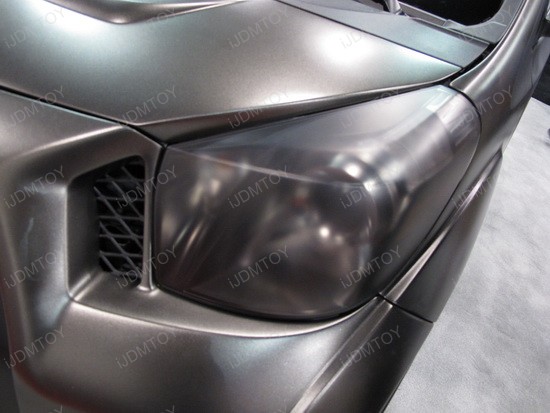 I was amazed by those fancy automotive lighting accessories and made a little research how to give my car the same cool look. Then I checked the iJDMToy's Online Store and found a self adhesive matte Black Out Smoke Tail Light Vinyl Film, which could be applied to headlights as well. This is a top quality product, which will get you 20% dark smoke black-out effect. Simply apply this high quality black-out vinyl sheet to any smooth surface and cut off the edge. It will not damage your lamp nor leave any residual later when you remove it.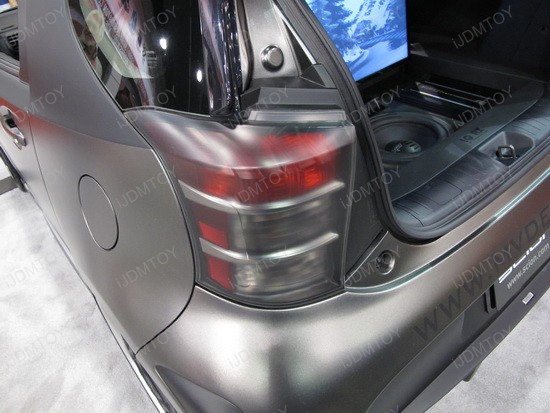 After all, only the tuner knows exactly what kind of accessories are installed on this fancy Scion IQ, but you can get the same Black Headlight Tint and Smoked Taillight effects for less money with iJDMToy.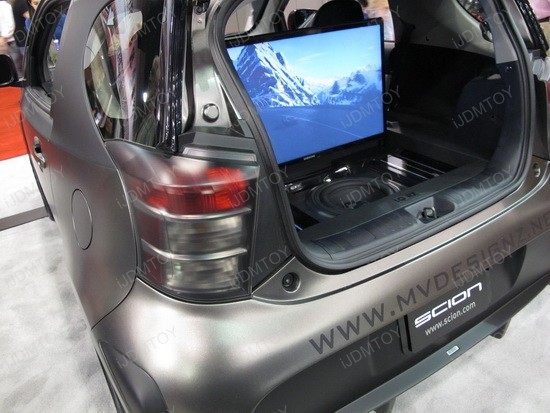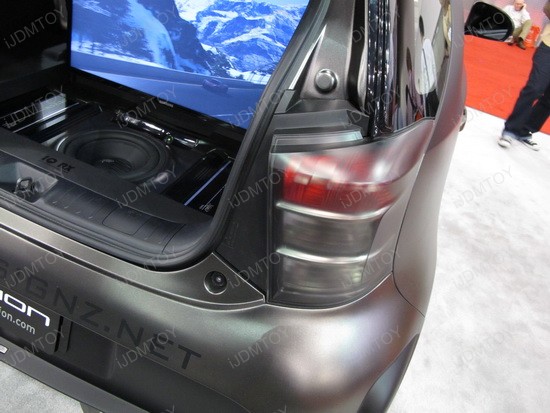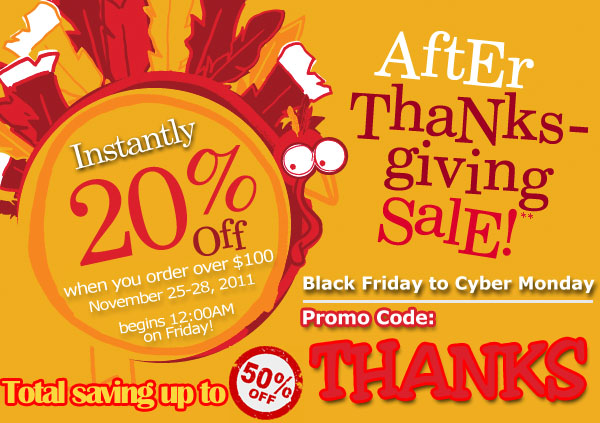 After Thanksgiving Sale – save 20% Off when you order over $100 from November 25-28, 2011 at iJDMTOY.com, the Car LED expert.
Leave a Comment
:Autoshow, black friday, Black Headlight Tint, cyber monday, Las Vegas, Scion IQ, SEMA show, Smoked Taillight, thanksgiving
more...
Visit our friends!
A few highly recommended friends...
Archives
All entries, chronologically...