Tag: smd led lights
by iJDMTOY on Dec.23, 2010, under LED & HID News and Updates
iJDMTOY has the complete interior package for BMW E90 328i, BMW E92 335i, M3, and 3 series models from 2006-2010. The complete interior package includes 10 LED lights that fit perfectly for all BMW E90, E92, and M3 models 2006 – 2010. The BMW 3 series interior lighting includes ten bright SMD LED dome lights and map lights, LED under dash lights, and LED under door lights. This upgrade will improve the lighting of your car interior. The stock filament bulbs are dimmer and the light is really not noticeable. These LED replacement bulbs make the light more bright white. Looking for things inside your car will be easier and also I think the light looks nicer.
The BMW LED interior bulbs are ready to install as is. Simply detach the cover of the dome/map housing and replace the stock filament bulb with LED bulbs. Make sure it lights up, if not switch it over by turning it 180 degrees so that the connections touch different connectors and it should work from there.
The LED lights we carry for the interior light package are estimated to be about twice as bright as other LED bulbs. If you compare it to a stock filament bulb, the SMD LED lights are about four times as bright. Moreover, the LED bulb lifespan is ten times the lifespan of the stock bulbs. Get long-lasting performance with super bright LED car bulbs.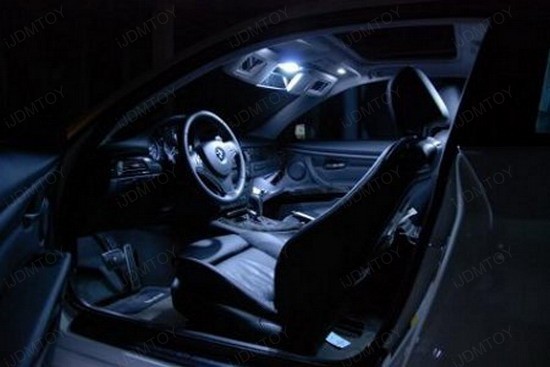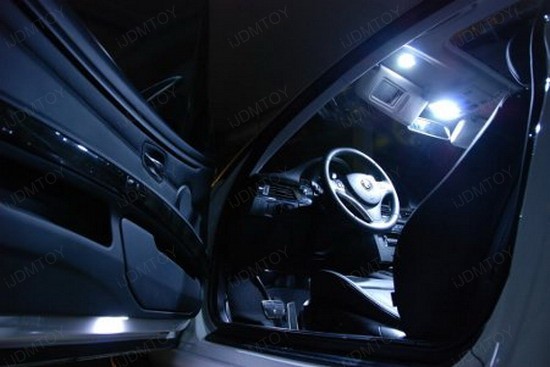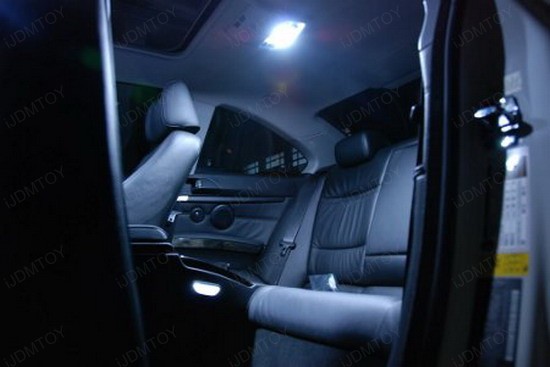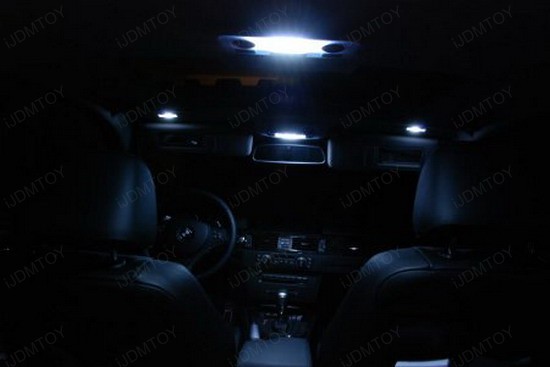 The LED interior kit featured on the BMW E92 335i above.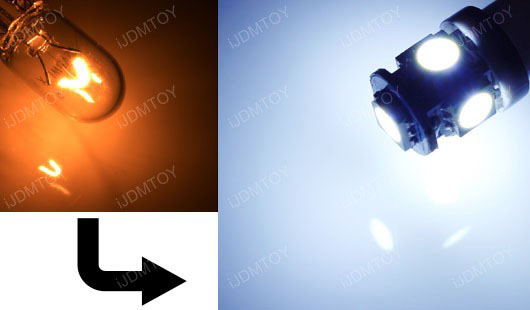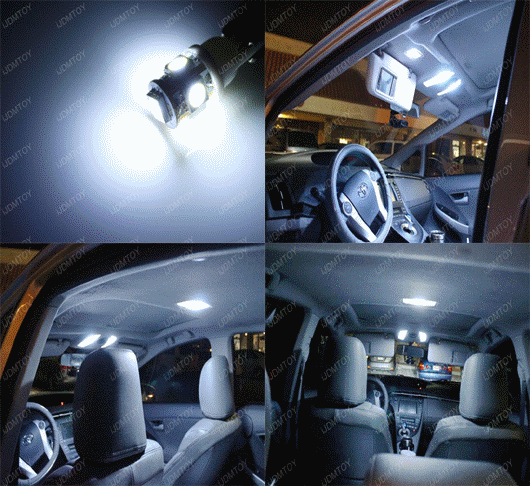 For more product pictures, please visit our Pictures and Video Gallery.
You can also find useful information on iJDMTOY Tech Support, Installation and DIY Guides as well.
Brought to you by iJDMTOY.com, the one stop store for all your Super Bright LED Car Light needs.
Leave a Comment
:bmw led interior bulbs, bmw led interior lights, bmw led interior upgrade, car interior led lights, led interior kit, smd led lights
more...
by iJDMTOY on Jul.22, 2010, under LED & HID News and Updates
We showed error-free license plate lights installed on our customer's BMW X Series in our last post.
Here's another one: we will show you error-free led license plate lights for an Audi A4. These Error Free LED bulbs also fit for BMW, Mercedes, Porsche, Volkswagen, and other European vehicles.

These specially designed 6411 6418 C6W Festoon LED bulbs will guarantee to work. No longer send you a "bulb out" warning on your dash!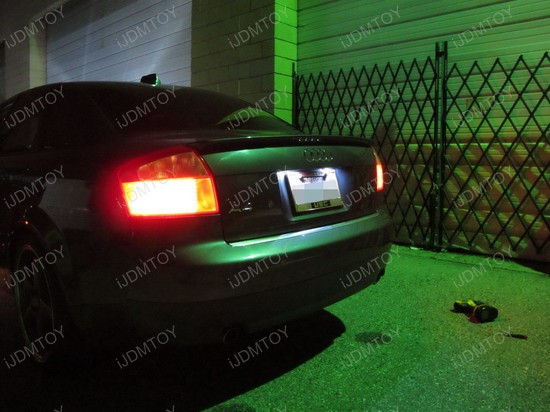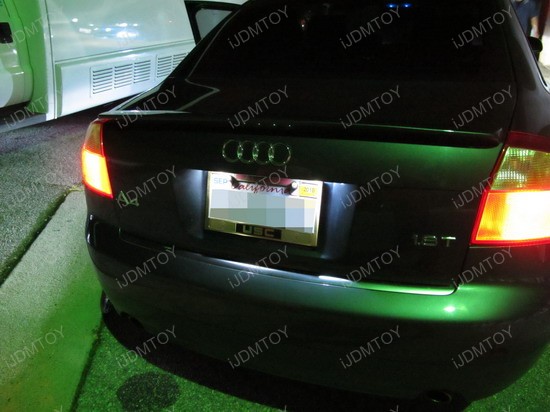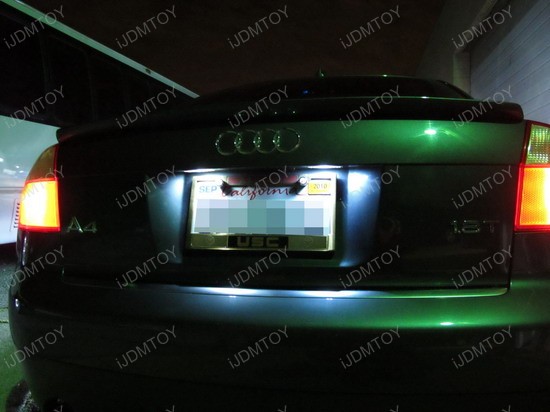 This product features a pair of Xenon White High Power SMD LED bulbs with built-in Load Resistors.
You can find them on this page Error Free 6411 6418 C6W LED Bulbs: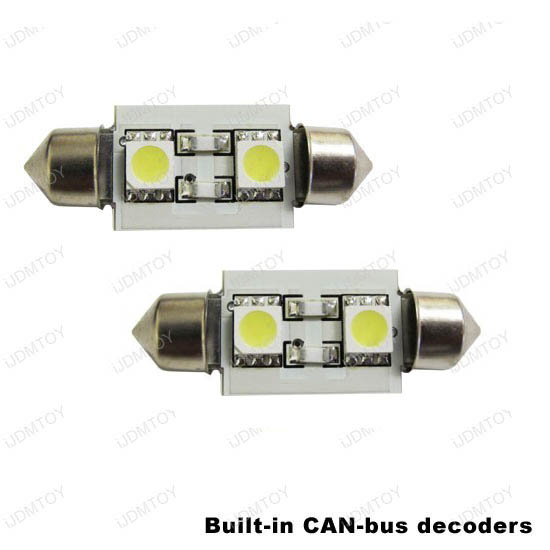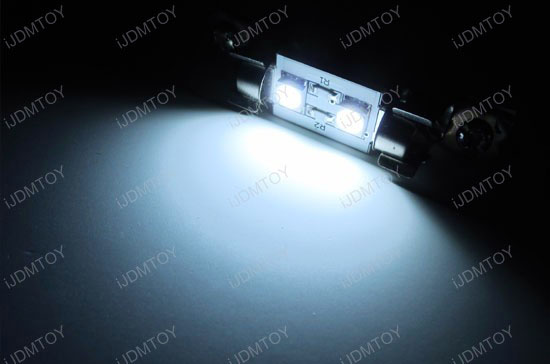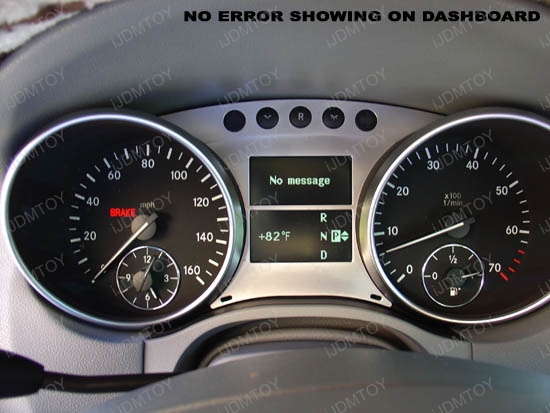 We hope you like this product!
For more pictures on LED and HID products installed, please check our Gallery Pictures and Videos.
Also for detail installations and do-it-yourself guides, please visit our Tech Support-DIY Resource Center.
Brought to you by iJDMTOY.com, the Automotive LED Lighting Expert.
Leave a Comment
:6411 5148 c6w replacement bulb, Audi LED license plate lights, BMW LED license plate lights, Can-bus LED, Error Free LED, error message on dashboard, European vehicle license plate lights, festoon led bulbs, LED license plate lights, LED number plate lights, license plate light bulbs, Mercedes LED License Plate Lights, number plate lights, Porsche led license plate lights, smd led bulbs, smd led lights, smd led load resistors, super bright leds, volkswagon led license plate lights, white license plate lights
more...
Visit our friends!
A few highly recommended friends...
Archives
All entries, chronologically...